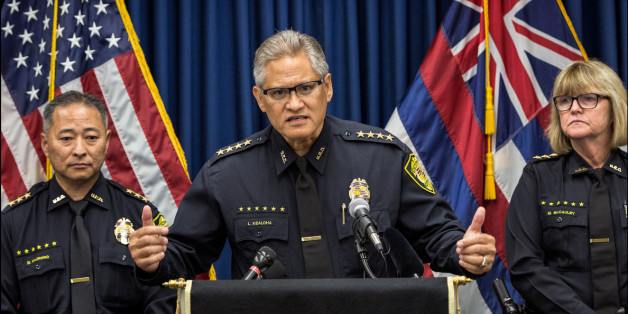 UPDATE: A federal public defender says the theft charge is being dropped and alleges the police withheld evidence and falsified reports.
HONOLULU -- The FBI has been asked to investigate how the Honolulu Police Department (HPD) handled a case involving HPD Chief Louis Kealoha, his stolen mailbox and his wife's estranged uncle, who was accused in the crime.
Gerard Puana is the uncle of Katherine Kealoha, wife of the police chief and high ranking city prosecutor.On Dec. 4, a mistrial was declared after Chief Kealoha brought up Puana's criminal past on the witness stand.
On Tuesday, the U.S. Attorney's Office dismissed the federal charge against Puana and instead referred the matter to the FBI for an investigation into possible misconduct, according to Alexander Silvert, the federal public defender who represented Puana.
"I think it was really courageous of the U.S. Attorney's Office to do this," said Silvert.
Silvert has postulated that the Kealohas were trying to frame his client for a crime he did not commit in order to gain an advantage in an ongoing legal dispute over money.
Puana is currently suing Katherine Kealoha for allegedly taking more than $200,000 from him and his 95-year-old mother.
Silvert said during a press conference that the U.S. Attorney's Office filed to dismiss the case only after he shared evidence with prosecutors that he says supported his theory that Puana was set up as a fall guy.
"I can't discuss the evidence, but I can say that some of the evidence came from things that the government already turned over," Silvert said. "When you put it all together it was a compelling story and a compelling case."
Silvert revealed some of that evidence during the trial when he said HPD had withheld evidence and falsified reports related to the mailbox theft.
Other aspects of the case also didn't seem to add up, including details about Puana's arrest by a special HPD crime reduction unit and a lack of an obvious resemblance with the man in a grainy surveillance video, Silvert said.
First Assistant U.S. Attorney Elliott Enoki declined to comment on the dismissal, only saying that his office reached its decision "after a review of all the information now available to us."
FBI Spokesman Tom Simon also declined to comment on the case, but did confirm that the U.S. Attorney's Office notified his agency about the matter.
"We're now assessing what to do with the referral," Simon said. "We're not going to comment on the existence of any ongoing investigation."
If the FBI pursues the case it will be at least the second ongoing investigation involving HPD in the past several months.
FBI officials are also reviewing a possible civil rights violation in which HPD Officer Vincent Morre was caught on surveillance video in October attacking a man inside a Chinatown game room.
Two other officers, including a reservist, were also on the scene during the alleged assault.
But the latest developments in the Puana case will likely place even more scrutiny on a department that's come under fire for its lack of transparency and questionable handling of officer misconduct.
State lawmakers intend to introduce legislation to provide more oversight of police officers, especially when it comes to the use of force.
They also want police departments, particularly HPD, to improve how they respond to domestic violence cases, based on video footage released in September of Sgt. Darren Cachola repeatedly striking his girlfriend.
In that case, the responding officers did not file a police report, which is a violation of HPD protocol.
Silvert even called on the Honolulu Police Commission to conduct its own investigation, asking that it be done "openly and transparently" so the public can know the department is being held accountable.
The commission is charged with overseeing conduct within HPD, although its powers are limited in this regard. It also has the ability to hire and fire the police chief.
Kealoha is scheduled to meet with the commission Wednesday.
Nick Grube is a reporter for Civil Beat. You can reach him by email at nick@civilbeat.com or follow him on Twitter at @nickgrube.
BEFORE YOU GO
PHOTO GALLERY
Police Brutality Incidents