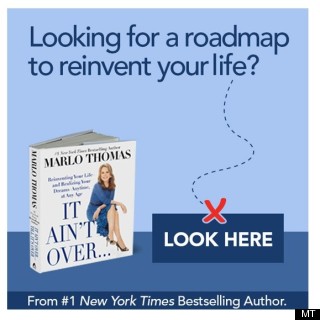 "One of the reasons I started my website is that I wanted a place for women to come together and dream. We women need to know that we don't have to hang on to an old dream that has stopped nurturing us—that there is always time to start a new dream. This week's story is about Susan Walvius and Michelle Marciniak –- two basketball coaches who invented a product based off the material that's used to make high-performance sports jerseys. Their invention is now sold in major retailers throughout the country!"—Marlo, MarloThomas.com
It was a sweltering August afternoon, and coaches Susan Walvius and Michelle Marciniak had just finished running a day of basketball camp at the University of South Carolina. Hot, sweaty, and exhausted, Susan tugged at the high-tech athletic jersey she was wearing and said, "This stuff is so soft and silky. I would love to have bed sheets made out of it." And then Michelle, without missing a beat, responded with a comment that they'd both retell hundreds of times over the next few years: "Why don't we make them ourselves?"
The more they talked about the idea, the more convinced they became that this could be a business. Athletes loved this material—it breathes and wicks away moisture.
Both hoped they could make such a business happen—they needed a break from the stress. Like all head coaches, says Michelle, "On any given day, Susan was either the savior or the scapegoat, depending on how the team was doing." Michelle, a former WNBA player who had been Susan's assistant coach for five years, was also ready to move on.
"Coaching meant a life of never-ending ups and downs, and I didn't have the same passion for it that I had for playing."
That fall, Susan and Michelle came up with the name SHEEX (inspired by the success of SPANX), and Michelle even created the brand's Under Armouresque logo while sitting at her kitchen table over Christmas break. Then the business students came back with their plan, which projected mind-blowing profits for SHEEX. Susan and Michelle were ecstatic.
Both women resigned from their coaching positions in April 2008. Now that Susan and Michelle were going to be partners, their relationship quickly changed. "Michelle told me, 'I don't work for you anymore,' " recalls Susan. " 'You have to learn to make decisions with me.' And I respected that. Michelle has a skill set that I don't. I'm levelheaded and strategic. She walks into a room and brings energy and emotion. Would I have tried to start this business without her? Maybe. Would I be successful? Probably not."

Article Continues Below Slideshow
PHOTO GALLERY
Michelle And Susan
The two ex-coaches hit the road, pursuing meetings with every top business executive they could. "I had read a bunch of books on how to start a business, and one lesson I never forgot was that you should ask successful people for their advice," says Susan. "That rang true to me—you don't win games with freshmen, you win games with talent and experience, and Michelle and I were freshmen. We had a lot to learn."
Their athletic background came in handy. The two towering blondes (Susan is six feet two inches and Michelle is five feet ten inches) project killer confidence. "We're both extremely driven," says Michelle, "and as teammates, we know how to zig when the other one zags."
And their ability to talk sports gave them an instant advantage. "There's absolutely no question about it, men love to connect through athletics," says Susan. "We'd often sit down with mostly male senior management, and spend as much time talking about sports as we did business. It helped us build relationships."
While Susan and Michelle maintained their game faces in meetings, behind the scenes, it was chaos. They slept on couches and floors, took red-eye flights to avoid shelling out for hotels, and camped out in Starbucks making phone calls, sending emails, and learning how to use Quickbooks.
"Laughing at ourselves made rough times easier," says Michelle. "I remember one night we were catching the midnight bus out of New York City's Port Authority back to Allentown, Pennsylvania, where we were staying with my parents. I was so tired, I had fallen asleep while waiting and Susan had snapped a picture of me passed out on the bus station floor. When we finally got on, the driver told us there were no more seats. It was the last bus of the night, and our only option was the aisle. We were still dressed in suits and heels from a business dinner, but we just looked at each other and cracked up. Then we sat down back-to-back on the floor and opened our laptops. Chivalry, by the way, is dead."
Then they hit a major snag. "We had talked to bedding manufacturers all over the country and no one could make the fabric we wanted on their machinery," says Susan. "We tried to source it from Asia, but none of the fabrics were right. It was a dig-deeper moment."
Susan and Michelle called the manufacturers that worked with athletic apparel companies but, wary of breaking confidentiality agreements, none would get back to them. Finally they connected with the president of the company that makes the yarn used in Under Armour products.
They started out selling directly to consumers online and promoted SHEEX at athletic events like the U.S. Women's Open. "It was really interesting to listen to what customers had to say," says Susan. "Guys talked about the cool technology. Women liked that they were breathable." Now it was time to get SHEEX on store shelves. "Our big break came," says Susan, "when we landed a unique partnership with Bed Bath & Beyond," which introduced SHEEX in almost 1,000 stores.
Since then, Susan and Michelle have expanded the brand to include pillows, mattress toppers, comforters, duvet covers, and sleepwear.
Although many people see Susan and Michelle as crackerjack businesswomen, they trace their winning skills back to the basketball court. "You're always anticipating how your opponent will play the game," says Susan. "Even though you don't have an opponent in business, you need to anticipate every possible setback—that you may not get paid on time, that a delivery may not come through—and be ready to execute an alternate strategy."
Their ultimate game plan now? "To become a billion-dollar brand," says Michelle. "That would be like SHEEX winning a national championship."
To find out more about Susan and Michelle's journey -- and to read 59 other inspiring stories -- buy your copy of "It Ain't Over Till It's Over." Click here.

Add Marlo On Facebook:
Follow Marlo on Twitter:
Sign up to receive my email newsletter each week - It will keep you up-to-date on upcoming articles, Mondays with Marlo guests, videos, and more!