If you feel too stressed out to have sex, psychiatrist Dr. Gail Saltz says that it's not just in your head. Anxiety actually shuts off the ability to have increased arousal and orgasms. If you're stressed, try some techniques for calming yourself down, such as deep breathing. Incorporating thirty minutes of aerobic exercise into your day is also proven to lower stress levels over time. Do something that distracts you before you have sex to put you in the mood, like listening to music, or watching a sexy movie. It might even be beneficial to book a hotel room in order to take yourself out of your normal day-to-day. If you're consistently anxious all day long, Dr. Saltz says you might be experiencing an anxiety disorder, and seeing a psychotherapist about your issue may be helpful.
For more sex and relationship tips from Dr. Gail Saltz, view the slideshow below:
PHOTO GALLERY
Sex Tips For The New Year From Dr. Gail Saltz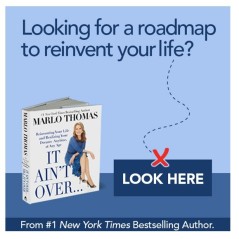 Add Marlo On Facebook:
Follow Marlo on Twitter:
Sign up to receive my email newsletter each week - It will keep you up-to-date on upcoming articles, Mondays with Marlo guests, videos, and more!