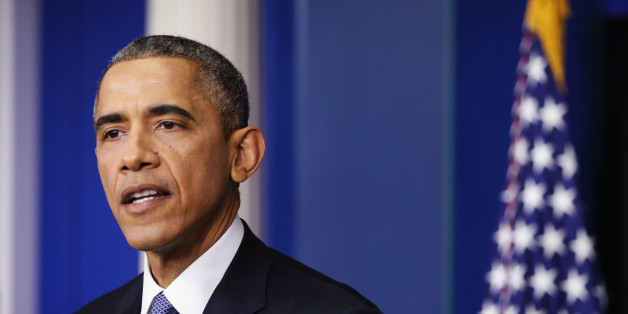 WASHINGTON -- Deportations by the Department of Homeland Security have gone down, from 438,421 deportations last year to 414,481 in fiscal year 2014, according to figures the agency released on Friday.
Those figures are likely to be brought up repeatedly in coming months, as Republicans rail against President Barack Obama for his recently announced executive actions on immigration, which could shield as many as 5 million people from deportation.
As part of the executive actions, DHS Secretary Jeh Johnson issued guidelines to Immigration and Customs Enforcement agents on who should be considered high priority for removal, many of the guidelines reiterating existing policies. The agency has been instructed to focus primarily on deporting recent border-crossers, convicted criminals, gang members and national security risks.
The numbers released by DHS on Friday indicate that priority memos already in existence may be having an effect. In total, ICE deported 315,943 people this fiscal year, which was first reported by The Los Angeles Times earlier this month. More than two-thirds of those removals were of people caught while crossing the border illegally or soon after, while the other third came from the interior of the country.
In the 2014 fiscal year, 85 percent of ICE's removals from the interior of the country were of convicted criminals. In 2008, the year before Obama became president, only 38 percent of removals were of convicted criminals, compared to 67 percent of removals in 2011, according to the report. ICE reported that 98 percent of its deportations in the 2014 fiscal year fit into its priorities.
DHS Secretary Jeh Johnson laid out some of the difficulties for DHS over the past year, including law enforcement agencies declining to cooperate with their requests, a surge in border crossings of minors and family units, and an increase in removals to countries other than Mexico.
"Notwithstanding these challenges, DHS components have adjusted and continue to successfully secure our borders and protect our communities," he said.
More than 275 states and localities have limited their cooperation with ICE, particularly its Secure Communities program. ICE asks local law enforcement through so-called detainers to hold onto people they arrest, sometimes for longer than they otherwise would. According to the report, law enforcement agencies refused to honor 10,182 detainer requests. In an attempt to appease officials who oppose the program, Obama's new executive actions ended Secure Communities, although it will remain largely intact with a new name and some restrictions.
One of the most significant changes last year was in border crossings, particularly the surge of unaccompanied minors and mothers with children apprehended over the summer. Customs and Border Protection made a total of 486,651 apprehensions in the 2014 fiscal year, according to the report. That number was up nearly 66,000 since last fiscal year, which DHS attributed to the increase in children and families crossing the border illegally.
Those minors and families were largely from Central America, and DHS reported a significant increase in apprehensions and removals of people from Guatemala, Honduras and El Salvador. Deportations to Mexico, which are cheaper and less time-intensive, decreased.