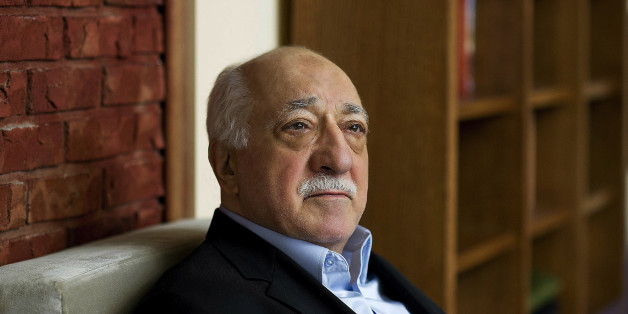 By Ece Toksabay
ISTANBUL, Dec 19 (Reuters) - Turkish authorities are seeking an arrest warrant for U.S.-based Muslim cleric Fethullah Gulen whom President Tayyip Erdogan accuses of trying to undermine Turkey and overthrow him, a government official said on Friday.
The issue of a warrant would take Erdogan's campaign to root out Gulen supporters, including purges of the judiciary and police, to the international arena potentially testing already strained relations with Washington.
Gulen has lived in self-imposed exile in Pennsylvania since 1999. He was a close ally of Erdogan in the early years after his ruling AK Party took power in 2002 but has been in open conflict with him since a graft investigation emerged a year ago targeting the then-prime minister's inner circle.
Erdogan portrays the investigation as part of a coup attempt and describes Gulen's followers as traitors and terrorists - all charges that Gulen, who runs a vast network of schools and business enterprises in Turkey and abroad, denies.
Turkish courts have dropped the corruption cases, critics at home and in the West citing that as evidence Erdogan is stripping the judiciary of its independence.
Asked about a report that a warrant had been issued, a government official, requesting anonymity, told Reuters: "There is no decision yet. The prosecutor has made a request and the judge is evaluating it."
It was not immediately clear on what specific grounds the warrant was being requested.
If it is forthcoming, Turkish authorities would be free to apply to the United States for extradition, with no guarantee of success. Erdogan's image in the West, once that of a moderate reformer, has been eroded as his open intolerance of opposition and of criticism has grown.
A Turkish court on Friday kept a media executive close to Gulen and three other people in custody pending trial on accusations of belonging to a terrorist group, in a case which Erdogan has defended as a response to "dirty operations" by his enemies.
Hidayet Karaca heads Samanyolu Television which is close to Gulen.
The European Union, which Turkey is seeking to join, has said last weekend's police raids to detain Karaca and other media workers was contrary to European values. Erdogan told the bloc to mind its own business.
Ekrem Dumanli, editor-in-chief of the Gulen-linked Zaman newspaper, was released but forbidden from traveling abroad before trial. Seven more people whom prosecutors sought remanded in custody in the case were also released pending trial. (Additional reporting by Gulsen Solaker in Ankara and Ayla Jean Yackley in Istanbul; Writing by Daren Butler; Editing by Nick Tattersall, Ralph Boulton)