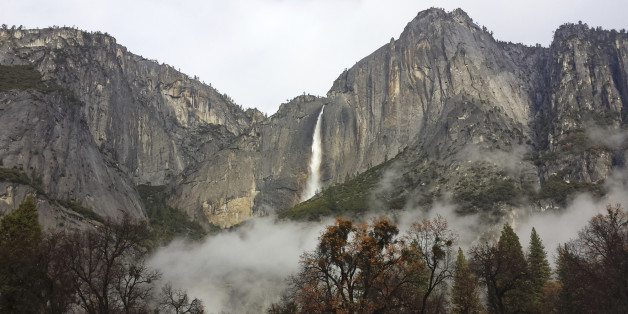 Weeks after a powerful storm first triggered some of the most striking waterfalls in Yosemite National Park to finally start flowing again, steady cascades continue.
The rushing falls are a sign of relief -- and hope -- for drought-stricken California.
Popular Yosemite Falls had dried up in June and failed to begin flowing again in November as usual. It wasn't until a downpour the first week of December that Yosemite was revived -- and even then, at least one park worker worried the flow was temporary until a second storm moved in.
"One day later, Yosemite Falls came back. I was riding my bike to work and I just stopped and kept looking," Ryan Sheridan, an employee at one of the park's restaurants, told the Los Angeles Times. "It's hard to miss. It's the essence of pure power."
A live feed and recent time lapse videos show Yosemite Falls continued to gush throughout last week.
The December rain also revived Bridalveil Fall and Cascade Fall, the National Park Service announced earlier this month.
The rejuvenated falls are an extremely welcome sight in Yosemite, which has suffered some of its most intense wildfires during the relentless drought, including 2013's Rim Fire, the worst fire in Sierra Nevada history, and a massive blaze in September that forced officials to airlift approximately 100 hikers from Half Dome.
The storms responsible for the falls have provided relief for parts of the Golden State, which is experiencing its fourth year of crippling drought. From July through mid-December, 55 percent of California was facing "exceptional drought," the most severe level of dryness recorded by the U.S. Drought Monitor. That alarming statistic has since dropped to 32 percent, according to data released last week by the National Drought Mitigation Center.
Still, The Guardian reports, state officials say consistent rain will be necessary throughout winter and spring in order to put California on the path to recovery.
BEFORE YOU GO
PHOTO GALLERY
California Drought