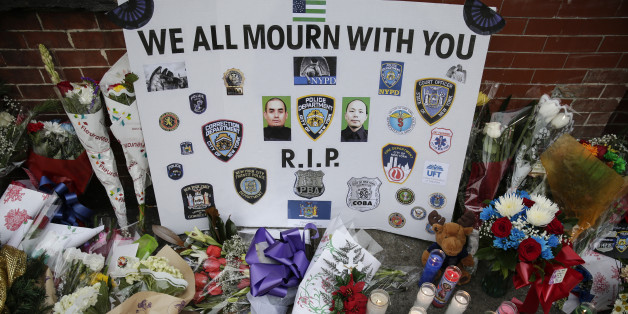 Emerald Snipes-Garner, the youngest daughter of Eric Garner, visited a memorial site on Monday to honor two NYPD officers who were killed over the weekend.
Snipes-Garner, 22, attended a gathering around a candlelit vigil in Brooklyn to offer her condolences and prayers to the families of Wenjian Liu and Rafael Ramos, who were shot and killed Saturday by 28-year-old gunman Ismaaiyl Brinsley.
"I just had to come out and let their family know that we stand with them, and I'm going to send my prayers and condolences to all the families who are suffering through this tragedy," Snipes-Garner told ABC News.
The Garner family has been vocal about police brutality in the months since the death of Snipes-Garner's father, Eric Garner of Staten Island, who died July 17 after police put him in a prohibited chokehold during an arrest for selling untaxed cigarettes. Snipes-Garner told reporters Monday that she was "never anti-police."
"Like I said before, I have family that's in the NYPD that I've grown up around, family reunions and everything," she told ABC News. "So my family, you know, we're not anti-police."
Brinsley had mentioned Garner by name in an Instagram post the day of the shooting, along with Michael Brown, the unarmed black teen killed by a police officer in Ferguson, Missouri, in August. Brinsley's words were cited by some as evidence that Saturday's shootings were intended as revenge for Garner and Brown.
However, Snipes-Garner echoed the words of many on Monday when she dismissed the idea that Brinsley had a political agenda. Rather, she said, Brinsley's actions were a result of his well-documented mental health issues.
"It didn't have anything to do with race or anything," said Snipes-Garner. "It was a mental health crisis and he was dealing with [it] personally and didn't have the proper way to express his anger."
Brinsley committed suicide immediately after killing the two officers.
Snipes-Garner reportedly visited Ramos' family and expressed her support for them. She said she wanted to let the officers' loved ones know "my family stands with their families."
"It hit my heart because I know what it feels like, with this upcoming season and you don't have your father around. I know firsthand what you're feeling," Snipes-Garner said, according to the New York Post.
"I just want everyone to know that we have to pray for the mental health of the activists and people," she went on. "I want to let everyone know that we have to be peaceful. My father wasn't a violent man. He was very peaceful. There are ways that you can do things without letting tragedies happen."