This article originally appeared on artnet News.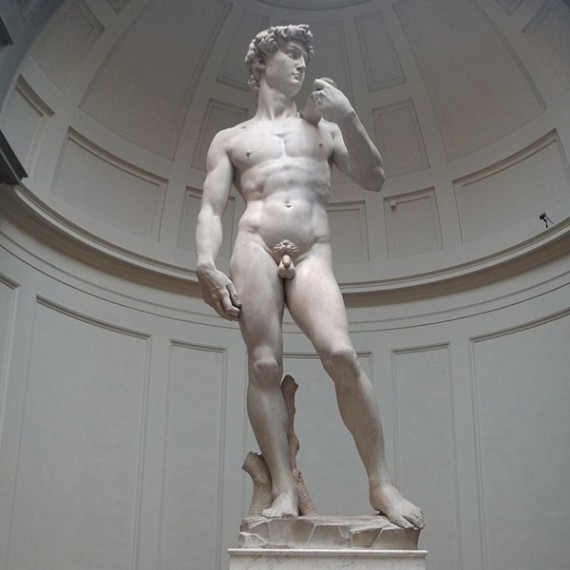 Michelangelo's David (1501-04)
Photo: Annie Slizak via Wikimedia Commons.
The Italian minister of culture, Dario Franceschini, has announced that the state will invest €200,000 on an "anti-seismic plinth" for Michelangelo's David (1501-04), AFP reports. Angelo Tartuferi, director of the Galleria dell'Accademia in Florence, which has housed the statue since 1873, said the platform should be ready for use within the year.
The announcement, made last Saturday, came after a bout of 250 minor earthquakes, which shook the Florence region last week.
Last spring, experts revealed that Michelangelo's marble sculpture was at risk of collapsing due to a set of micro-fractures in its ankles (see "Michelangelo's David Is Fine"). The Galleria dell'Accademia limited then the number of visitors and ordered a special platform to minimize vibrations.
Yet, the recent earthquakes "make this project even more urgent," Franceschini said in a statement. "A masterpiece like David must not be left to any risk," he declared.
The two strongest tremors that shook the region at the end of last week took place on Friday, hitting 3.8. and 4.1 on the Richter scale. No one was injured, and firefighters reported only minor structural damage near the epicenter, 30 kilometers south of Florence.
In April 2009, a 6.3-magnitude earthquake shook the town L'Aquila, 100 kilometers east-northeast of Rome, killing 309 people. It was the biggest earthquake disaster to hit Italy in recent years, and was preceded by several weeks of minor tremors.
---------------------------------------------------------------------------------------------------
artnet News is the world's first global, 24-hour art newswire, dedicated to informing, engaging, and connecting the most avid members of the art community with daily news and expert commentary.
Read More artnet News / Facebook / Twitter / Pinterest / Tumblr
BEFORE YOU GO
PHOTO GALLERY
Michelangelo's Drawings