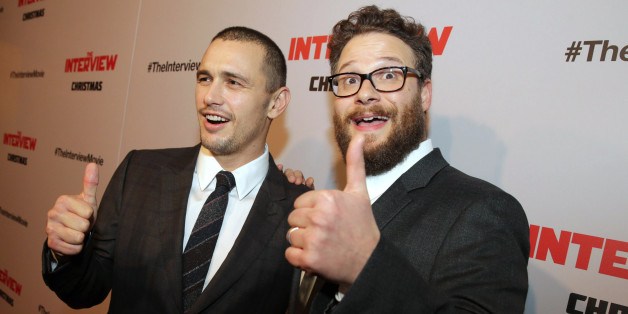 A day after Sony authorized screenings of "The Interview" in a limited number of theaters, the studio announced that the film will also be available via on-demand services.
As first reported by CNN's Brian Stelter and later confirmed by Sony, viewers are able to rent or buy the film from YouTube Movies, Google Play, Microsoft's Xbox Video and via SeeTheInterview.com. (The cost is $5.99 to rent, and $14.99 to purchase).
"Last Wednesday, Sony began contacting a number of companies, including Google, to ask if we'd be able to make their movie, 'The Interview,' available online," David Drummond, SVP Corporate Development and Chief Legal Officer at Google, wrote in a statement. "We'd had a similar thought and were eager to help -- though given everything that's happened, the security implications were very much at the front of our minds.
"Of course it was tempting to hope that something else would happen to ensure this movie saw the light of day," he continued. "But after discussing all the issues, Sony and Google agreed that we could not sit on the sidelines and allow a handful of people to determine the limits of free speech in another country (however silly the content might be)."
Sony Entertainment CEO Michael Lynton also released a statement about the streaming debut:
We never stopped pursuing as wide a release as possible for 'The Interview.' It was essential for our studio to release this movie, especially given the assault upon our business and our employees by those who wanted to stop free speech. We chose the path of digital distribution first so as to reach as many people as possible on opening day, and we continue to seek other partners and platforms to further expand the release.

I want to thank Google and Microsoft for helping make this a reality. This release represents our commitment to our filmmakers and free speech. While we couldn't have predicted the road this movie traveled to get to this moment, I'm proud our fight was not for nothing and that cyber criminals were not able to silence us. No doubt the issues we have confronted these last few weeks will not end with this release, but we are gratified to have stood together and confident in our future. I want to thank everyone at Sony Pictures for their dedication and perseverance through what has been an extraordinary and difficult time.
Sony's decision to stream the film was also praised by President Barack Obama.
"The president welcomes the news that people will be able to decide for themselves whether or not to see this film, and appreciates Sony's work on this effort over the past few weeks," White House deputy press secretary Eric Schultz said in a statement. "As the president made clear on Friday, we do not live in a country where a foreign dictator can start imposing censorship here in the United States. With today's announcements, people can now make their own choices about the film, and that's how it should be."
In addition to the on-demand release, Sony will debut "The Interview" in select theaters on Christmas Day. (Here's a list of all the theaters showing "The Interview.") According to Variety, Sony is also in discussions with Netflix about possibly streaming "The Interview" to subscribers within the next few days.
As noted by SeeTheInterview.com, watching the film online is currently limited to only viewers in the United States.
Last week, it was unclear if people would ever see "The Interview." Following terror threats made by hackers against theaters that planned to show the film, major chains like AMC Entertainment, Regal Entertainment, Cinemark, Cineplex Entertainment and Carmike Cinemas pulled "The Interview" from schedules. Sony then dropped the film from its release schedule.
Soon after, Sony was criticized by members of the Hollywood community and President Obama, who called the cancellation "a mistake." On Tuesday, Sony flipped its decision and announced that the film would make it to select theaters on Christmas Day, its previously scheduled release date. Independent movie theaters around the country amended their schedules to add showtimes.
Before the Wednesday VOD announcement, there were other rumors about an online release. On Sunday, it was reported that Sony would release "The Interview" via Crackle, the streaming video service the company owns, but that speculation proved untrue. BitTorrent also said it would allow Sony to release the film via its platform.
Co-directed by Seth Rogen and Evan Goldberg, "The Interview" focuses on what happens when the C.I.A. enlists an entertainment journalist (James Franco) and his producer (Rogen) to assassinate Kim Jong Un (Randall Park). You will now be able to watch the comedy as Rogen and Franco probably always intended: at home with a joint. Just don't do it alone.
I need to say that a comedy is best viewed in a theater full of people, so if you can, I'd watch it like that. Or call some friends over.

— Seth Rogen (@Sethrogen) December 24, 2014
BEFORE YOU GO
PHOTO GALLERY
"The Interview" Premiere