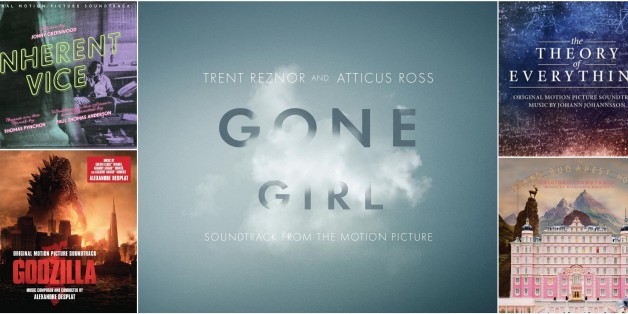 For people who love movie scores -- these are real people, we assure you -- last year was a peak time. From Steven Price's Oscar-winning "Gravity" score to smaller ones from Joel P. West ("Short Term 12") and Graham Reynolds ("Before Midnight"), 2013's movie scores had a cue for every mood.
Not so this year. The most memorable moments in "Wild," "Boyhood," "Whiplash," "Obvious Child," "Selma," "Guardians of the Galaxy," "The Fault in Our Stars," "Captain America: The Winter Soldier," "The LEGO Movie," "The Interview" and "The Hunger Games: Mockingjay - Part 1," to name a few, came accompanied with either an existing track or original song (everything is awesome, you crazy "LEGO Movie"). Which is great for people who also love movie soundtracks -- guilty! -- but less so for score fans. Sure, Antonio Sanchez's "Birdman" score is fantastic within the framework of the film, but would anyone want to listen to it during a random Tuesday commute?
With that in mind, here are the eight movie scores released this year that profile as having longevity -- aka each will have a permanent home on our HuffPost Entertainment Spotify playlist of movie scores.
Alexandre Desplat, "Godzilla"
No one had a better year than Alexandre Desplat, who wrote three of the year's most memorable scores (and also the ones for "The Monuments Men" and "Unbroken"). His "Godzilla" theme was so damn loud that even the title has an exclamation mark. Let them fight.
Alexandre Desplat, "The Imitation Game"
Desplat's score for "The Imitation Game" isn't necessarily deep, but the main theme is as Oscar-friendly as the film itself. It's the type of track you'd expect to hear play as Benedict Cumberbatch walks up to accept his Academy Award.
Alexandre Desplat, "The Grand Budapest Hotel"
There's that news van again. Desplat's score for Wes Anderson's latest film is gave millennials their very own "Third Man" theme.
Hans Zimmer, "Interstellar"
Hans Zimmer's "Interstellar" score was no "Inception" (or even "Rush" or "Man of Steel"), but it was haunting and big. If we ever fall into a wormhole, this is what we'll be thinking about.
Johann Johannsson, "The Theory of Everything"
Similar to "The Imitation Game," Johann Johannsson's score for "The Theory of Everything" feels expressly written to win Oscars. But who cares when the theme is as beautiful as this?
Alex Ebert, "A Most Violent Year"
Alex Ebert, he of Edward Sharpe and the Magnetic Zeros fame, wrote 1981's best John Carpenter score.
Trent Reznor and Atticus Ross, "Gone Girl"
The year's best onscreen moment? We'll take the Cool Girl montage in "Gone Girl" over many other worthy contenders for one reason alone: this above track, written by Trent Reznor and Atticus Ross.
Jonny Greenwood, "Inherent Vice"
Working with Paul Thomas Anderson again after "There Will Be Blood" and "The Master," Jonny Greenwood's noir-y "Inherent Vice" score sounds like something Bernard Herrmann would like. But then it's also beautiful and wistful. The above track, "Amethyst," which plays during the film's sweetest scene, being a prime example of its power.
BONUS: Nick Thorburn, "Serial"
It wasn't a movie, but in addition to being one of the year's most satisfying stories, "Serial" had the most infectious theme. Sorry, Desplat.
BEFORE YOU GO
PHOTO GALLERY
The Best Movies Of 2014