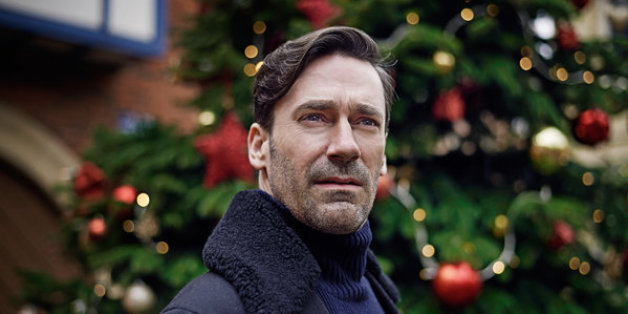 "Black Mirror" is quite possibly the best show you're not watching. It's a sort of "Twilight Zone" for the smartphone age that artfully imagines just how terrifying technological progress could become.
The U.K. series' six episodes are currently available to stream on Netflix, and last night DirecTV viewers in the U.S. were treated to the "White Christmas" episode starring Jon Hamm.
Without spoiling anything about the episode, we can say it hits on some very timely issues, and it won't leave you with a warm fuzzy feeling like most Christmas specials do.
Here's what Twitter had to say:
Holy shit. Just watched Black Mirror's White Christmas. Audibly said "oh fuck" several times. Maybe home alone at 10pm wasn't the best time.

— Rega Jha (@RegaJha) December 26, 2014
This Christmas episode of "Black Mirror" couldn't be more depressing and terrifying

— OBM (@OriolBM) December 26, 2014
Jon Hamm-starring #BlackMirror Christmas special is trippy as fuck. Brilliant, but will leave you depressed for several hours. 😳

— Nico Novito (@NicoNovito) December 26, 2014
ugh the black mirror christmas special was sooo good

— shoshanna (@stephanieefang) December 26, 2014
Oh my GOD the Black Mirror Christmas special was so good. I promise this is not simply a gut reaction to things involving Jon Hamm.

— Courteney Jones (@coffeelegs) December 26, 2014
The Black Mirror Christmas special with Jon Hamm is terrifying. The "human cookie" idea gave me night sweats.

— Thomas Rademakers (@blackwhitezebra) December 26, 2014
Still talking to myself after watching Black Mirror White Christmas. I smelt some synapses frying. #BlackMirror #JonHamm

— Teresa Wise (@wisechickart) December 26, 2014
Whew! Black Mirror did it again. Christmas Special featuring Mad Men's Jon Hamm was a proper mind-f*ck.

— ian kennedy (@iankennedy) December 26, 2014
This Black Mirror White Christmas made my day, but also... not going to sleep tonight! hahahaha. Love #AudienceTV

— Abby (@InspirationAbby) December 26, 2014
The scariest part of the "Black Mirror" Christmas special is imagining the people who are gleefully watching it for start-up inspiration.

— Chris Wilson (@realchriswilson) December 26, 2014
The #BlackMirror Christmas Special = such a downer

— Jake Watt (@JakeChatty) December 26, 2014
Black Mirror White Christmas is putting an enjoyably bleak cap on this festive day.

— Chris O'Coin (@OCOIN) December 26, 2014
Black Mirror is so wonderful. Perfect Christmas episode.

— Brock Benefiel (@brockbenefiel) December 26, 2014
Beginning tonight,the "Black Mirror" Christmas special has officially become a holiday tradition at the Bassmore residence

— David Bassin (@jazzbo51) December 26, 2014
BEFORE YOU GO
PHOTO GALLERY
"Downton Abbey"