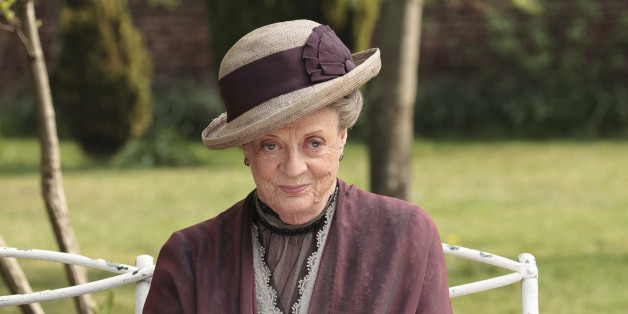 Happy birthday Dame Maggie Smith -- or should we say Lady Grantham? The Dowager Countess turns 80 on Sunday and though her "Harry Potter" days are over, we thank our lucky stars we can still get our weekly dose of her sharp wit and biting humor when "Downton Abbey" returns for its fifth season on January 4th on PBS.
While Smith has had quite a distinguished career with roles in acclaimed films like "The Prime Of Miss Jean Brodie," for which she won an Oscar, "A Room With A View," and the recent "Best Exotic Marigold Hotel" films, perhaps her most memorable role is that of the nosy, pushy, caustic family matriarch at "Downton Abbey."
While millions of viewers tune in to see the drama unfold, Smith herself says she has never watched the show. She says what she gets out of the role is simply "the delight of acting." We're pretty sure the pleasure is all ours, Dame Maggie.
Besides seeing what becomes of the Grantham ladies' love lives, the upstairs/downstairs relationships and apparently, a cameo appearance by none other than George Clooney, we're looking forward to seeing what the Dowager Countess has up her sleeve next, whether it's bickering with Mrs. Crawley or battling with new technologies.
So to celebrate Dame Maggie' birthday and to get you excited about the next season, here are the Dowager Countess' very best one-liners in gifs. Enjoy!
BEFORE YOU GO
PHOTO GALLERY
10 Hot Dates For Mr. Bates