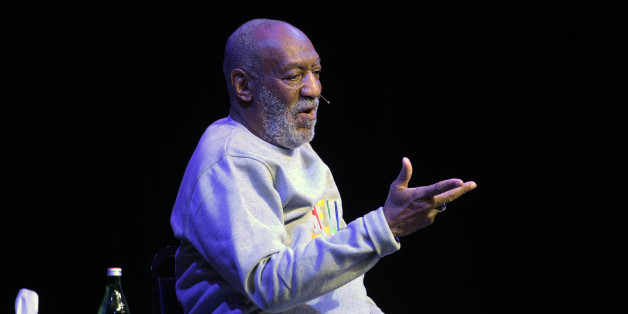 Over a series of tweets posted since Friday, Judd Apatow slammed Bill Cosby, his defenders and a pair of venues hosting the 77-year-old comic in 2015.
On Dec. 26, Apatow tweeted at the Ontario venues Centre in the Square (located in Kitchener) and Budweiser Gardens (located in London) to question why they were welcoming Cosby to their respective stages in light of multiple sexual assault claims levied against him.
so @Centre_Square - are you really going to let Bill Cosby perform on your stage January 7?

— Judd Apatow (@JuddApatow) December 27, 2014
You too @BudGardens Jan 8? Is Cosby only popular in Ontario Canada at this point? Do people still find him delightful after 30 accusers?

— Judd Apatow (@JuddApatow) December 27, 2014
A representative for Centre in the Square was not immediately available for comment, but the venue did discuss the Cosby show back in November in a post on its website titled "Why Isn't The Centre Canceling The Cosby Show?"
This has become the primary question over recent days. The Centre takes very seriously the concerns raised by patrons and the local community. This is a rental show and CITS is contractually obligated to move forward with the show unless it is cancelled by the external promoter. Our response is not complacent or an attempt to pass on the blame.

This is an honest response to a complicated situation. Commercial rental shows at The Centre are crucial for the venue to earn sufficient funds to operate. This show was contracted over a year ago with tickets on sale for a number of months. While we may personally share concerns raised by the community, if The Centre forces a cancellation of this rental show it isn't simply a situation of giving back the rent.

As a result of breaking our contract for this show, The Centre would need to pay any guarantee fee contracted to Mr. Cosby and compensate the promoter for any losses from box office and show expenses. The Centre would also need to refund patrons as the promoter would not be responsible for bearing these costs in this scenario.

For these reasons we will continue to discuss options with the promoter, sharing the community concerns with them.
Brian Ohl, general manager of Budweiser Gardens and Global Spectrum, told HuffPost Entertainment the Budweiser Gardens show was also going forward as planned. "The situation is still the same. We have a promoter who has a contract with Bill Cosby," Ohl said, while noting there would be a "significant financial loss" to whichever party canceled the event.
Ohl said that some ticket holders had requested refunds to the Cosby show, which is set for Jan. 8, but the venue has a no-refunds policy, provided the given event takes place as scheduled.
In addition to the venues, Apatow also criticized other Twitter users who defended Cosby.
I think one in a Hundred thousand people support Cosby. I am gonna stop responding to them so often. It is just maddening though. So cold.

— Judd Apatow (@JuddApatow) December 28, 2014
For more on Apatow's Cosby tweets, head to Vulture.
BEFORE YOU GO
PHOTO GALLERY
Bill Cosby Over The Years