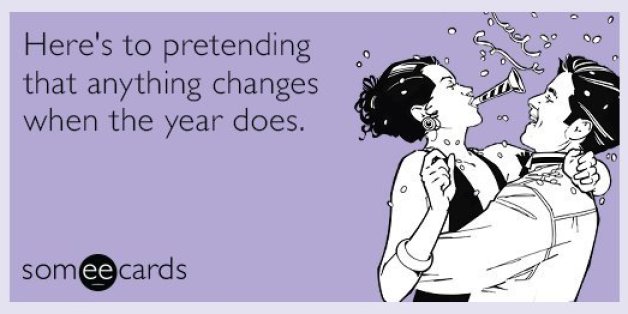 Are you prepared for the New Year's resolutions that are about to flood your feed?
It's as much a tradition as watching the ball drop: making promises to oneself which will later also be dropped. And yet, year after year, we continue to make these resolutions in the hopes that this new year will be different. Unfortunately, the only thing that's really different IS the year.
Many Twitter folk have resorted to laughing at the idea of resolutions rather than making them, and these are some of the best of the bunch. Check out the funniest #NewYearsResolution tweets below and have a happy new year!
Be ready, people. http://t.co/NCDPK134Xm #NewYearsResolution pic.twitter.com/dRAJxJg0l2

— Kim LachanceShandrow (@LaShandrow) December 29, 2014
NEW YEARS RESOLUTION: To catch up on my resolutions for 2O12, 2O13, and 2O14..!!
#NewYearsResolution

— jjay michael (@stfujjay) December 29, 2014
#NewYearsResolution Make a handful of people believe I'm normal before blindsiding them with my actual personality

— Jake from State Farm (@iGrowBeard) December 29, 2014
Ain't this the truth...

#NewYearsResolution pic.twitter.com/eSY4CaxAJl

— Scott Warner (@ScottWarner18) December 27, 2014
#NewYearsResolution bulk up to look exactly like this guy. Don't say it's unrealistic cuz imma do it just watch pic.twitter.com/lJkoAvIs6Z

— ß@$$|\/|3N7 Dvv3LL3R (@JOSHSTEP69) December 19, 2014
That's it, best to ease into your routine.
#NewYearsResolution
Go to the gym once this year.

— Raquel (@rockii96) December 29, 2014
Just a few more days til I can cross off "Don't die" from my 2014 #NewYearsResolution Hopefully it goes better than my others.

— Jeremy Bridges (@Jbridges300) December 29, 2014
NEW YEAR'S RESOLUTION: finish at least one page-a-day calendar

— Aparna Nancherla (@aparnapkin) December 29, 2014
my only New Years resolution is to not spend money on food I honestly might be rich by 2016

— Tweet Like A Girl (@TweetLikeAGirI) December 29, 2014
My New Years Resolution is to not let my good looks make me insecure! We pretty ppl have opinions that count too! 143 pic.twitter.com/427btgdm8F

— Artie Lange (@artiequitter) December 30, 2014
new years resolution: get rich or cry tryin

— tina (@tinatbh) December 29, 2014
New Years resolution - become 110% huggable. pic.twitter.com/cg48eeNVm5

— FederalDonuts (@FederalDonuts) December 30, 2014
"@LexeLovex: "@tbhjuststop: New Years resolution pic.twitter.com/ZxkQA0PsLz" @breanna_hinson what about this resolution??? 😂😂😂" nahhhh😂😂😂

— ✨ℬ.ℍıℕ$ʘℕℕ✨ (@breanna_hinson) December 22, 2014
Nothing new. #NewYears - http://t.co/kwnKP1qqbg pic.twitter.com/419MAvq8aA

— someecards (@someecards) December 30, 2014
Your New Years resolution: Exercise more. And after, call Erin Whitehead to meet you for lunch. (She hates brunch so don't even try)

— erin whitehead (@girlwithatail) December 30, 2014
I'm down for a New Years kiss with a bottle of pineapple ciroc

— jess (@jessicaaetaylor) December 30, 2014
Didn't think Times Square during New Years could get more aggravating... Then God created the "selfie stick" #grrrrr

— jen cody (@Jen__Cody) December 30, 2014
What is everyone giving up for New Years, to start doing again in March? #NewYearsResolution

— preston pohl (@PrestonPohl) December 30, 2014
i've never had a new years kiss, or a mistletoe kiss but i did have a hershey's kiss and it was spectacular

— SHELDON COOPER∞ (@Sheldon_Jokes) December 30, 2014
That's certainly one way to do it.
Say hello to my new years kiss!!! (Aka me) pic.twitter.com/mvWrwXDwOh

— kayla koen (@kaylakoen) December 30, 2014
My cat's New Years resolution is to continue staring at nothing

— Ry Doon (@RyDoon) December 30, 2014
BEFORE YOU GO
PHOTO GALLERY
The Best Of Twitter 2014