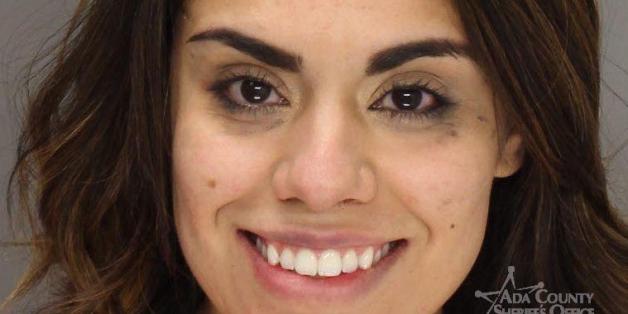 Don't cry because it's over, smile because it happened.
An Idaho woman flashed her pearly whites for her mugshot early Saturday morning, despite racking up several felony charges for allegedly punching a Boise Police officer in the face. Andrea Espinosa, 25, was booked on suspicion of assaulting an officer and resisting arrest after she tried to flee in a stranger's car, according to the Idaho Statesman.
Her wild night started at 3:45 a.m., when a man flagged down a patrol car. He told police that he pulled over to see if Espinosa was OK, and claimed that she jumped in his vehicle and told him to drive. She declined, and when the man got out and flagged down cops, she got in the driver's seat and allegedly tried to flee.
One officer who tried to pull her out of the vehicle was met with a punch in the face and a knee to the thigh, KTVB reports. Espinosa was reportedly "confused and inconsistent" when officers interviewed her.
She was booked into the Ada County Jail, where she grinned for the sheriff's camera. If she had been arrested just two days earlier -- on Christmas -- she would have been greeted with a candy cane by Ada County Sheriff's deputies, according to their Facebook page.
Like Us On Facebook |

Follow Us On Twitter |

Contact The Author