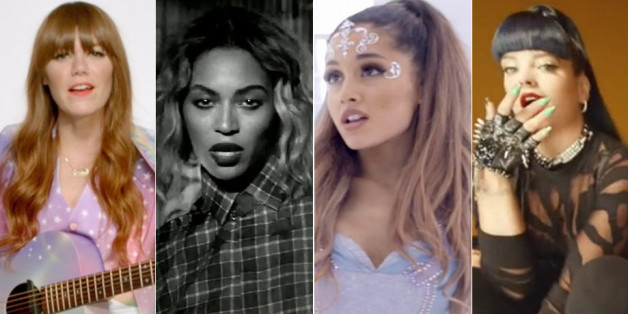 It's been an empowering year for women in music. Beyoncé stood proudly in front of a FEMINIST backdrop at the VMAs, Jenny Lewis explained the complexities of being "just another lady without a baby" and Lily Allen declared, "There's a glass ceilin' to break, uh-huh, there's money to make, and now it's time to speed it up 'cause I can't move at this pace."
Besides the chart-topping female artists who transformed their views on gender equality into catchy hits in 2014, there were also fantastic parodies of popular music that drove girl power messaging to viral heights, like the career-focused feminist take on "All About That Bass" and "Baby, It's Consent Outside."
In celebration of a year of great music, here's a playlist of 27 songs that made us feel all warm and liberated this year:
*We would have included Taylor Swift's "Blank Space," because of how effectively she mocks the "boy crazy" image that's been thrust upon her by the media. But alas, her music isn't on Spotify. Enjoy the music video instead!
Here's to another year of feminist jams!
BEFORE YOU GO
PHOTO GALLERY
Inspiration From Brilliant Women