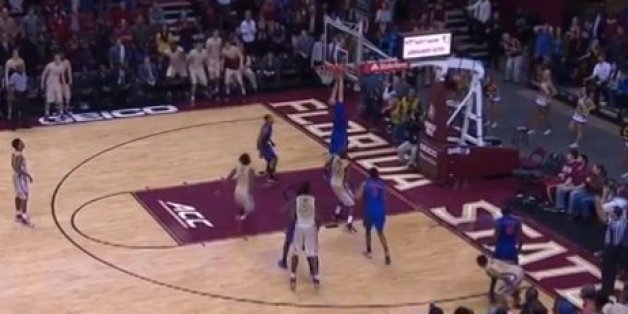 Don't close out those end-of-year lists just yet.
On the penultimate day of 2014, Florida suffered a last-second defeat on the basketball court that might just be the most bizarre and cruelest of the entire year. Tied with Florida State 63-63 in the waning seconds of an in-state matchup in Tallahassee on Tuesday night, Florida forward Jacob Kurtz tipped in a game-winning shot with 0.4 seconds left on the clock. Unfortunately for the Gators, he inadvertently tipped an opponent's missed three-point shot into the basket he was defending.
"That was crazy. I thought he had a rebound. I guess it just slipped out of his hand. I don't know how to explain it, but I was just happy," Florida State guard Montay Brandon said after his team's 65-63 win, via The Associated Press. "At first I was looking around like, did that happen? Then I saw the scoreboard change and I was like, oh man, we're winning. I started going crazy."
Brandon's "oh man" reaction just about summed up the response to the play on Twitter:
Jacob Kurtz with the own goal for Florida!! Seminoles win at the buzzer. I've literally never seen that before. Feel sick for the kid.

— Seth Davis (@SethDavisHoops) December 31, 2014
Also, a Florida player just tipped in a game-winning shot for FSU in basketball. The Gators' football weirdness has spread, y'all.

— Dr. Saturday (@YahooDrSaturday) December 31, 2014
I cannot believe that just happened. Jacob Kurtz just tipped in a shot at the buzzer for Florida State. Kurtz plays for Florida. Oh my god.

— Rob Dauster (@RobDauster) December 31, 2014
oh Florida..can't recall another game ending like this.. http://t.co/45rm6M5AIS

— Kevin Negandhi (@KNegandhiESPN) December 31, 2014
Florida knocks off... Florida https://t.co/UrVGGZtaFG

— ScoutsFocus (@scoutsfocus) December 31, 2014
Game winner! Florida beats Florida https://t.co/u20PuK3nB8

— Doug Gottlieb (@GottliebShow) December 31, 2014
Florida Man Tips Buzzer Beater Into Own Basket | pic.twitter.com/oWXT8uJxh6

— Florida Man (@_FloridaMan) December 31, 2014
BEFORE YOU GO
PHOTO GALLERY
Amazing Sports Photos