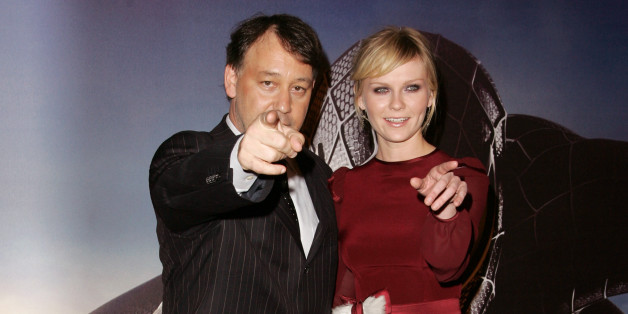 When "Spider-Man 3" opened in 2007, critics called it a "mess," "too leaden for liftoff" and "hastily assembled from a bargain rack of lesser movies." That's what happens when you introduce emo Spider-Man and enough villains to terrorize three franchises.
But director Sam Raimi, who also co-wrote the script, is well aware of the problems. In a new conversation on the podcast "Nerdist," the 55-year-old director called the sequel "awful."
"Working in that big-budget arena, with so much at stake, with much-beloved characters that Stan Lee created, people really hold them so dear to them that you don't want to mess up, and I messed up with that third 'Spider-Man,'" Raimi said. "People hated me for years. They still hate me for it. [...] It's a movie that just didn't work very well. I tried to make it work, but I didn't really believe in all the characters, and so that can't be hidden from people who loved 'Spider-Man.' If the director doesn't love something, it's wrong of them to make it when so many other people love it."
One character Raimi didn't believe in was Venom, played by Topher Grace and included at the behest of a producer. When the script became too unwieldy, he considered splitting it into two movies, but abandoned the idea when no one could decide where to end the first half.
Raimi, whose other directing credits include "The Evil Dead" and "Oz the Great and Powerful," may not have known how to fix "Spider-Man 3," but he knew not to take any more gambles with the franchise. He was prepping "Spider-Man 4," but it fell apart after Raimi couldn't put together a script he liked in time. Raimi knows his superhero legacy now lives with the third "Spider-Man" installment, but at least he has the dollars to show for it: All three "Spider-Man" movies grossed around or more than $800 million, and the much-derided threequel raked in the most of any of them.
"I think [raising the stakes] was the thinking going into it, and I think that's what doomed us," Raimi told "Nerdist." "I should've just stuck with the characters and the relationships and progressed them to the next step and not tried to top the bar. I think that was my mistake."
BEFORE YOU GO
PHOTO GALLERY
10 Spider-Man Villains