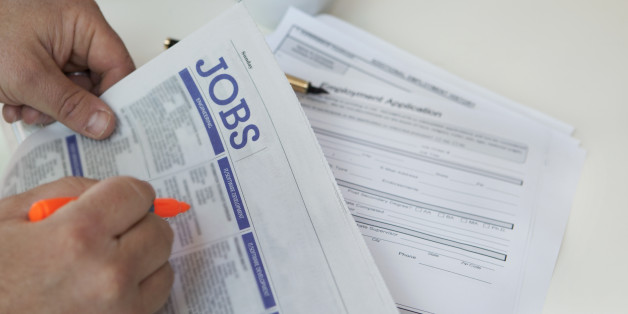 WASHINGTON -- The year 2014 is ending on an economic high note: The U.S. workforce added 321,000 jobs in November, hourly wages are ticking upward, and even the long-term unemployed are having slightly better luck finding jobs.
While few people say they've completely recovered from the recession, many are beginning to notice a change. For the first time since at least 2009, Americans are as likely to say they're hearing mostly good news about the jobs situation as to say the news is mostly bad. The percentage who think now is a good time to find quality employment is the highest it's been since 2007. A December CNN poll found that for the first time since the recession hit, most Americans are feeling positive about the economy, with the biggest upswing among those who earn less than $50,000 annually.
That sense of optimism was tangible when HuffPost checked back with some of the people profiled in last year's "All Work, No Pay" series, which chronicled the lives of Americans struggling to survive near the minimum wage. While finances remain a serious concern, 2014 marked a year of incremental victories for many of them -- from an easier commute to a nicer apartment, a better-paying job or simply less to worry about.
Vanessa Powell
"It's been a year of extreme changes," said Vanessa Powell, a 30-year-old business school graduate living in Seattle. Last year, she was sorting books at Goodwill for $9.25 an hour and joking with her co-workers about fantasies that seemed both utterly mundane and entirely out of reach, like making enough to pay the bills, going out to see a movie or buying a pair of shoes without holes.
In July, her job search finally succeeded when she landed a better-paid office position. "I bought new shoes -- new, professional shoes," she laughed. "It was wonderful."
Powell is now planning a March wedding to her fiance and hoping to find a bigger apartment than the 400-square-foot room they currently share.
"It is so much less terrifying," she said. "I feel a lot of guilt, quite honestly, because I know my co-workers formerly are not in the same place. But it is nice being able to replace a shirt when it has holes in it, and it is wonderful to be able to buy shoes when I need to buy them. That novelty still hasn't worn off, and it's going to be a while before it does."
Powell said her new job not only pays better but also feels like a better fit for her experience. A recent HuffPost/YouGov poll suggested that may be a widespread sentiment, finding that only about half of working Americans in households making less than $40,000 said their job makes good use of their skills and education, compared with three-quarters of those in households making more than $80,000.
Joanne Van Vranken
Joanne Van Vranken, 51, a former market researcher in Long Island, New York, lost her salaried job in 2011 and spent more than a year unemployed before taking work as a Home Depot cashier and then an administrative assistant. While she's still temping, her latest job pays better, is closer to home and, most importantly, is in her field of expertise, she told HuffPost.
"The toughest part was working a job that was just not at all in line with my skills and education. It really did a number on my ego," Van Vranken said. "It made me feel bad about myself. I felt like there must be something wrong with me if I'm not employable doing what I did, that the best thing I could do is just do data entry."
Van Vranken said she hoped her new job, which provides more of a challenge, also helps to rebuild her resume.
"I walked in and I felt like my IQ had gone up 20 points just walking in the door," she said. "I was actually able to converse with people on an intelligent level about things that I knew about."
For those who ended 2013 unemployed, finding any job was good news. But Kelly Lingo, a 23-year-old mother living in Fresno, California, took two steps up the career ladder, first finding work in the service industry and then landing a better-paying, full-time position.
Kelly Lingo
Last year, Lingo was looking for work and struggling to make ends meet after her family's food stamps were cut. She had bought few new clothes since giving birth and sold many of her important possessions. Even so, she sometimes found herself skipping meals in order to feed her son.
"It went from us eating and keeping our bellies full to scraping out of the barrel," her boyfriend, Alex Felkins, told HuffPost at the time.
After months of applying for jobs, Lingo was hired in early spring at the burger chain Five Guys. Then, right after she had finished training, another company that had once employed her part time reached out to say it had a new position open.
Lingo is now making $15.25 an hour full time and no longer needs food stamps. She's also studying graphic design online and hopes to earn a degree in 2017.
She and her boyfriend moved out of their cramped one-bedroom apartment to a bigger place. She decorated their now 21-month-old son's new room with Winnie the Pooh art and a toy box made by her great-grandfather.
"It's kind of a weird thing to say, because it's not a grand achievement per se, but it just felt really like a dream come true," she said. "I never thought I'd be able to give my son his own bedroom."
Lingo said there's still room for things to improve. She and her boyfriend would like to move out of Fresno and to find a better school district for their son.
"I'm focusing on working harder on my schooling. I'm hoping that my degree will continue to help me to raise my financial benefits," she said. "I'm hoping to move in a couple of years out of this town. I'm pretty open-minded to where I end up living. Just not where I am right now."
Bernadette Feazell
For some, moving to a new city helped lift their financial burdens. Bernadette Feazell, 66, relocated from expensive Austin, Texas, to her son's two-bedroom apartment 100 miles north in Waco. She had been making $8 an hour at a pawn shop in Austin. Though she's only managed to land temp work so far in Waco, she told HuffPost that her life has improved considerably.
"I don't feel as alone and desperate," she said. "In Austin, if any little thing happened, it was pretty much over. ... There's no joy in anything when all you do is worry."
Feazell added that for the first time in years, she can buy a full tank of gas. "It used to be I'd get $10, then $10, then $10," she said. "Here in Waco, the traffic isn't as miserable. So I don't sit in traffic, and the price of gas has gone down."
When HuffPost spoke to Feazell last year, she had been planning a trip across the border to Mexico for a dental procedure because she couldn't afford a dentist at home. In Waco, she said, she's been able to find affordable health and dental care. "Here in town, they have low-cost dental care," she said. "I was able to have the filling I got in Mexico checked. And I went to the doctor for the first time in five years."
DeAngelo Belk
DeAngelo Belk, 22, is also hoping to build on the progress he's made in 2014. Last year, Belk was toiling part time at Wendy's in the Detroit area, living at his mother's house and hunting for a position where he might get more than 10 or 12 hours of work a week.
He's still at Wendy's, but he was able to find a job at a different restaurant where, he said, he's treated more respectfully and works significantly more hours. He's also earned an unexpected raise, from $7.50 to $8.25 an hour.

For his next job, Belk told HuffPost, he would like "something that's not fast food, since Wendy's is my first fast-food job and I think I'd like for it to be my last." But in the meantime, he's putting away money to move early next year, studying for a GED diploma and hoping to earn a promotion to crew leader -- which might boost his resume.
"You always have to be hopeful because you can't go in with negativity -- that's not going to help," Belk said. "Always hope for the better."
Carly Schwartz contributed reporting. Photos of the people quoted in the story were provided by the subjects themselves.
BEFORE YOU GO
PHOTO GALLERY
Aging in Office