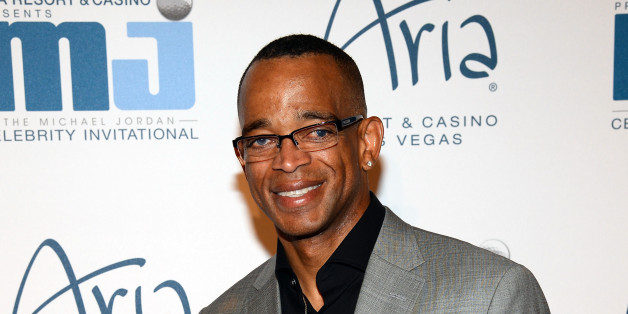 On Sunday morning, sports anchor Stuart Scott died at 49 after a long battle with cancer. Scott had been a beloved anchor on ESPN since 1993, and the news of his passing devastated fans and colleagues.
ESPN's Hannah Storm delivered a tearful and heartfelt tribute, saying, "Today, we choose not to say that Stuart lost to cancer at the age of 49. Instead we'll choose to say that we all lost Stuart."
Scott's SportsCenter partner, Rich Eisen, let the emotions flow as well:
I loved this man. I still love this man, and the fact that he has passed away is absolutely mind-boggling, and a travesty. He battled cancer as bravely as anybody else, and I know there are many people out there who are battling cancer right now … Stuart would want you to know to keep fighting, and that he didn't lose his battle with cancer.
President Barack Obama also delivered a statement about Scott's death, noting what an important figure he was over the past 20 years.
"Wherever I went, I could flip on the TV and Stu and his colleagues on SportsCenter were there," Obama said. "Over the years, he entertained us, and in the end, he inspired us -- with courage and love."
Scott is survived by his two daughters, Taelor, 19, and Sydni, 15.
Check out ESPN's tribute to Scott below:
BEFORE YOU GO
PHOTO GALLERY
Athletes, Media Pay Tribute To Stuart Scott