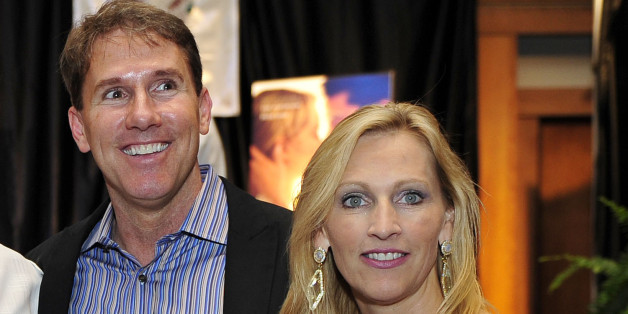 Love is dead -- at least, according to Nicholas Sparks fans.
On Tuesday, Sparks, the wordsmith behind The Notebook and A Walk To Remember, announced that he and wife Cathy are divorcing after 25 years of marriage.
"This is, of course, not a decision we've made lightly," Sparks told People. "We remain close friends with deep respect for each other and love for our children. For our children's sake, we regard this as a private matter."
It wasn't news that fans of the best-selling author took lightly, either. Many on Twitter were verklempt; how could the man whose beautiful mind gave us the timeless, sweeping love story of Noah and Allie fall prey to something as humdrum, something so un-Nicholas Sparks-ian as divorce?
Some waxed poetic about the end of romance:
I might have lost all faith in romance in this very moment upon hearing that Nicholas Sparks recently got a divorce

— Arianna (@AriannaGrace) January 6, 2015
Some blamed the split on the new year. (Damn you, 2015.)
Nicholas Sparks have separated from his wife? wtf is wrong with you 2015?

— the woods are lovely (@marythequeenie) January 6, 2015
Some wondered why Sparks didn't do a better job of showing his love in some Nick Sparks-esque way. Like, why didn't the dude just sweep his lady off her feet for one of those
sloppy lift-and-sit kisses in the rain
? Why didn't they
stargaze in a cemetery
until their love came back to life?
Nicholas Sparks and his wife got a divorce. Like what? If you can write about great love then you should be able to show it.

— Olivia Jackson (@MachoGurlOlivia) January 6, 2015
Some questioned how we, as a people, could ever again trust the words he's written.
Nicholas Sparks and his wife are separating. I don't even know how to process trusting his love stories anymore

— Leigh Elizabeth (@LeeEliz) January 6, 2015
How can we trust Nicholas Sparks anymore?

— Evelyn Curry (@EvelynCurry) January 6, 2015
And some? Some gave up entirely.
If Nicholas Sparks is divorcing his wife there's no hope for any of us.

— Stacey Farber (@StaceyFarber) January 6, 2015
Nicholas Sparks getting divorced is tragic....if the master of love stories can't keep his wifey around, we are all doomed

— gab (@gaaabrielllaaa) January 6, 2015
RIP love.
For more devastated reaction to the news, check out the slideshow below:
PHOTO GALLERY
Response To Nicholas Sparks' Divorce
Keep in touch! Check out HuffPost Divorce on Facebook and Twitter. Sign up for our newsletter here.

BEFORE YOU GO
PHOTO GALLERY
Celebrity Splits