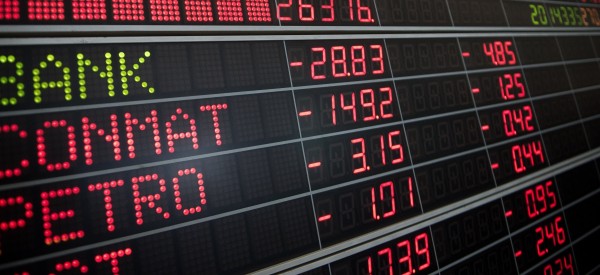 TOP STORIES
MARKETS CONTINUE DECLINE AS OIL PRICES FALL Energy prices and euro concerns led to yesterday's rout in the markets, as oil fell below $50 a barrel for the first time since April 2009. [WSJ]

SCALISE'S FUTURE UNCERTAIN "The scandal over Louisiana Rep. Steve Scalise's 2002 speech to a white supremacist group has so badly damaged his image inside the House Republican Conference that he faces serious questions over his political future, according to interviews with multiple aides and lawmakers -- including some Scalise allies.
Scalise's job as House majority whip remains safe -- and Speaker John Boehner has publicly backed him -- but he may be too toxic for some Republican circles." [Politico]
FLU CONTINUES TO SPREAD It's rampant in 43 states, up from 36 last week. [CNN]
MICHAEL BROWN GRAND JUROR SUES FOR RIGHT TO SPEAK ABOUT CASE "Grand Juror Doe" believes he or she "could contribute to the current public dialogue concerning race relations." [HuffPost]
FOOD STAMP ENROLLMENT EXPECTED TO DROP BY 1 MILLION "Enrollment in the Supplemental Nutrition Assistance Program (the formal name for food stamps) has been dropping since late 2013 mainly because the economy has been getting better. After this year, states will have to reimpose requirements that able-bodied childless adults enroll in job training or work 20 hours per week if they want more than three months of food stamps." [HuffPost]
TWO NYPD OFFICERS SHOT IN BRONX A manhunt is underway for the armed robbery suspect who fired at the officers, both of whom are expected to recover. [NYT]
PETCO PULLS ALL CHINESE-MADE DOG AND CAT TREATS "Petco said Monday it has removed all remaining Chinese-made dog and cat treats from its website and stores nationwide because of concerns they have sickened thousands of pets and killed 1,000 dogs in the U.S. since 2007. The U.S. Food and Drug Administration says initial tests have not connected the Chinese jerky and rawhide treats to the illnesses, but the San Diego-based company and its rival PetSmart vowed in May to ban the snacks." [AP]
WHAT'S BREWING
ALMOST HALF OF AMERICA DIDN'T TAKE A VACATION DAY IN 2014 Over 169 million paid vacation days were left unused. [Quartz]
CAMERON DIAZ AND BENJI MADDEN GOT MARRIED Bet that wedding, at their mansion in Beverly Hills, had one heckuva band. [Daily Mail]
BLAKE LIVELY AND RYAN REYNOLDS ARE PARENTS! Both mom and newborn are doing well. [HuffPost]
THE FUTURE OF REPRODUCTION "Now that the hurdle of the transplanted uterus has been overcome, researchers have turned to a technology borrowed straight from sci-fi: a bioengineered uterus. Doctors in the burgeoning field of regenerative medicine produce organs and parts of organs in a few different ways." [The Atlantic]
VERIZON CONSIDERS AOL ACQUISITION The deal revolves around AOL's prominence in the mobile video market. Disclaimer: AOL owns HuffPost. [Quartz]
THE LEG EXERCISE YOU AREN'T DOING Because you aren't doing any exercise since your New Year's resolutions expired January 2. [HuffPost]
THE RISE OF 'MID-REPUTABLE' TV "What those shows have in common is that they have fervent followings—including among prominent TV critics, who've put them on their annual 'best of television' lists. But with the exception of 'Scandal' (and only slightly), they're not major players in the Emmy and Golden Globe races. And more importantly, no one expects them to be." [AV Club]
SANDY AND FRENCHY FROM 'GREASE' REUNITED We'll always...be together… [HuffPost]
ON THE BLOG
HUFFPOST INTRODUCES SOPHIA: LIFE LESSONS FROM FASCINATING PEOPLE "Do you know what their great regret in life is? What advice would they share about parenting, or aging, or finding fulfillment? What book has had the greatest impact on their life? Chances are you don't know. Which is why we've created Sophia, a project to collect life lessons from fascinating people. Here's how it works. We're conducting hundreds of long-form interviews with accomplished individuals, asking them to share stories and advice about topics that are central to a well-lived life -- happiness, relationships, aging, work, parenting, habits and routines, to name a few." [HuffPost]
MY MOTHER'S ALZHEIMER'S "This woman looks like my mother. She sounds like my mother. She smells like my mother. There is that visceral feeling when I hug her, that I am hugging the woman I came from, the woman of whom I am a piece, a rib. But each time she opens her mouth, I find that she is just an echo." [HuffPost]
BEFORE YOU GO
~ You now can delete all those awkward New Year's Eve texts you sent from other people's phones.
~ Vinyl sales are still on the up and up.
~ Good luck streaming Netflix abroad.
~ "Selma" and "Unbroken" did not get much love at the Producers Guild Awards.
~ Meet China's rich-whisperers.
~ People are flocking to a town without internet.
~ When a fireworks factory explodes.
~ How nonemployed Americans spend their weekdays.
~ This robot plays beer pong a lot better than you can ever hope to.
~ "Girls" has been renewed for a fifth season ... before the season 4 premiere Sunday.
~ Katy Perry is planning to deepen her feud with T-Swift during the Super Bowl halftime show.
~ A new hole in the sun is 410 times the surface area of Earth.
~ Finding Genghis Khan's tomb.
~ This is what CNN will play as the world ends.
Send tips/quips/quotes/stories/photos/events/scoops to Lauren Weber at lauren.weber@huffingtonpost.com. Follow us on Twitter @LaurenWeberHP. And like what you're reading? Sign up here to get The Morning Email delivered to you.