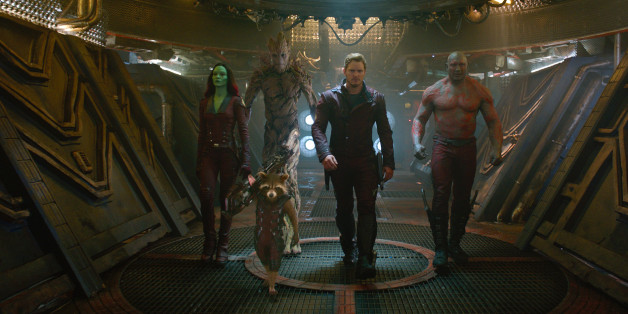 The Writers Guild of America has unveiled the nominees for its 2015 prizes. Most of the finalists were expected, but box-office behemoth "Guardians of the Galaxy" made a surprise appearance in the Adapted Screenplay list. Also a surprise: "Whiplash" being slotted for Original Screenplay one day after the Academy of Motion Picture Arts and Sciences determined it would treat Damien Chazelle's script -- based on a short film he made previously -- as an adaptation.
Not included in the WGA's awards are "Birdman," "Selma" and "The Theory of Everything," which weren't eligible according to the guild's guidelines. Plenty of scripts that the WGA deemed ineligible have gone on to attract the Oscars' attention, including 2013's "12 Years a Slave," for which John Ridley won the Academy Award. This year's snubs include "Unbroken," "Inherent Vice," "Interstellar," "Obvious Child," "Love is Strange" and "Big Eyes."
Read on for the full list of nominations. The 2015 Writers Guild Awards will be held at simultaneous ceremonies in New York City and Los Angeles on Feb. 14.
Original Screenplay
"Boyhood," Written by Richard Linklater

"Foxcatcher," Written by E. Max Frye and Dan Futterman

"The Grand Budapest Hotel," Screenplay by Wes Anderson; Story by Wes Anderson & Hugo Guinness

"Nightcrawler," Written by Dan Gilroy

"Whiplash," Written by Damien Chazelle
Adapted Screenplay
"American Sniper," Written by Jason Hall; Based on the book by Chris Kyle with Scott McEwen and Jim DeFelice
"Gone Girl," Screenplay by Gillian Flynn; Based on her novel

"Guardians of the Galaxy," Written by James Gunn and Nicole Perlman; Based on the Marvel comic by Dan Abnett and Andy Lanning

"The Imitation Game," Written by Graham Moore; Based on the book Alan Turing: The Enigma by Andrew Hodges

"Wild," Screenplay by Nick Hornby; Based on the book by Cheryl Strayed
Documentary Screenplay
"Finding Vivian Maier," Written by John Maloof & Charlie Siskel

"The Internet's Own Boy: The Story of Aaron Swartz," Written by Brian Knappenberger

"Last Days in Vietnam," Written by Mark Bailey & Kevin McAlester

"Red Army," Written by Gabe Polsky
BEFORE YOU GO
PHOTO GALLERY
The Best Movies Of 2014