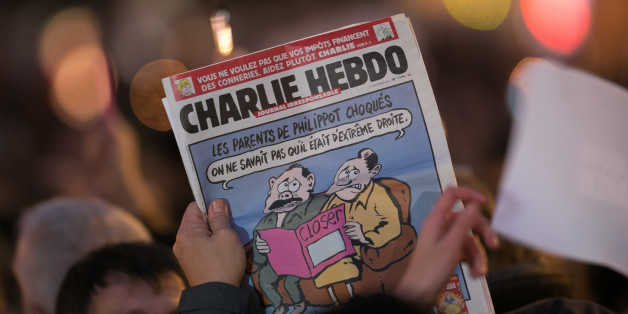 "For those who would trivialize the idea, this was what an actual attack on freedom looks like."
Those are the words of former editor of the The Onion, Joe Randazzo, in reaction to the horrific shooting of a dozen people, which included satirists, cartoonists and innocent bystanders, at French satirical newspaper Charlie Hebdo on Wednesday.
Randazzo penned a response for MSNBC in which he reflected on casual jokes his staff used to make about a similar situation happening at one of America's most established satirical newspapers, one that has made light of threats of terrorism against comedians in the past.
"Our joke at The Onion was, like most of our jokes, borne out of some reality. We received hateful letters and emails on a semi-regular basis. I've personally spoken on the phone with at least two individuals who threatened to rape me and kill my family. At one point, we even had to call the police. But I never could have imagined anything like this," he wrote.
The current staff of The Onion commented on the shooting with a new article posted Wednesday afternoon:
It Sadly Unclear Whether This Article Will Put Lives At Risk http://t.co/RZgoCOpNiL pic.twitter.com/ZCrj2Wp3rJ

— The Onion (@TheOnion) January 7, 2015
Charlie Hebdo paid dearly for its daring political cartoons that often satirized Jihadists and Islamic extremism, but the worldwide comedy community stands by them in protecting the right to free speech. Scroll down for some of the most poignant reactions on Twitter so far.
PHOTO GALLERY
Comedian Reactions to #CharlieHebdo
BEFORE YOU GO
PHOTO GALLERY
Comedians 'Crossing The Line'