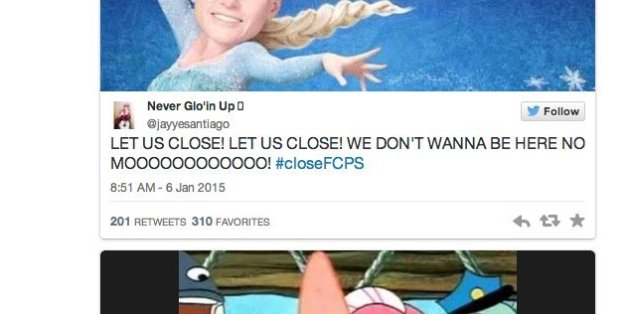 Students in Fairfax, Virginia, awoke to snow Tuesday morning -- but no snow day or delayed opening of schools.
The Washington suburb was hit with three to five inches of snow, causing hazardous road conditions linked to many car wrecks, some involving school buses, teenagers and parents driving to school, according to multiple reports. By 9:30 a.m., police had responded to 15 traffic crashes, WUSA9 reports.
Fairfax schools opened two hours late on Wednesday and announced a two-hour delayed start for Thursday.
The decision to open schools during the foul weather ignited a storm of protest on Twitter, which seems to have humbled school officials.
"It is clear that our decision to keep schools open today was the wrong call given the intensity of this weather system," Fairfax County Public Schools said in a public apology on Tuesday. Ryan McElveen, an at-large school board member, also apologized publicly on Twitter.
The decision to not #closeFCPS today was terrible. Clearly, we screwed up. I am so sorry for all the hardship brought upon so many.

— Ryan McElveen (@RyanLMcElveen) January 6, 2015
Fairfax students took to Twitter to express shock that schools were open on Tuesday and Wednesday, using the hashtag #closeFCPS -- which trended worldwide. They employed outrage, jokes and gags -- many targeting McElveen -- in ways that only teenagers can.
Here are some of the best #closeFCPS tweets:
Look what happens when you don't close..... #closeFCPS @Vj_lurri pic.twitter.com/Fb14gGvAEG

— George Pekarsky (@GeorgePekarsky) January 7, 2015
My outfit of the day for tomorrow #closeFCPS pic.twitter.com/aRmMZ6dEWc

— Emma Afferton (@EAfferton) January 7, 2015
Smh you're calling these roads safe? #closeFCPS pic.twitter.com/6gCQZMRjNZ

— sophia chausse (@sophiachausse) January 7, 2015
Weather today got me like.... #closeFCPS pic.twitter.com/LbPguxz6Sr

— kevin (@Kevuhn_) January 7, 2015
How to survive at a nova bus stop #closeFCPS pic.twitter.com/DUzIgfU8Rq

— madi (@MadiVanderlip) January 7, 2015
FCPS, this could be us but you playin
#closeFCPS pic.twitter.com/h0fF68dd8W

— Marriya Schwarz (@marriyaschwarz) January 7, 2015
Update: My bus got stuck in the icy conditions this morning the roads are still dangerous #closeFCPS pic.twitter.com/ampGAtPuph

— Julia Kun (@hellahuelia) January 7, 2015
don't tell me you're sorry cause you're not. when we only know you're sorry you got caught 🎶 #closefcps pic.twitter.com/wjr0mh5RVX

— ryann (@RyannMartin14) January 6, 2015
LET US CLOSE! LET US CLOSE! WE DON'T WANNA BE HERE NO MOOOOOOOOOOOO! #closeFCPS pic.twitter.com/1EZEdQQS5m

— Never Glo'in Up ✨ (@jayyesantiago) January 6, 2015
We take ALL the salt on twitter rn and put it on the roads. #closeFCPS pic.twitter.com/v6y5JoO96J

— Omar gelani 大膽 (@OmarGelani) January 6, 2015
Impressive turnout for first period today @fcpsnews @RyanLMcElveen #closeFCPS pic.twitter.com/29JeoDZTQr

— Mike Fox (@Michael_T_Fox) January 6, 2015
Got in trouble for holding a sign that said #closeFCPS smh I look fresh af thoooo 💯💯💯 pic.twitter.com/HKN3AMuTfd

— SMH.. (@notjahbril69) January 7, 2015
Premiering tomorrow #closeFCPS pic.twitter.com/fusRbNxlak

— ғudonɢ (@fudonk) January 6, 2015
This car just completely flipped over ! #closeFCPS pic.twitter.com/roEgF02Y86

— john (@Dat_dudejw) January 6, 2015
A kid with his bike was going home in the freezing cold and some students stopped and gave him a ride.. #closeFCPS pic.twitter.com/3o0IV1R35o

— Hector (@UsernameHector) January 7, 2015
I don't live in Virginia but I think that they should #closeFCPS because I mean, come on. They trended it #2 worldwide. That's hard work

— Katie Mettam (@KatieMettam) January 6, 2015
Follow HuffPost Teen on
Twitter |
Instagram |
Tumblr |
Pheed |
BEFORE YOU GO
PHOTO GALLERY
Back To School FAILS