Few Americans expect the new Congress to get more done than the last. Fewer American Jews identify as Democrats than in 2008. And we remember Phil Converse and Thom Riehle. This is HuffPollster for Wednesday, January 7, 2015.
AMERICANS UNWOWED BY PROSPECTS OF NEW CONGRESS Jeremy Diamond: "he Republican Senate takeover is a hot conversation topic in Washington, but outside the nation's capital, Americans aren't feeling much of a change as the new Congress gavels into session on Tuesday. About 6-in-10 Americans believe the new Congress won't get more done compared to the previous Congress, according to a CNN/ORC poll released Tuesday. And about half of Americans surveyed said they don't expect Congress to be more or less responsive this time around….Just 28% of Americans think the Senate will be better off with Republicans wielding the gavel and controlling the flow of legislation to the Senate floor. And 24% think Republicans will do a worse job." [CNN]
Few expect single-party control to help - Kathy Frankovic: "The Republican-led House and Senate may have begun their 2015 terms with elevated rhetoric and moves towards action on GOP measures, but the American public doubts that single party control will result in Congress accomplishing much more than it did last year – when the legislative branch was divided between a GOP-led House of Representatives and a Democratic-led Senate. If the latest Economist/YouGov is any indication, even many Republicans are dubious that single-party control means that anything more will get accomplished in 2015 than the low output Congress produced in 2014….Nearly half of GOP identifiers expect the new Congress to accomplish the same – or even less – than partisan gridlock produced in 2014….But Congress may be able to bounce back. After all, the public response to the legislative branch has been negative for years, and this week's 11% approval rating for Congress is not much different from the low ratings Congress has been receiving in recent years. However, Republican approval – though still bad – has risen. 18% of Republicans now approve of the way Congress is handling its job." [YouGov]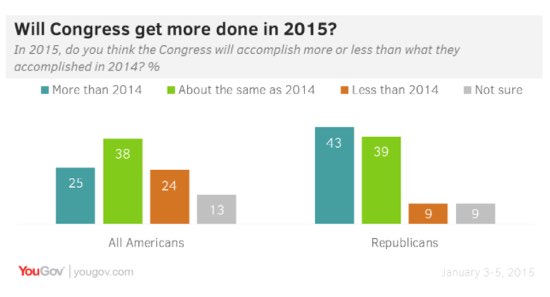 DEMOCRATIC PARTY ID TICKS DOWN AMONG JEWISH AMERICANS - Frank Newport: "In 2014, 29% of Jewish Americans identified as Republicans or leaned Republican, little changed in recent years, but higher than in 2008. Meanwhile, 61% of American Jews identified as Democrats or leaned Democratic, down from 71% in the strongly Democratic year of 2008. The diminished Democratic skew among American Jews in recent years is slightly more pronounced than the same trend among all Americans. The percentage of the general population that identifies with or leans Democratic has fallen by about seven percentage points since 2008, compared with the 10-point drop among Jews. The percentage that identifies with or leans Republican among the general population is up three points, compared with the increase of seven points among Jews." [Gallup]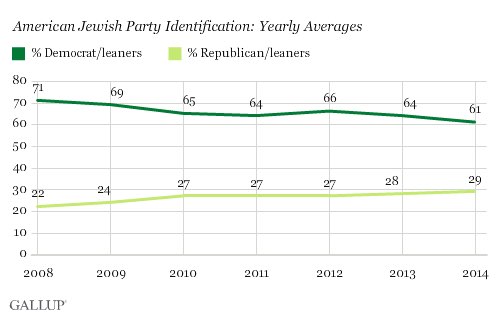 REMEMBERING PHIL CONVERSE - Institute for Social Research: "Philip E. Converse, an authority on public opinion and electoral behavior and a professor emeritus of sociology and political science at the University of Michigan, died on December 30, 2014, in Ann Arbor, Mich. He was 86. Converse's wide-ranging contributions to the field of political science changed how the world understood political behavior*, according to political scientist Donald R. Kinder, a research professor at the U-M Institute for Social Research. 'By brilliant example, in paper after paper, Converse demonstrated the value of a quantitative approach to understanding politics,' said Kinder. 'His influence is profound. He is surely one of the most important social scientists of the 20th century.' 'Phil's work moved the study of political behavior from an emphasis on the group basis of support and preferences to an emphasis on the role of attitudes in shaping them,' said U-M political scientist Michael Traugott. 'While citizens did not often hold ideologically consistent views on issues, they made assessments of political actors and policies based upon attitudes related to ideology and partisanship.'" [University of Michigan]
-John Sides: "Converse was the co-author — with Angus Campbell, Warren Miller, and Donald Stokes — of perhaps the most important book on American voting behavior, 'The American Voter,' which is still in print after 55 years...We celebrate his life." [WaPost]
-E.J. Dionne: "Think of what Tom Brady or Peyton Manning are to football and that's what Philip Converse was to political science." [@EJDionne]
REMEMBERING THOM RIEHLE - From an emailed obituary: "Thomas H. Riehle, a well-known and highly regarded expert on public-opinion research, died Saturday at his home in Washington, D.C. He was 58. Riehle's unexpected passing came only a day after the untimely death of his 22-year-old son, Peter, a senior at the University of Michigan in Flint. Peter died in Bethesda, Md., on Friday. Over the course of a 35-year career, Thomas Riehle amassed an enviable record of accurately predicting the results of elections...and worked with some of the biggest names in political and market research.....After graduation from Yale, Riehle worked at The Barron Report and as an associate editor at National Journal before his passion for politics took him in another direction. He cut his teeth as a pollster with Patrick Caddell and then Hart-Riehle-Hartweig Research Associates before branching out on his own. However, he was in business for himself only briefly before being enlisted by Ipsos, the Paris-based global market research firm, to set up a political polling operation in Washington. He became founding President and COO of Ipsos Public Affairs in 2001. After leaving Ipsos, Riehle, a Democrat, joined forces with V. Lance Tarrance Jr., a Republican, to form RT Strategies, which did polling for the esteemed Cook Political Report, among others. In 2010, Riehle was appointed Senior Vice-President for Public Affairs at YouGov, a post he held until 2014, overseeing the Economist/YouGov Poll. Recently, he had again formed his own firm, Riehle Research."
-Charlie Cook: "Thom was an exceptional pollster, a loving husband and father, and a devoted Washington Nationals fan. He will be missed." [National Journal]
-Peter Hart: "Thom was a remarkably talented pollster who had the depth and breadth few in the field had. He could both understand and analyze current opinions, but he had the talent to put them into a broader perspective of history and cultural patterns." [ibid]
-David Axelrod: "Heartsick over the loss of Thom Riehle, one of the most insightful opinion researchers I have known, and just a hell of a good guy." [@davidaxelrod]
-Mickey Kaus - Thom was a "smart, subtle pollster + frequent emailer to my blog...Very sad." [@kausmickey]
-Huffpollster: Ten years ago, when I first started the MysteryPollster blog -- after we had both been frequent and anonymous emailers to the Kaus -- Thom was the first media pollster to reach out and introduce himself. Over the years he remained a constant source of invaluable encouragement, questions, ideas and data, always ready with a quip and a beaming smile. The polling beat won't be the same without him. - Mark Blumenthal
HUFFPOLLSTER VIA EMAIL! - You can receive this daily update every weekday morning via email! Just click here, enter your email address, and click "sign up." That's all there is to it (and you can unsubscribe anytime).
WEDNESDAY'S 'OUTLIERS' - Links to the best of news at the intersection of polling, politics and political data:
-Gallup's economic confidence index remains positive for a second week in a row, the first positive readings since 2008. [Gallup]
-62 percent of senators serve the state they were born in. [Smart Politics]
-Most Americans think colleges with high-profile sports programs put too much emphasis on athletics. [Monmouth]
-Nate Silver argues Chris Christie's prospects are overrated. [538]
-Although the incumbent rule no longer applies, Mark Mellman (D) says how undecideds break still matters, and focusing on polling margins obscures their role. [The Hill]
-How to make surveys in war zones better. [WashPost]
-The Market Research Association appeals to the FCC to allow auto-dialed survey calls to cell phones. [MRA]
-Jen Agiesta moves from AP to become CNN's Polling and Election Analysis Director. [@SamFeistCNN]
--
for email:
By Mark Blumenthal & Ariel Edwards-Levy
BEFORE YOU GO
PHOTO GALLERY
New Congress Members