This little boy just reached a tremendous milestone.
Georgie Craig, of Scarborough, North Yorkshire, in England, was diagnosed with global development delay when he was 1 year old, according to his fundraising page. The disability affects his movement and ability to communicate, leaving Georgie, now 3, unable to stand or walk.
After doing research, his parents learned about a form of therapy involving the Therasuit -- a suit that was originally used to help astronauts gain muscle strength after returning from space -- Metro reported.
Specialists who worked with the suit were confident it would help the 3-year-old:
"When all of this started we had no idea what would happen with Georgie, but to hear a specialist tell us that she's sure Georgie will walk -- that's just massive for us," Naomi Jamieson, the boy's mother, told Scarborough News.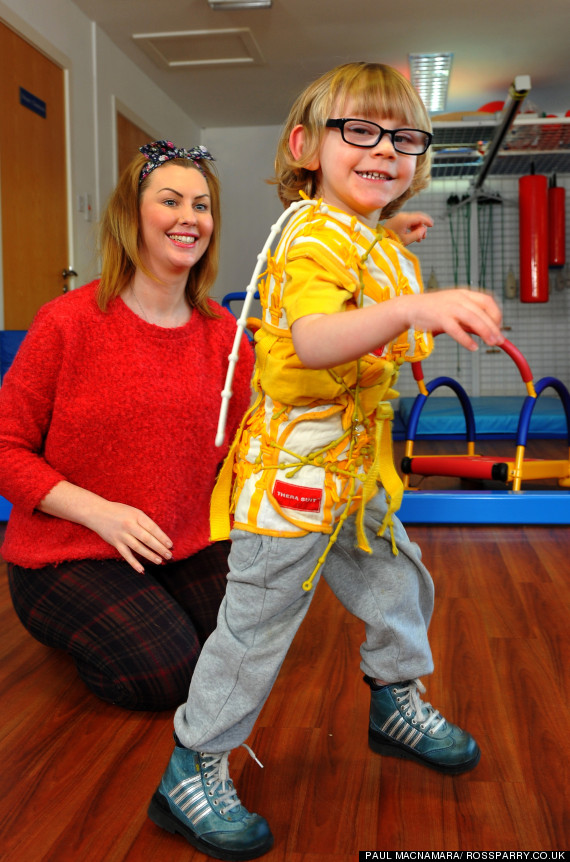 The child began Therasuit therapy last month, and on Dec. 24, walked without help for the first time.
"When he was in the suit on Christmas Eve he took 11 unaided steps. It was the best Christmas present we could have ever hoped for and it really was a miracle," Jamieson said, according to the Daily Mail. "
While his therapy has been challenging, Georgie has had some fun in the process.
"Wearing the specialized suit is the equivalent of running a marathon. After he has been in the suit for a few minutes, connections have been made in his brain so he knows what muscles to use," Jamieson said, according to the Daily Mail. "It's all through play therapy so he doesn't realize he's doing any work."
With the strides Georgie is making in his mobility, his parents hope that the toddler will also be able to one day make improvements in his communication skills, as well.
"We just want to give him a better quality of life, and for one day to hold a conversation with him," his mother told Metro.
Watch Georgie walk unaided for the first time in the video above.
To learn more about Georgie or to make a donation toward his therapy costs, visit his fundraising page here.
BEFORE YOU GO
PHOTO GALLERY
Best Space Images Of 2014