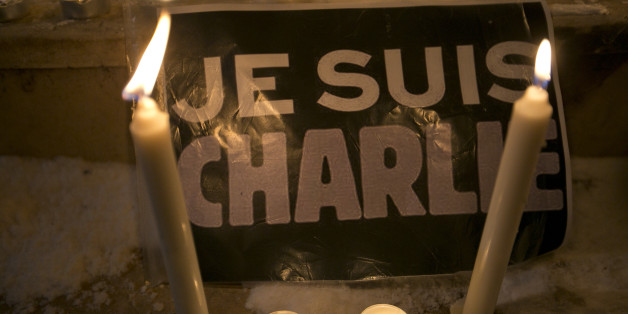 I am Charlie, we are all Charlie. Since the attack on the offices of the satirical newspaper Charlie Hebdo, which left at least 12 dead on Wednesday, "Je Suis Charlie" ("I am Charlie") is on everyone's lips. The slogan is appearing in profile pictures on social networks, on signs at solidarity rallies, in newspapers, and in some cities, on billboards.
The slogan and the logo appeared online immediately after news broke of the attack at the Charlie Hebdo headquarters. They were created spontaneously on Twitter on Jan. 7 by an artistic director.
An image when there are no words
Le Progres identified the author of the banner as Joachim Roncin, the artistic director and music journalist for Stylist magazine. He was the first to publish this logo on Twitter, at 11:52 a.m. on Wednesday, less than an hour after the shooting.
— joachim (@joachimroncin) 7 Janvier 2015
He has also claimed authorship of the image in an exchange on Twitter with journalist Valerie Nataf. "I made this image because I am at a loss for words," Roncin said.
@vnataf j'ai fait cette image parceque j'ai pas de mots

— joachim (@joachimroncin) 7 Janvier 2015
"What's happening is so strange, it's completely beyond me," Roncin later said in Le Progres. "I couldn't find the words to express my sorrow and I just had this idea of 'I am Charlie.'"
Roncin told the newspaper the concept came to him because he often read the "Where's Charlie" books [the French version of "Where's Waldo"] with his son.
"I wanted to communicate that this affected me. I feel personally targeted. It kills me, you know," he said.
Roncin also came up with the idea to use the Charlie Hebdo typography for the image.
A global slogan
While Roncin responded to the first media requests asking to use his logo, he became quickly overwhelmed. The image has since gone viral.
It immediately led to the hashtag #JeSuisCharlie, which had been used more than 619,000 times by Wednesday night.
Several "I Am Charlie" Facebook pages were created in the process. France's main solidarity page on Facebook brought together over 250,000 people.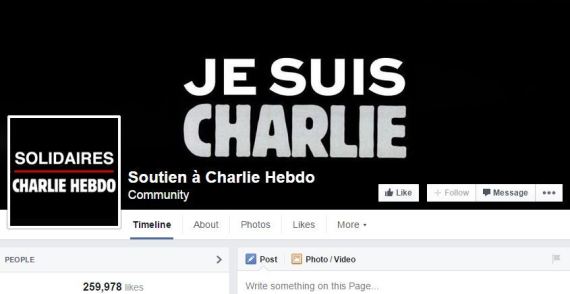 "I Am Charlie" has become a phrase of solidarity and emotion for people of all nationalities, including celebrities, journalists, cartoonists, and politicians.
#JeSuisCharlie Minute de silence à la rédaction de l'AFP à Paris pic.twitter.com/t8NcLyV1QK

— Agence France-Presse (@afpfr) 7 Janvier 2015
A terrible day for all cartoonists. #JeSuisCharlie pic.twitter.com/Ksbl89WLsE

— Magnus Shaw (@TheMagnusShaw) January 7, 2015
The slogan is sometimes used as "I am Charlie" in English, "Yo soy Charlie" in Spanish, or "Ich bin Charlie" in German.
I stand with artists everywhere in support of #FreedomOfExpression & against this despicable act #IAmCharlie pic.twitter.com/o7nbpOCz8R

— Andrea Parker (@TheAndreaParker) January 7, 2015
Je suis Charlie
Ich bin Charlie
انا شارلي
I am Charlie
#JeSuisCharlie #CharlieHebdo #IchBinCharlie pic.twitter.com/Nm4DYWizGu

— Markus Aschoff (@Herforder123) January 7, 2015
"Je suis Charlie" has replaced the drawings on the Charlie Hebdo website. The magazine's homepage hosts a file with print-friendly translations of the slogan in many languages, ready for worldwide gatherings.
This article was originally published on HuffPost France and was translated into English.
BEFORE YOU GO
01/09/2015 6:14 PM EST
Footage Of French Raid On Terror Suspects In Dammartin
France's National Gendarmerie released footage of its special forces raiding the printing house in Dammartin-en-Goele where the two Charlie Hebdo attack suspects were holding a person hostage.
The National Gendarmerie also released a picture of the hostage, with their face blurred, being led to safety after the raid. Both of the suspects were killed.
Le #GIGN libère sain et sauf l'homme caché depuis le début dans l'imprimerie. Fin de l'assaut. pic.twitter.com/7OTgqO2VcE

— GendarmerieNationale (@Gendarmerie) January 9, 2015