The hashtag #JeSuisCharlie began trending on Twitter as a message of solidarity after 12 people were killed in a shooting at the Paris offices of satirical weekly Charlie Hebdo Wednesday in what French President Francois Hollande called "a terrorist attack without a doubt."
Three masked gunman stormed the offices of Charlie Hebdo -- a satirical publication that pokes fun at prominent figures in politics and religion and has previously been targeted for its cartoons portraying the Islamic prophet Muhammad -- and began shooting. Witnesses reportedly told police the gunmen shouted, "We have avenged the prophet," Agence France Presse noted. Four cartoonists, and at least eight others, were killed. The gunmen were still at large late Wednesday afternoon local time.
#JeSuisCharlie, or "I am Charlie," began trending after the attack. Thousands of Twitter users posted the hashtag in support of those killed and freedom of the press.
I am devastated by what just happened in France. #CharlieHebdo pic.twitter.com/IxEbScqYFh

— jean jullien (@jean_jullien) January 7, 2015
While it is most unusual to stand Shoulder-unto-Shoulder with Frenchmen, an Attack 'pon Satire is an Attack 'pon LIBERTY #JeSuisCharlie

— Samuel Johnson (@DrSamuelJohnson) January 7, 2015
I am heartbroken by the loss of life and attack on freedom of expression. #JeSuisCharlie

— Julianne Moore (@_juliannemoore) January 7, 2015
No political act is more cowardly, dishonorable & discrediting than the assassination of comedians. Sickening. #JeSuisCharlie @Charlie_Hebdo

— Andrew McLaughlin (@McAndrew) January 7, 2015
#JeSuisCharlie
RIP victims of massacre at Charlie Hebdo magazine offices in Paris

— Ivan Watson (@IvanCNN) January 7, 2015
From Plato to Swift, Orwell, Bulgakov, even Matt Stone and Trey Parker. Satire has always been crucial to healthy debate. #JeSuisCharlie

— Jess Shankleman (@JessicaBG) January 7, 2015
I'm a Muslim journalist. Although I disagree w/ anti-Islam cartoons, my faith compels me to respect the rights of others. #JeSuisCharlie

— Sarah Harvard (@sarah_harvard) January 7, 2015
The more I read the more gut wrenchingly depressing it is. Killing people for fun using religion as an excuse. Tossers
#JeSuisCharlie

— Robert Llewellyn (@bobbyllew) January 7, 2015
'Journalism is printing what someone else does not want printed: everything else is public relations' - Orwell #JeSuisCharlie

— Rupert Myers (@RupertMyers) January 7, 2015
Every single publication in the world should publish the cartoon that led to that horrible attack. CharlieHebdo #JeSuisCharlie

— Kumail Nanjiani (@kumailn) January 7, 2015
This by @davpope

#JeSuisCharlie pic.twitter.com/CbszTgf1EZ

— kristyan benedict (@KreaseChan) January 7, 2015
The publication's website also prominently featured the words.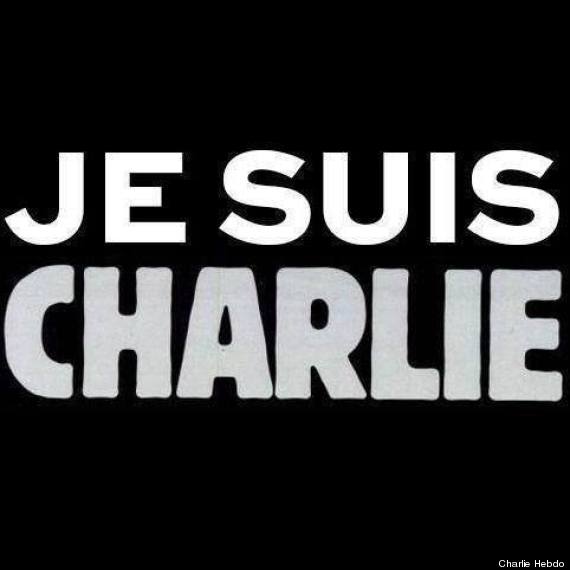 The U.S. embassy in France changed its main Twitter photo to a text image reading "Je suis Charlie." President Barack Obama condemned the "horrific shooting" in a statement, saying, "Our thoughts and prayers are with the victims of this terrorist attack and the people of France at this difficult time."
Editor-in-Chief Stéphane Charbonnier, who used the pen-name "Charb," was one of the individuals killed in the shooting. In 2013, his name appeared on a "Wanted Dead or Alive for Crimes Against Islam" published in al Qaeda's terrorism propaganda publication, Inspire, because of his cartoons depicting Muhammad, according to the Telegraph. Although he was placed under police protection, he was not scared by the threats.
"Muhammad isn't sacred to me. I don't blame Muslims for not laughing at our drawings. I live under French law. I don't live under Quranic law," he said in 2012 following an uproar over an illustration. Adding: "The freedom of the press, is that a provocation? I'm not asking strict Muslims to read Charlie Hebdo, just like I wouldn't go to a mosque to listen to speeches that go against everything I believe."
Just moments before Wednesday's attack, Charlie Hebdo tweeted a cartoon portraying the Islamic State leader Abu Bakr al-Baghdadi, reading: "Best wishes, by the way."
01/09/2015 6:14 PM EST
Footage Of French Raid On Terror Suspects In Dammartin
France's National Gendarmerie released footage of its special forces raiding the printing house in Dammartin-en-Goele where the two Charlie Hebdo attack suspects were holding a person hostage.
The National Gendarmerie also released a picture of the hostage, with their face blurred, being led to safety after the raid. Both of the suspects were killed.
Le #GIGN libère sain et sauf l'homme caché depuis le début dans l'imprimerie. Fin de l'assaut. pic.twitter.com/7OTgqO2VcE

— GendarmerieNationale (@Gendarmerie) January 9, 2015