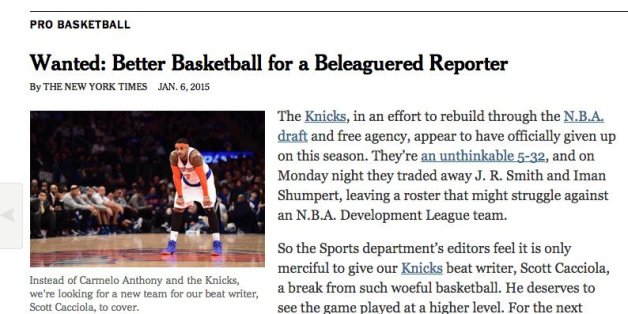 The New York Times apparently isn't above trolling; the New York Knicks certainly aren't above getting trolled.
In a clear jab at the struggling team, The Times published an article titled "Wanted: Better Basketball for a Beleaguered Reporter" on Tuesday. The short piece noted the team's dismal record and solicited reader suggestions for other basketball teams that beat writer Scott Cacciola could cover instead:
Maybe there is another NBA team that warrants his attention, or perhaps a high school or college squad. For that matter, maybe you know of a strong coed team at your local Y that Scott should write about. Tell us where to send him.
Howard Beck, the former NBA reporter for The New York Times who joined Bleacher Report in 2013, was among those who found humor in the article:
This is fantastic. (If only they'd shown me such mercy in 2005. And 2006, 2007...) pic.twitter.com/w2UCZu9Foe

— Howard Beck (@HowardBeck) January 6, 2015
Noting criticism of the piece on Twitter, Kelly Dwyer of Yahoo Sports' Ball Don't Lie observed that "this move does seem a little tone deaf on The Times' part."
The story was published one day after the Knicks traded away two of their more accomplished players, J.R. Smith and Iman Shumpert. The three-team trade seemed to remove any remaining pretense that the Knicks intended to be competitive during the 2014-2015 season.
"As our journey moves through this season, we will search for the type of players that fit the style we hope to exhibit to our fans. Our desire to improve our ability to compete," Knicks president Phil Jackson said in a statement on Monday after his team appeared to fully embark on a rebuild. "These transactions improve our flexibility to the current roster and the salary cap for future seasons."
In an apparent attempt to address those who may have been confused or simply unamused by The Times' subsequent "Wanted" ad, Cacciola took to Twitter:
Two points: 1) I love my job, and 2) We're still covering the Knicks. I think we're just having some fun with a team that's not so good.

— Scott Cacciola (@ScottCacciola) January 6, 2015