They came. They created. They conquered.
The following 15 women defeated the odds, inscribing their names in art history and forever changing its course. And what's crazier is the fact that they kept doing it, over and over again, probably for longer than you've been alive. Behold, the art world heroines who inspire us more than we can accurately express. Also, they're all working and exhibiting at over 70 years old. Because, as Judy Chicago aptly explained to us, "Artists don't retire."
1. Joan Jonas "Video has provided a way for me to represent layers of thought, to place one perception against another."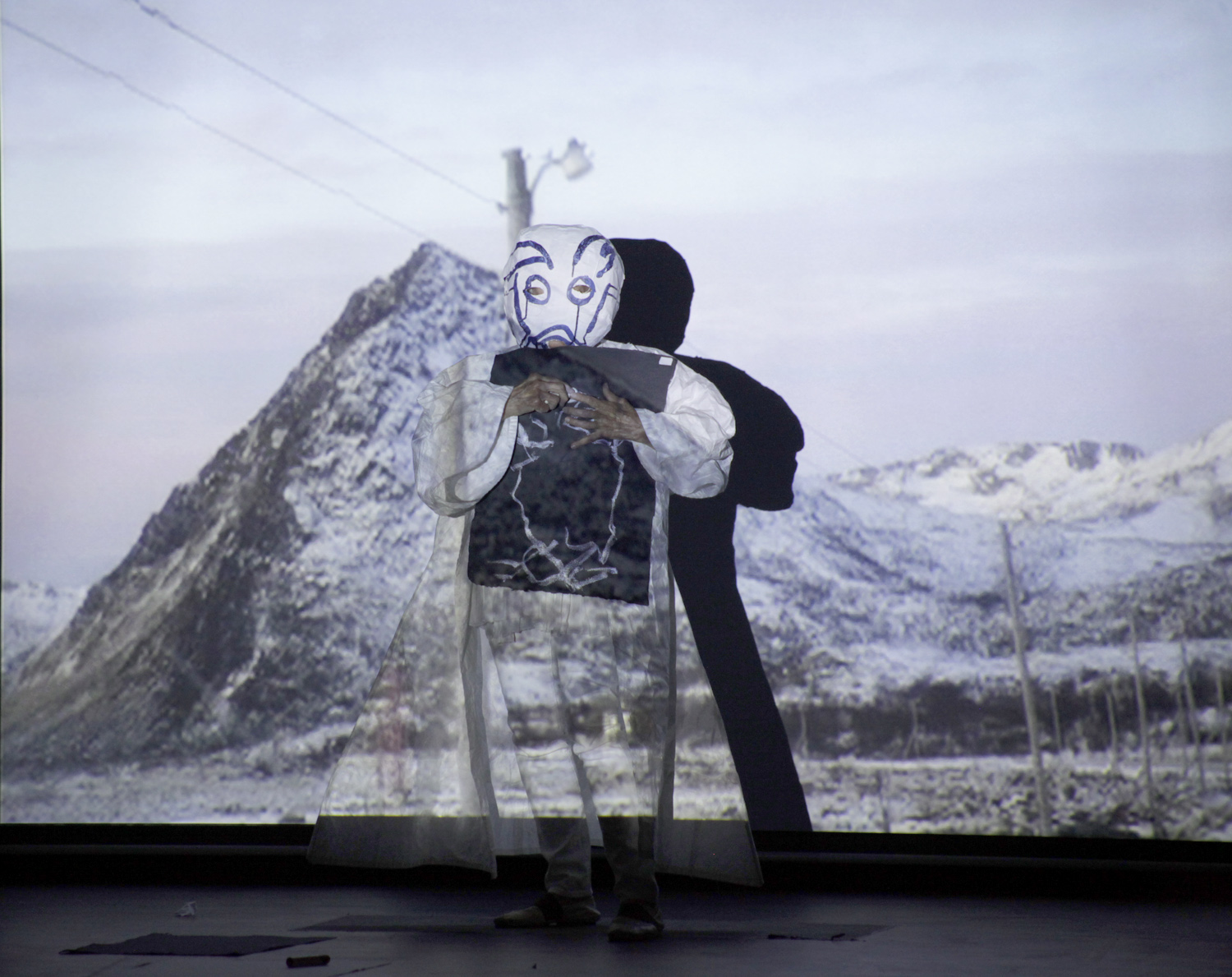 Joan Jonas, dOCUMENTA 13, photo credit Maria Ruhling
Medium: Video and performance
Style: Dreamlike conceptualism
Birthday: 1936
Superpower: Jonas was one of the early pioneers of video art in the 1960s and 1970s, her work aligning rhythm and ritual, identity and disguise, nature and technology to weave visceral visual experiences that linger like memories.
2. Louise Fishman "The activity in the rectangle is very much like the activity on the athletic court. It was athleticism in paint, traversing a very large court. It was so liberating."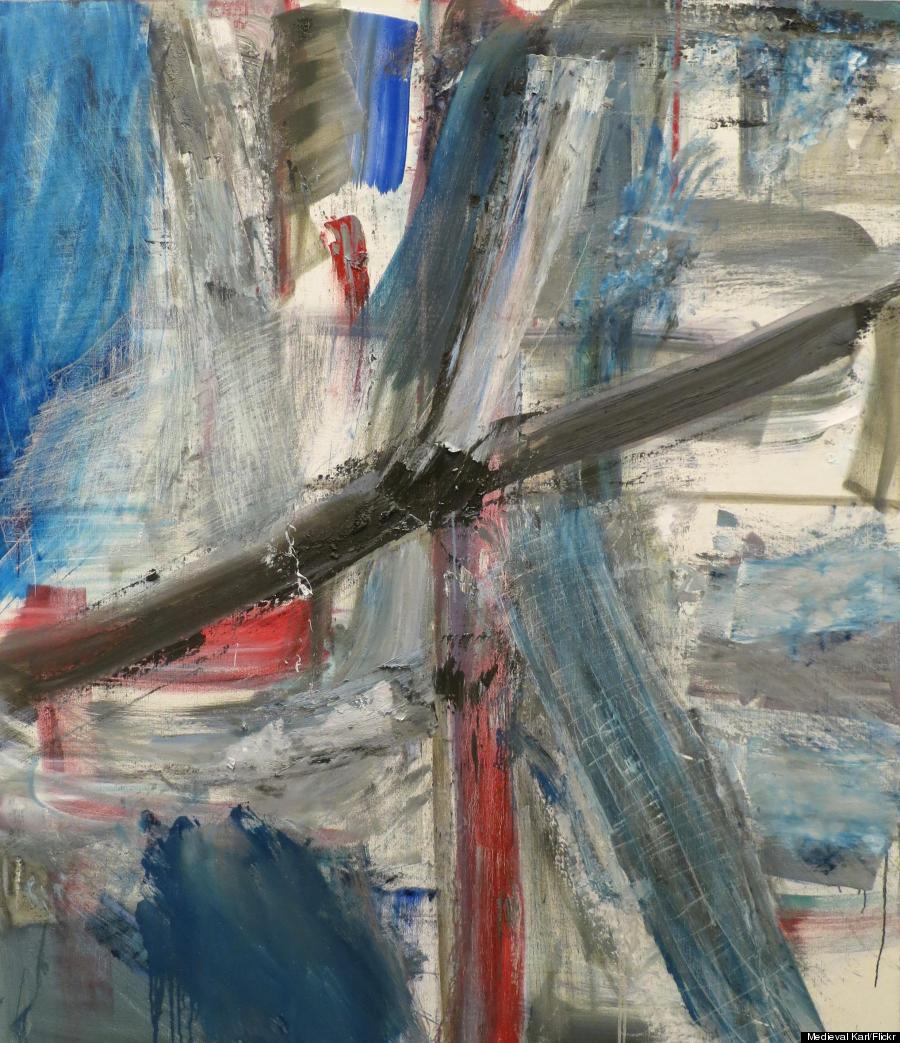 Medium: Painting
Style: Athletic abstract expressionism
Birthday: 1939
Superpower: Fishman is one of the few female artists associated with the boys' club that is Abstract Expressionism. Her muscular paintings turn color into a vehicle for speed and power, a vehicle that refuses to slow down at any cost.
3. Alice Mackler "I feel more comfortable with my work now, and I know that I am doing the best work in 2104. Keep on working, and tell yourself that you are a better artist than anyone else."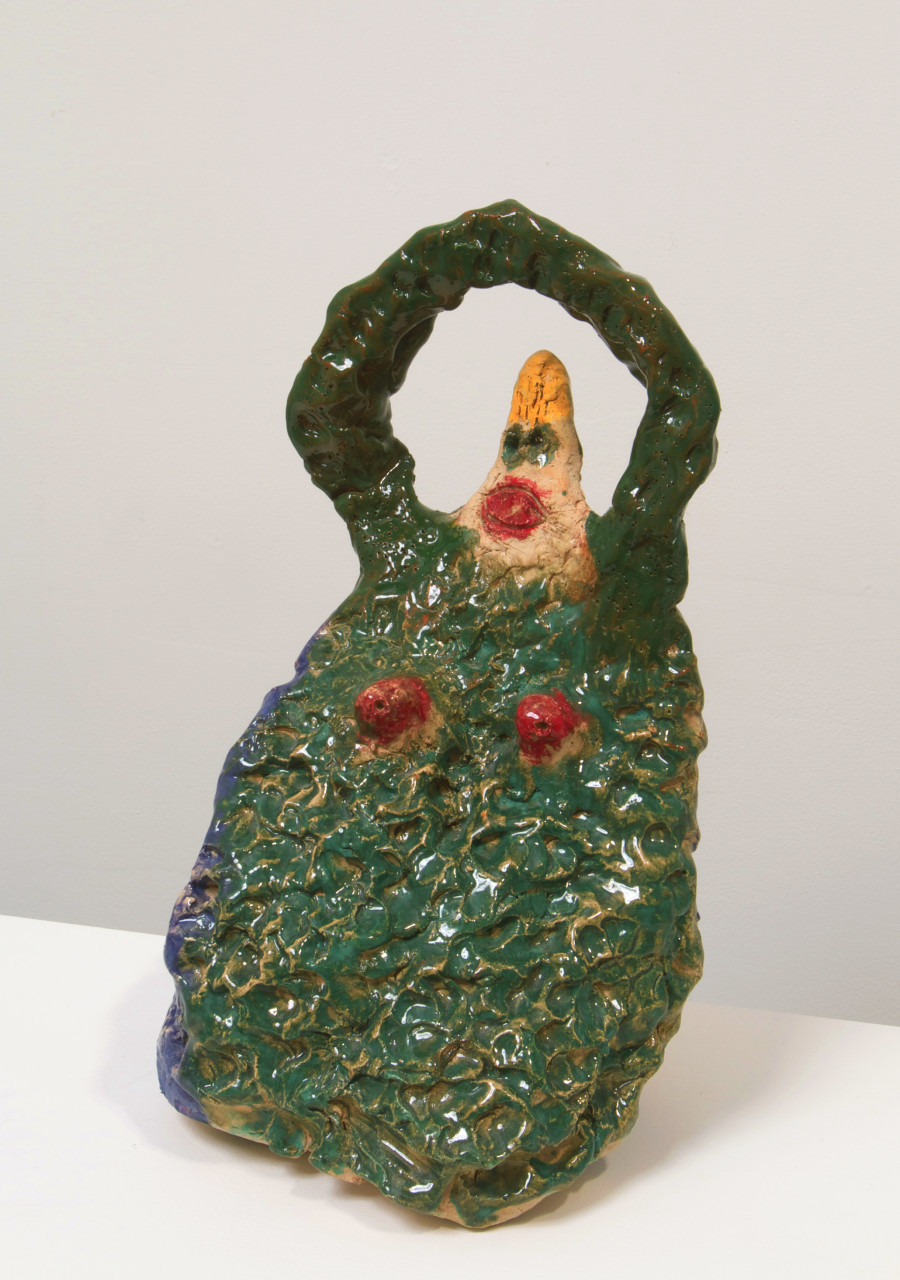 Alice Mackler, untitled 2014, glazed ceramic, 12 x 7 x 6 inches
Medium: Painting, drawing, sculpture, collage
Style: Playful feminist abstraction
Birthday: 1931
Superpower: Although she's been making art for most of her life, Mackler didn't have her first solo show until 2013. It was critically hailed as "nearly perfect," her playful lumps of women subtly reframing the way we see the female form.
4. Dorothy Iannone "When I was young, I aspired to complete intimacy with my partner, but as I evolved, I understood it was ultimate union with the beloved that I was seeking, and later, I called it ecstatic unity."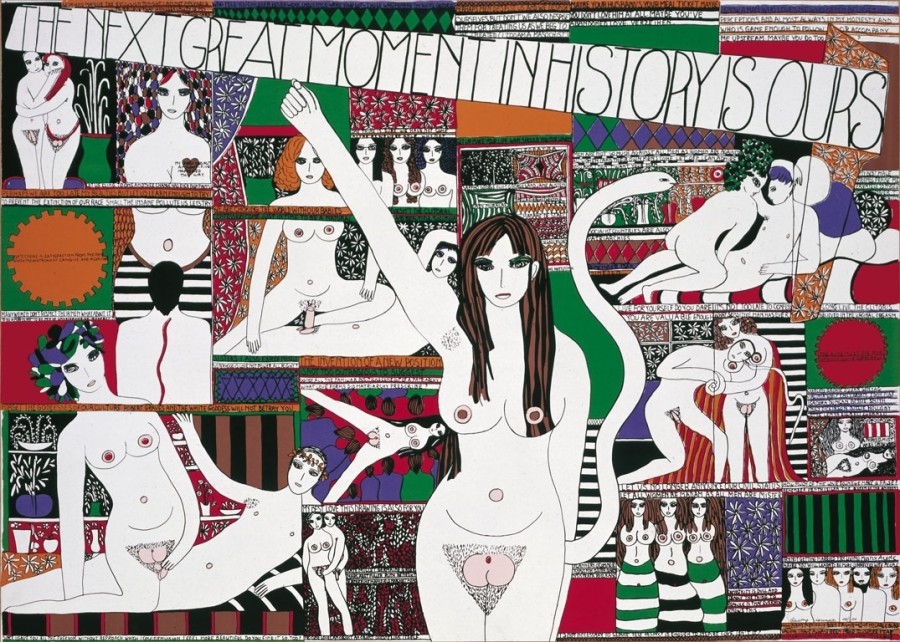 Dorothy Iannone, The Next Great Moment In History Is Ours, 1970, Courtesy die Künstlerin, Air de Paris, Paris, und Peres Projects, Berlin, Foto: Joachim Littkemann
Medium: Painting
Style: Erotic spiritualism
Birthday: 1933
Superpower: For over 50 years, Iannone has translated feminine sexuality and free love into wild colors, explosive shapes and sublime gestures. Though in the '60s her work was censored and deemed pornographic, she's since risen to the category of "high priestess, matriarch, sex goddess," where she belongs.
5. Carolee Schneemann "Every female artist who is using her body does so differently and with different motives and different aspects of physical intelligence. So a general condemnation of our actions as narcissistic is meaningless, absolutely meaningless."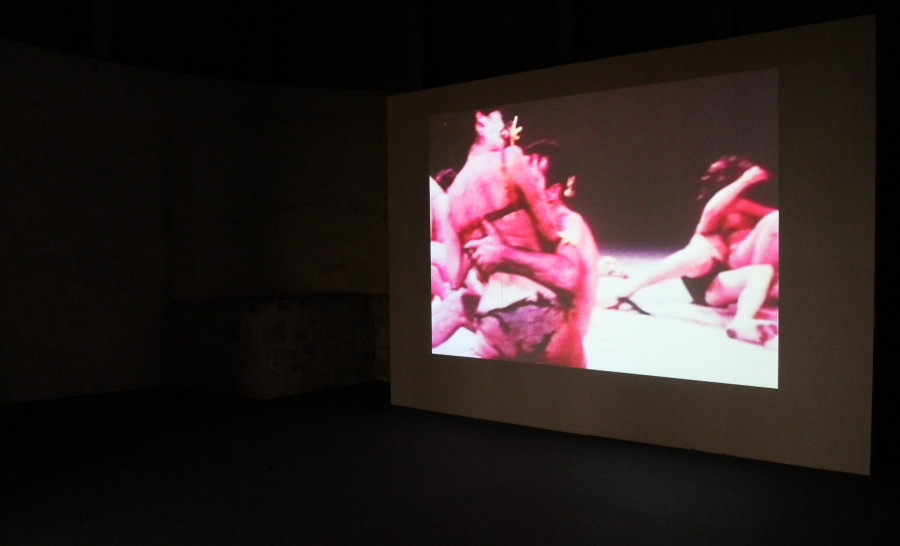 Meat Joy, 1964
Medium: Video and performance
Style: Feminist face punch
Birthday: 1939
Superpower: Since the 1960s, Schneemann has used various means of visual expression to challenge taboos and celebrate flesh in all its forms. Her solo exhibition in 2013 took on more historical and political themes, such as Vietnam War-era horrors and the World Trade Center attacks.
6. Betye Saar "I'm the kind of person who recycles materials but I also recycle emotions and feelings."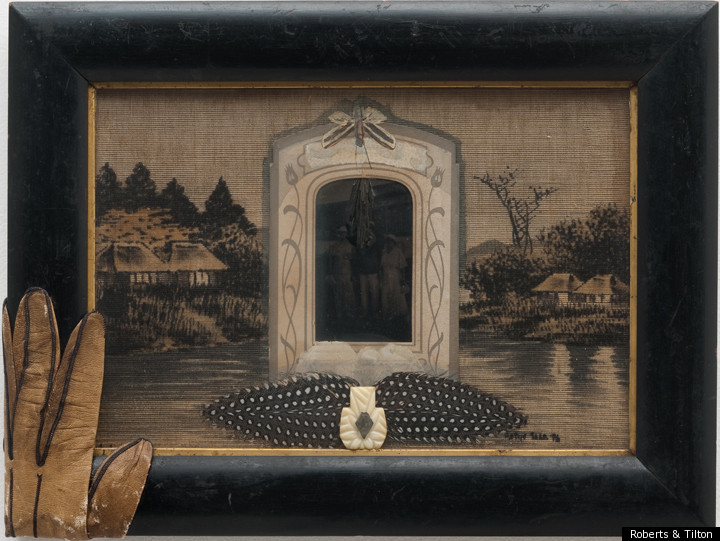 Medium: Assemblage
Style: Recycled sorcery
Birthday: 1926
Superpower: Saar, who didn't become an artist until the age of 46, creates hypnotic assemblages that incorporate "black collectibles" and other found materials referencing the spiritual and technological, serving as a force of creative resistance for women and African Americans and a tribute to Saar's textured heritage (African, Native American, Irish and Creole.)
7. Judy Chicago "My work 'opposes' the mainstream in its core values. It is not about politics; it is about another view of reality."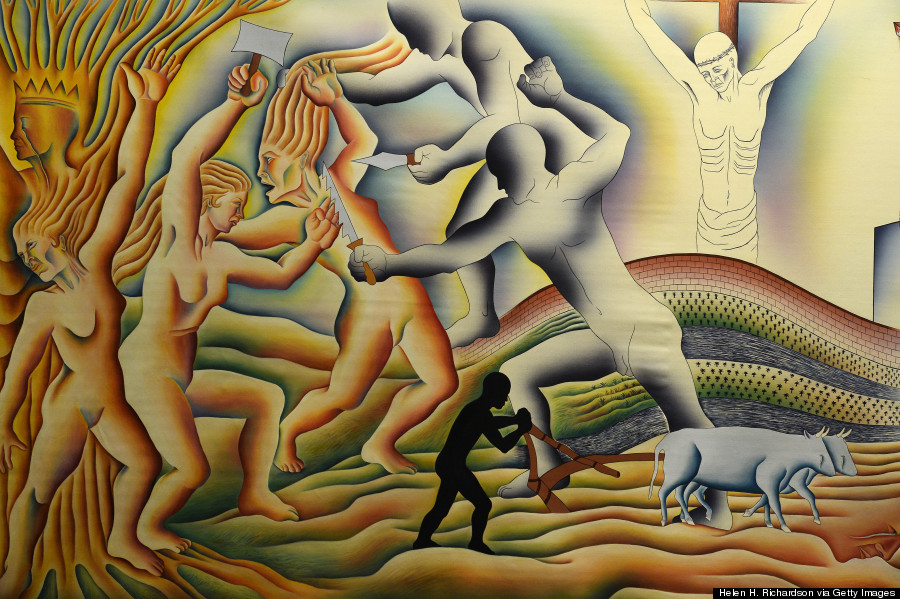 Medium: Painting, sculpture, installation
Style: Psychedelic, feminist history lesson
Birthday: 1939
Superpower: Chicago, who coined the term "feminist art" and started the first feminist art program in the United States, has worked in media ranging from the stereotypically feminine (needlework and textiles) to the stereotypically masculine (welding and pyrotechnics), erasing distinctions along the way.
8. Marisol Escobar "I never made a decision. It came very naturally that I knew that I wanted to [create]."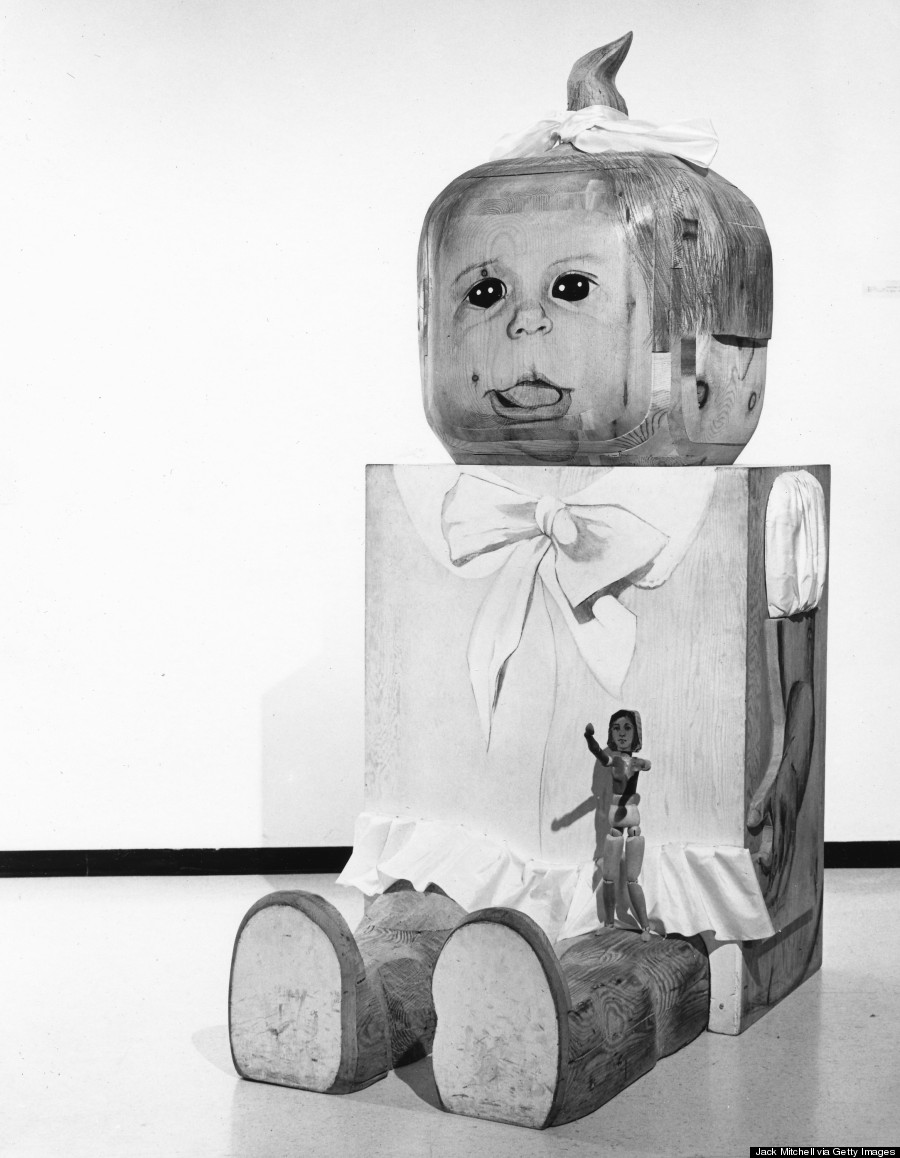 Medium: Sculpture, assemblage
Style: "Not Pop, Not Op, It's Marisol!"
Birthday: 1930
Superpower: Marisol's sculptures, inspired by found objects, memories and religious beliefs, float between movements like Pop Art, New Realism and Abstract Expressionism. Her playful yet morbid wooded dolls feature bright painted patterns and -- often -- interpretations of Marisol's own face.
9. Idelle Weber "My choice of subject matter is based on a number of things, including primarily my belief that I can present the subject in a new and powerful way. Sometimes my choice derives from activities in the world around me (businessmen), sometimes in part from a visual complexity, density, and seemingly unappealing qualities (trash and litter), sometimes from natural beauty (flowers, shells), and sometimes, in part from things imagined (non-specific landscapes)."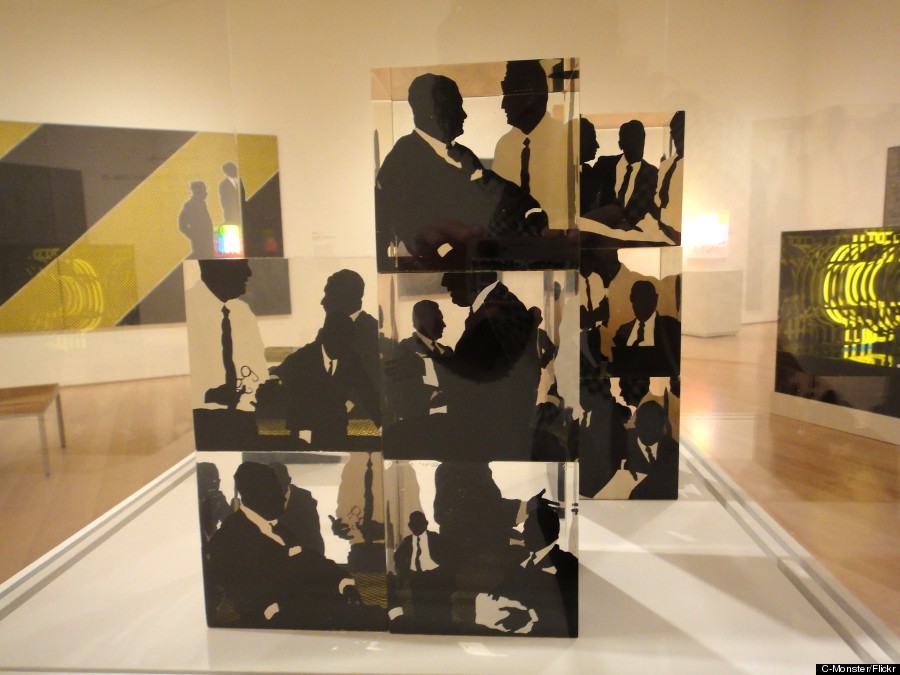 Medium: Painting, sculpture, collage
Style: Pop smash
Birthday: 1932
Superpower: Weber's particular brand of DayGlo pop features anonymous figures engaged in everyday activities, whether on a two or three dimensional scale.
10. Martha Rosler "Feminism is a central angle in all my work; it does not replace or supplant other considerations. Feminism is a world view, or a great factor in such a perspective. It is a viewpoint that demands a rethinking of questions of power in society and thus has undeniable potency."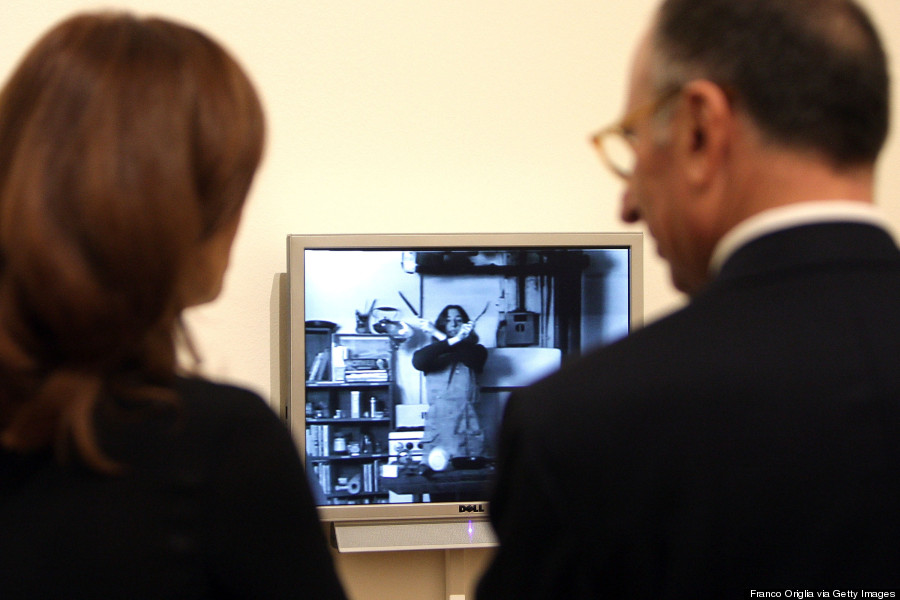 Medium: Video, installation, performance
Style: Everyday life through a kaleidoscopic microscope
Birthday: 1943
Superpower: Rosler's feminist artworks dissect aspects of daily life, especially from a woman's perspective, from cooking shows to systems of underground transportation and the images of war.
11. Gladys Nilsson "I'm an everyday person. I think in terms of just surviving the day on a personal level, rather than the solving of world problems. I just can't do that. Other people can do that on a grand scale. For me, because I know how hard people work, celebrating little victories is as important as a peace treaty being signed."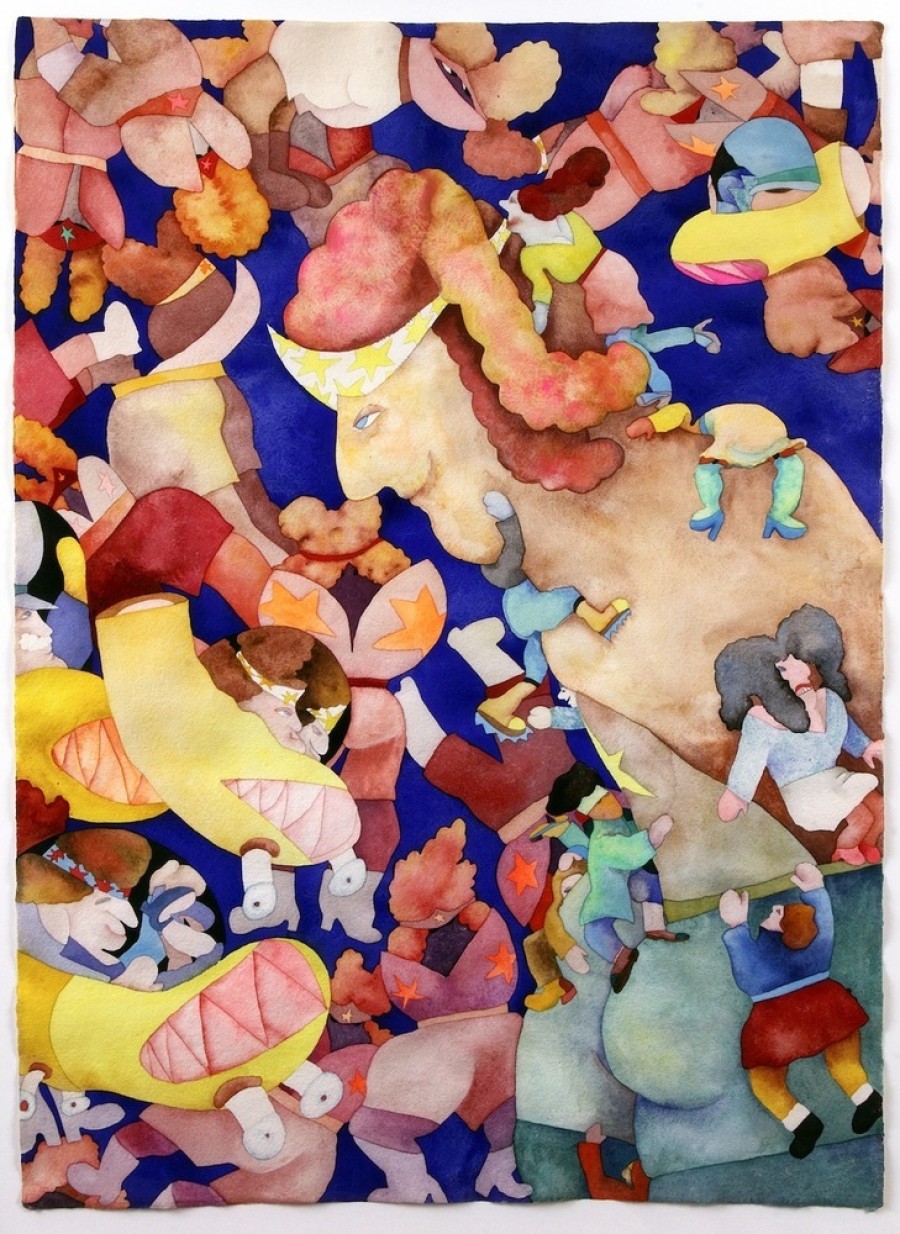 Gladys Nilsson, Mt. Vonder Voman During Turetrush, 1967. © The artist. Collection Michael J. Robertson and Christopher A. Slapak.
Medium: Painting, collage
Style: Balloonish cartoons rapidly proliferating
Birthday: 1940
Superpower: A core member of Chicago's "Hairy Who?" movement in the 1960s, Nilsson has continued to churn out her signature brand of feminine chaos, depicting fantastical ladies in domestic scenarios who just can't be contained.
12. Yayoi Kusama "Since my childhood, I have always made works with polka dots. Earth, moon, sun and human beings are all represent dots; a single particle among billions. This is one of my important philosophies, which is accepted by many people."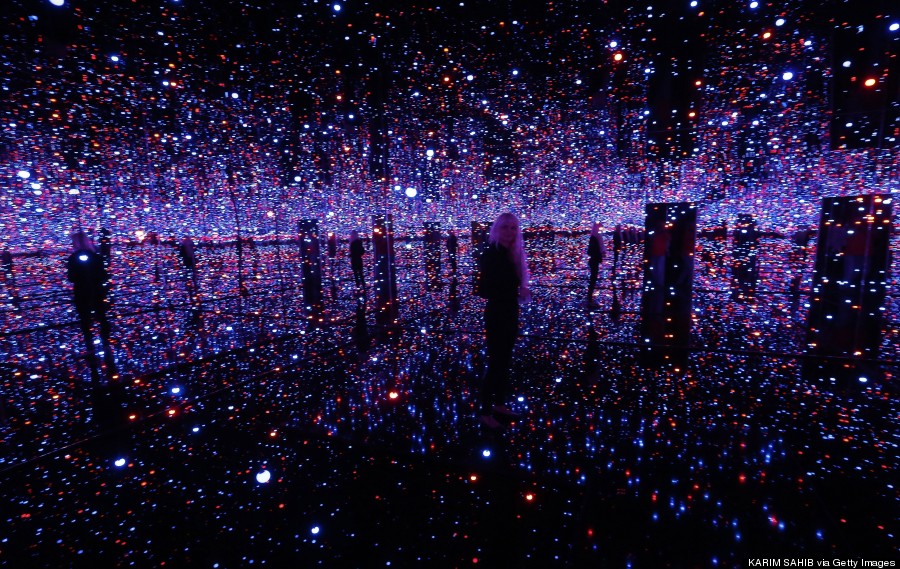 Medium: Painting, sculpture, installation
Style: Polka dotted fever
Birthday: 1929
Superpower: Kusama has long been hailed as the Polka Dot Queen, turning the playful pattern into a vessel for self-obliteration and engaging with the infinite. Since 1975 Kusama has lived in a mental institution, though she still creates work every day and continues to draw crowds jamming up New York streets with her exhibitions.
13. Paula Rego "As you are drawing something, it very often turns into something else, and you can go with it. It develops in a completely different way, it's organic and it's done with the hand."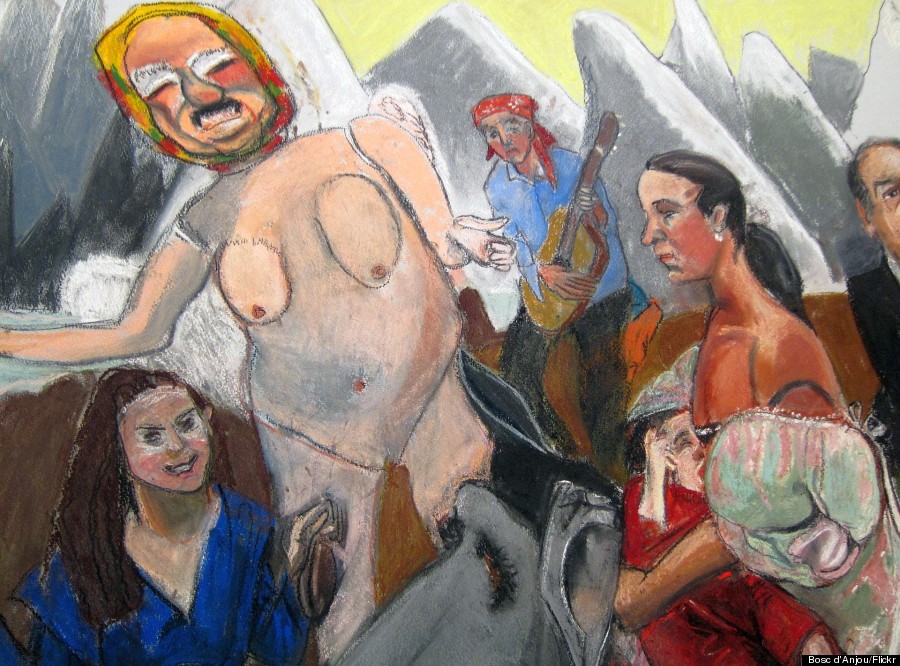 Medium: Painting, pastel, printmaking
Style: Folk tales gone haywire
Superpower: Rego intertwines feminist themes with folk tales from her native Portugal, weaving jagged depictions that rival your most beautiful nightmares. Many works depict women as unfeminine, even animal, to combat the idealized, inhuman way women are often visualized in mainstream culture.
14. Lynda Benglis "My work is an expression of space. What is the experience of moving? Is it pictorial? Is it an object? Is it a feeling? It all comes from my body. I am the clay; I have been extruded, in a sense. How to tie it together? I don't need to tie a knot. The forms of knots in my earlier work were expressive of this idea. I am the form."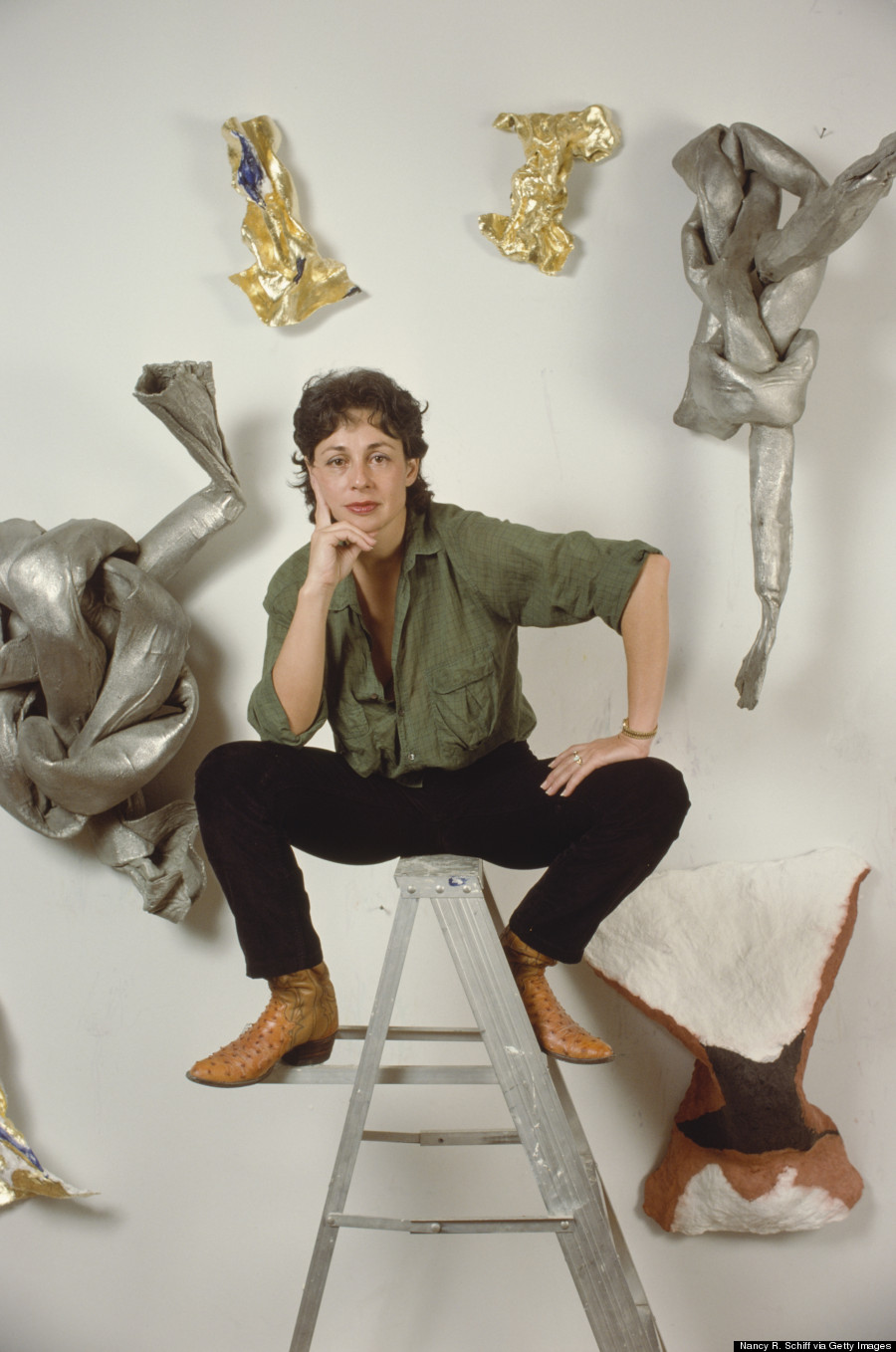 Medium: Sculpture, wax painting
Style: Material in motion
Superpower: In 1974, Benglis posed naked for an ad in Artforum with a giant dildo and sunglasses, challenging the misogynistic tradition of cover girls. In the years since, Benglis has stretched conceptions of painting and sculpture, rupturing tradition with her ceramic and polyurethane abstractions.
15. Yoko Ono "Whisper your name to the wind. Ask the wind to take it to the end of the world."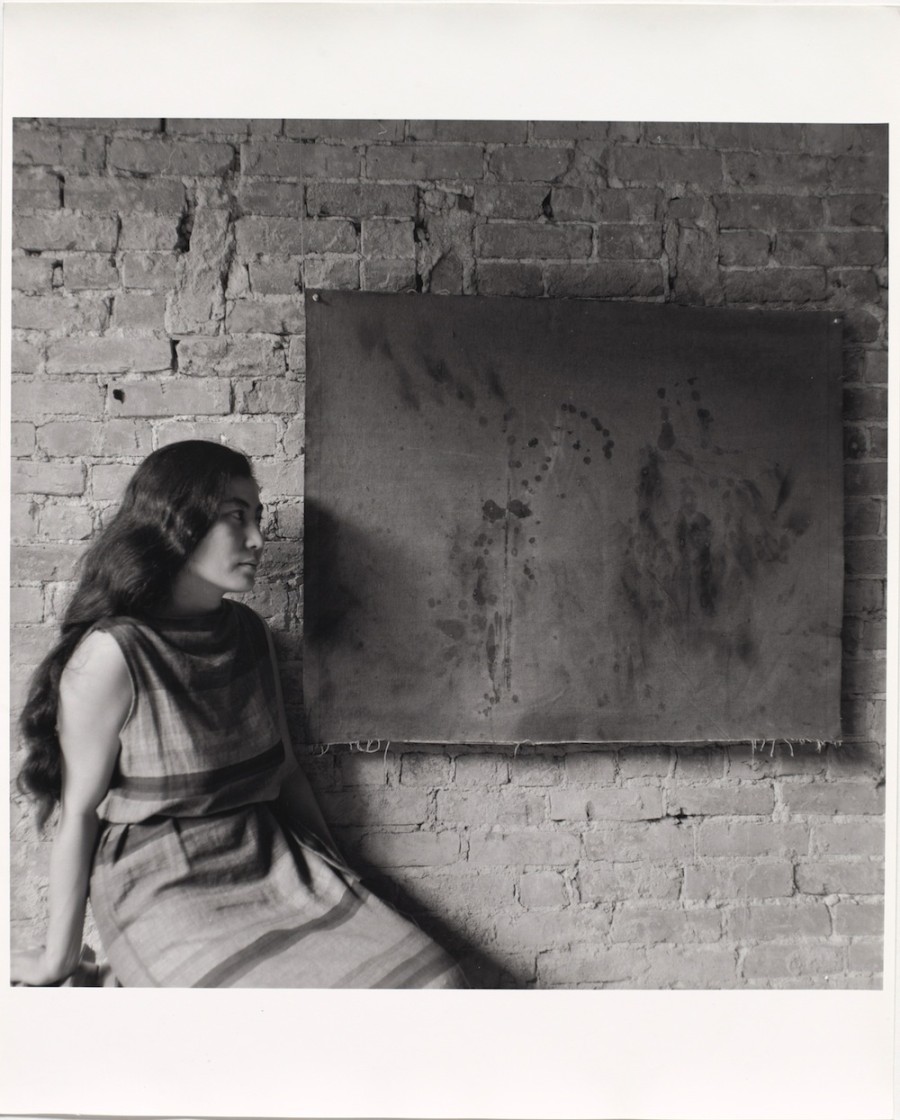 Painting to See in the Dark (Version 1). 1961. Installation view with the artist, Paintings & Drawings by Yoko Ono, AG Gallery, New York, July 17–30, 1961. Photograph by George Maciunas.
Medium: Performance, installation, musician, activist
Style: Quiet roar
Birthday: 1933
Superpower: Whether through absurdly poetic tweets, unauthorized museum exhibitions or the magic of a smile, Ono has imbued conceptual art with her particular brand of magic since the early 1960s. We can't wait for her MoMA retrospective next year.
Correction: An earlier edition of this article claimed Lynda Benglis appeared on the cover of ArtForum. We regret the error.