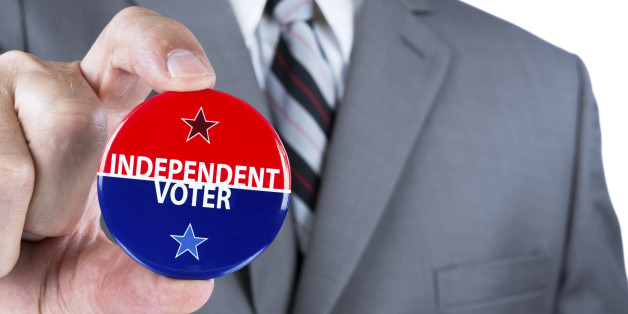 Independent party identification continues to rise, but that doesn't mean less partisan voting. Views of Muslims are more favorable in France than other nations. And Pew Research ups its quota for cell phones to nearly two thirds of its poll samples. This is HuffPollster for Thursday, January 8, 2015.
NUMBER OF POLITICAL INDEPENDENTS CONTINUES TO CLIMB - Jeffrey M. Jones: "An average 43% of Americans identified politically as independents in 2014, establishing a new high in Gallup telephone poll trends back to 1988. In terms of national identification with the two major parties, Democrats continued to hold a modest edge over Republicans, 30% to 26%....Since 2008, the percentage of political independents -- those who identify as such before their leanings to the two major parties are taken into account -- has steadily climbed from 35% to the current 43%, exceeding 40% each of the last four years. Prior to 2011, the high in independent identification was 39% in 1995 and 1999." [Gallup]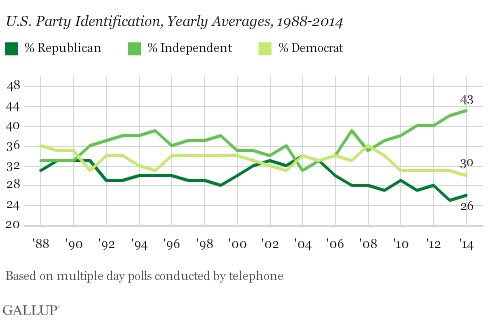 But how independent are they, really? - Jones: "Although independents claim no outright allegiance to either major party, it is well-known that they are not necessarily neutral when it comes to politics. When pressed, most independents will say they lean to one of the two major parties. For example, last year an average of 17% of Americans who initially identified as independents subsequently said they "leaned" Republican, 15% were independents who leaned Democratic, with the remaining 11% not expressing a leaning to either party."
HuffPollster, last year: "The difference between partisan-leaning independents and their brethren among the party faithful tends to blur at the ballot box. In 2008, 90 percent of Democratic leaners went to now-President Barack Obama, and about 80 percent of Republican leaners to Sen. John McCain (R-Ariz.), according to exit polls. 'Most independents are closet partisans,' political scientist John Sides wrote in 2010, pointing to data that shows the opinions of independent leaners closely track those of their preferred party. 'As far as their views of Obama are concerned, it doesn't really matter whether you say you're a Democrat or an independent who leans Democrat, and the same is true on the other side of the aisle.' Why are Americans, even those with partisan views, seemingly more reluctant to affiliate themselves with a political party? Political scientists cite reasons ranging from wanting to view oneself as independent-minded to simply hoping to avoid being hassled by campaign operatives...rising disaffection with both parties, and a general mistrust of the federal government." [HuffPost]
FAVORABLE VIEWS OF MUSLIMS HIGHER IN FRANCE - Robin Wright: "Two polls conducted well before gunmen attacked the Paris offices of the satirical magazine Charlie Hebdo say a lot about the state of relations between France and its Muslim population, the largest in Europe. An ICM Research poll last year found that 16% of the French had a 'favorable' view of Islamic State. More than 27% of those ages 18 to 24 said they viewed the extremist movement favorably, while 22% of 25-to--34-year-olds reported a favorable view. It was the highest favorable rate among three major European powerhouses. In contrast, only 2% of Germans and 7% of Britons reported a favorable view of the extremist movement....[I]n another poll last year, France also had the least critical view of Muslims among seven major European countries surveyed. The Pew Research Center survey of Global Attitudes found that 72% of the French had a favorable view of Muslims. Among Italians, who were the most critical, only 28% had a favorable view." [WSJ]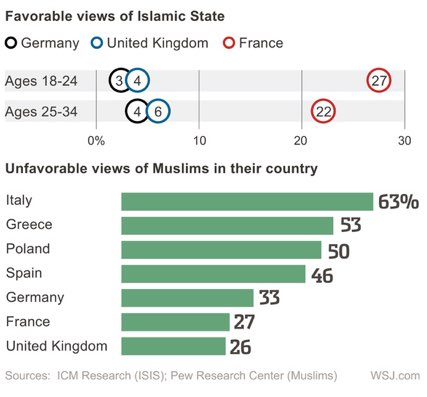 PEW RESEARCH UPS CELL PHONE SAMPLES TO 65 PERCENT - Scott Keeter and Kyley Mcgeeney: "The number of Americans who rely only on a cellphone for their telephone service continues to grow....To keep pace with this rapid trend, the Pew Research Center will increase the percentage of respondents interviewed on cellphones in its typical national telephone surveys to 65%; 35% of interviews will be conducted by landline. Last year, we increased the ratio to 60% cellphone, with 40% conducted on landline. Back in 2008, when we first started routinely including cellphones in our phone surveys, just one-fourth (25%) of all interviews were done by cellphone.... Although cellphone-only households are very common today, there are sizeable demographic differences between people living in cell-only households and those with landlines. For example, young adults, Hispanics, renters and the poor (as defined by the U.S. Census Bureau's poverty thresholds) are all far more likely to be cell-only.[I]t remains more expensive and takes more time to call cellphones. Cellphone interviews cost roughly 50% more than landline interviews. Federal law prohibits the use of automatic dialing devices to call cellphones. Interviewers must manually dial cellphones, which takes more time than having the number automatically dialed. [Pew]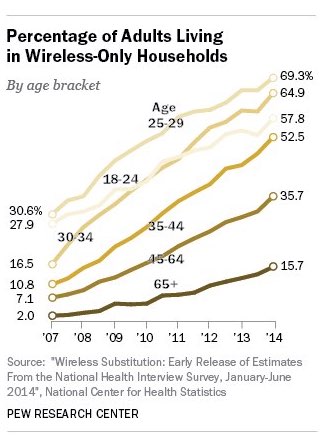 HUFFPOLLSTER VIA EMAIL! - You can receive this daily update every weekday morning via email! Just click here, enter your email address, and click "sign up." That's all there is to it (and you can unsubscribe anytime).
THURSDAY'S 'OUTLIERS' - Links to the best of news at the intersection of polling, politics and political data:
-The health uninsured rate drops again, to 12.9 percent by the end of 2014. [Gallup]
-42 percent of Americans still think weapons of mass destruction were found in Iraq. [FDU]
-The preferences of voters and non-voters are becoming increasingly divergent, particularly on class-based issues. [Politico]
-Aaron Blake looks at past polling on the controversy over cartoons depicting Muhammad. [Wash Post]
-Mike Huckabee's exploratory moves signal the start of campaign 2016, says Harry Enten. [538]
-Joel Benenson (D) is working with Hillary Clinton as she makes a final decision about running for president. [Politico]
-Jon Bernstein argues Obama's higher approval ratings are good for the political system. [Bloomberg]
-Hans Noel remembers Phil Converse and his seminal 1964 article, "The Nature of Belief Systems in Mass Publics." [Mischiefs of Faction]
BEFORE YOU GO
PHOTO GALLERY
Politicians On Pot