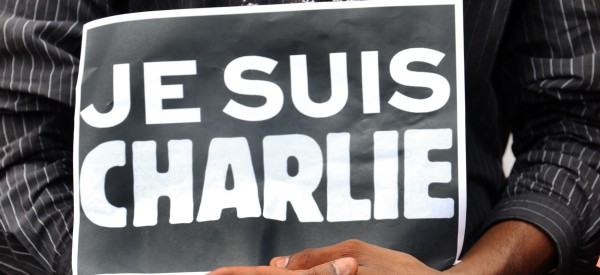 TOP STORIES
TWO SUSPECTS AT LARGE IN CHARLIE HEBDO ATTACK "French police pressed a massive hunt for two brothers suspected in the murderous attack on offices of the French satirical publication Charlie Hebdo after a teenager surrendered early Thursday. Hamyd Mourad, 18, turned himself in to police after authorities identified the three men wanted in connection with the attack Wednesday that killed 10 journalists and two police officers." Take a look at a map and timeline of the terror attack, which came after months of heightened terror alerts. Meet four of the cartoonists killed in the attack. And here are the cartoons the terrorists killed over. [HuffPost]
CARTOONISTS RESPOND TO ATTACK View some of the work cartoonists around the world drew in response to the Charlie Hebdo attack, as well as newspaper front pages. [USA Today]
FBI DIRECTOR SAYS 'SLOPPY' SONY HACKING LED TO NORTH KOREA "In nearly every case, [the Sony hackers known as the Guardians of Peace] used proxy servers to disguise where they were coming from in sending these emails and posting these statements. But several times they got sloppy," FBI Director James Comey said. "Several times, either because they forgot or because of a technical problem, they connected directly and we could see that the IPs they were using…were exclusively used by the North Koreans." [Wired]
THE MIRACLE ANTIBIOTIC "With bacteria evolving to resist antibiotics faster than scientists can concoct new drugs, the fight against resistant infections in hospitals and food supplies is a tough battle to win. But a newly discovered antibiotic may prove irresistible to bacteria." [WaPo]
GERMAN GOVERNMENT WEBSITES STILL DOWN IN SECOND DAY OF CYBER ATTACK A pro-Russian group has taken credit for the attack. [Businessweek]
FBI WEIGHS DOMESTIC TERRORISM TIES IN EXPLOSION OUTSIDE OF COLORADO NAACP "The FBI says it is investigating the possibility that an explosion on Tuesday outside of the Colorado Springs, Colorado, chapter of the National Association for the Advancement of Colored People may have been an act of domestic terrorism … A homemade explosive was detonated Tuesday morning against an exterior wall of a building that houses the NAACP Colorado Springs chapter as well as Mr. G's Hair Design Studios, a local barbershop. There were no deaths or injuries from the explosion and only minimal surface damage was done to the wall where the explosion occurred..." [HuffPost]
BEIJING BANS UBER The car-hailing service also faces ongoing legal challenges in Paris, Amsterdam and Bangkok, and has been banned in New Delhi. [Financial Times]
MEASLES OUTBREAK LINKED TO DISNEY PARKS Not a happy ending for those parents. [AP]
INDONESIA STOPS CHEAP FLIGHTS OVER SAFETY CONCERNS "Indonesia's transport ministry has cracked down on the sale of cheap tickets for domestic flights to ensure airlines do not cut corners on safety, authorities said on Thursday, just over a week after an AirAsia flight crashed into the Java Sea." [Reuters]
WHAT'S BREWING
VIOLA DAVIS, MELISSA MCCARTHY RULE PEOPLE'S CHOICE AWARDS Forget about the winners; here are the best dressed from last night. [USA Today]
CHARLIZE THERON DEMANDED SHE GET PAID WHAT HER MALE CO-STAR WAS PAID And she got it in the upcoming "The Huntsman." [Page Six]
TWITTER'S UNSPOKEN RULES "Twitter has a relatively short and specific official code of conduct (called, officially, The Twitter Rules) that forbids obvious transgressions, like spamming and posting threats. But if you spend enough time on Twitter, you soon learn that there's a larger and stickier web of constantly evolving Twitter ethics. For example: In some corners of Twitter, it's considered a great offense (for reasons that elude me) to retweet someone if you don't also follow them." [Vulture]
IMPROVE YOUR HEALTH IN UNDER 60 SECONDS Yes, that is a minute. [HuffPost]
WHEN A RUSSIAN SOLDIER DISAPPEARS IN UKRAINE "For Ukrainians, who wanted the war to be over, Petr represented a truth about Russian involvement that might force action they didn't want to take. [Lawyer Sergii] Koziakov said there were 'a hundred possibilities' as to Petr's fate: 'He could have been released and has stayed somewhere in eastern Ukraine because he knows a criminal case awaits him back home, or he could have been returned to the Russians and is being held someplace. Or even worse, he simply was a bother to them, and so they got rid of him.'" [NYT]
ON THE BLOG
WHY SATIRE MATTERS "This is because, in part, the use of printed (and now digital) satire is an old and honorable response to the excesses of government and religion. When the people have no other voice, when the main media outlets are controlled by the state (or too fearful to challenge the state), satire flourishes. One of the few ways the citizen can hold the rich and powerful accountable is to employ humor and satire." [HuffPost]
BEFORE YOU GO
~ When Netflix's new shows premiere.
~ "Fifty Shades of Grey" squeaks away with a R-rating.
~ Gwyneth Paltrow sans makeup gives us all hope.
~ Giada De Laurentiis denied affair rumors with Matt Lauer and Bobby Flay.
~ An "Arrested Development" return may be sooner than you think.
~ Jennifer Love Hewitt and her husband Brian Hallisay are is expecting their second child.
~ The top Wikipedia page for every day of 2014.
~ Blue Ivy turned three and all her parents got her was a carved ice sculpture.
Send tips/quips/quotes/stories/photos/events/scoops to Lauren Weber at lauren.weber@huffingtonpost.com. Follow us on Twitter @LaurenWeberHP. And like what you're reading? Sign up here to get The Morning Email delivered to you.