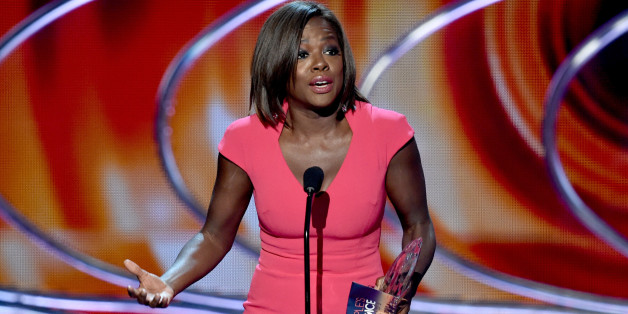 Viola Davis: 1; New York Times: 0.
Davis took to the stage to accept the People's Choice Award for Favorite Actress in a New TV Series for her role in "How to Get Away with Murder" Wednesday night in Los Angeles. She used the moment to take a dig at The New York Times.
In September, the Times' television critic Alessandra Stanley referenced Davis in an article about Shonda Rhimes, who is the executive producer of the show, and the actresses she casts for her series:
As Annalise, Ms. Davis, 49, is sexual and even sexy, in a slightly menacing way, but the actress doesn't look at all like the typical star of a network drama. Ignoring the narrow beauty standards some African-American women are held to, Ms. Rhimes chose a performer who is older, darker-skinned and less classically beautiful than Ms. Washington, or for that matter Halle Berry, who played an astronaut on the summer mini-series "Extant."
On Wednesday, Davis thanked Rhimes.
"Thank you Shonda Rhimes, [producer] Betsy Beers and [creator] Peter Norwalk for thinking of a leading lady who looks like my 'classic beauty,'" she said. "I'm so proud to be an actor and so happy to do what I do. And I'm so happy that people have accepted me in this role at this stage in my career."
Stanley was previously criticized for calling Rhimes an "angry black woman" and perpetuating bogus beauty standards.
"How to Get Away with Murder" premiered in September in ABC.
BEFORE YOU GO
PHOTO GALLERY
People's Choice Awards 2015