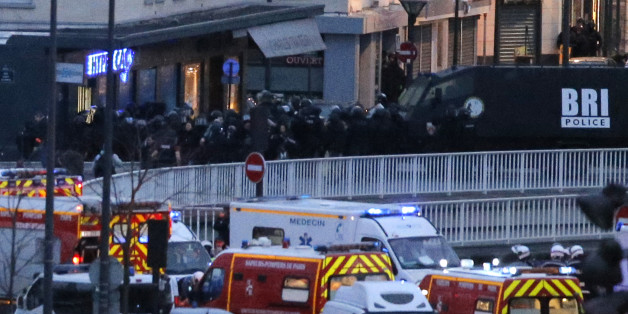 Four people were shot and killed during a siege at a kosher market in Paris on Friday.
A prosecutor in Paris told the Associated Press the gunman shot the victims when he entered the store.
Police identified the man who stormed the Hyper Cacher grocery store in Porte de Vincennes, a Jewish community in the 12th arrondissement, as 32-year-old Amedy Coulibaly. One official said he appears linked to Wednesday's shooting at the offices of satirical French newspaper Charlie Hebdo, which left 12 people dead. Coulibaly is also suspected in the shooting death of a policewoman on a Paris roadside Thursday.
French President Francois Hollande said in a televised address that the siege at Hyper Cacher was an "anti-Semitic" attack. The Grand Synagogue in Paris has been closed for Shabbat for the first time since World War II, according to The Jerusalem Post's Michael Wilner.
Shops in the area were ordered closed after Coulibaly walked in and opened fire on the market, declaring, "You know who I am," the AP reports. He held 15 shoppers hostage inside; 30 others reportedly hid in the building's cold storage unit for hours, according to the Daily Mail.
As the hostage situation made news, #JeSuisJuif, a hashtag expressing solidarity with the Jewish population of France, began trending on Twitter.
Couliably was killed when police stormed the market hours later. Four of the hostages are in critical condition, according to Agence France-Presse. Among others wounded in the assault were two police officers.
"It's war!" one woman reportedly screamed as she fled the scene with her daughter.
The FBI tweeted that French police are still searching for Couliably's alleged accomplice, a woman named Hayet Boumddiene.
The situation at the market was unfolding at the same time a second standoff was taking place at a printing house in Dammartin-en-Goele, a small community near Charles de Gaulle International Airport. Brothers Cherif and Said Kouachi, the suspects accused of killing 12 people at the Charlie Hebdo offices on Wednesday, were both killed when they reportedly came out of the building shooting, prompting return fire from police.
Police stormed the Hyper Cacher moments later; earlier in the day, Coulibaly had allegedly threatened to kill the hostages in the market if police stormed the printing press where the brothers were located.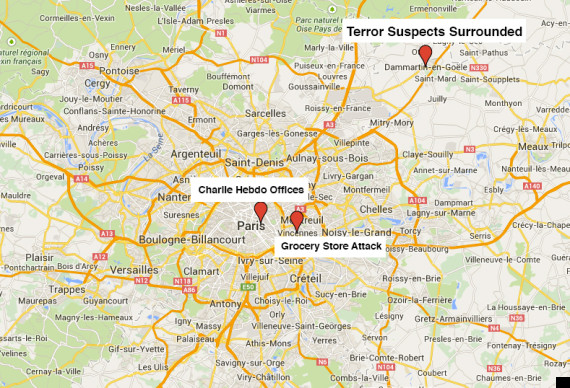 Locations of the grocery store, the standoff in Northern France, and the Charlie Hebdo offices

UPDATE: Language has been changed based on new information that indicates the four people killed by the gunman were never taken hostage.

01/09/2015 6:14 PM EST
Footage Of French Raid On Terror Suspects In Dammartin
France's National Gendarmerie released footage of its special forces raiding the printing house in Dammartin-en-Goele where the two Charlie Hebdo attack suspects were holding a person hostage.
The National Gendarmerie also released a picture of the hostage, with their face blurred, being led to safety after the raid. Both of the suspects were killed.
Le #GIGN libère sain et sauf l'homme caché depuis le début dans l'imprimerie. Fin de l'assaut. pic.twitter.com/7OTgqO2VcE

— GendarmerieNationale (@Gendarmerie) January 9, 2015
BEFORE YOU GO
PHOTO GALLERY
Kosher Supermarket Attack Near Paris