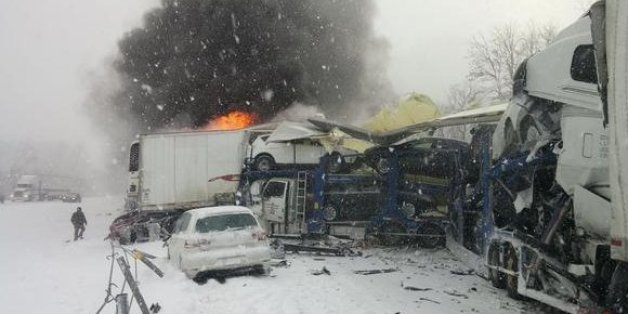 GALESBURG, Mich. (AP) -- State police say at least one person has died in a series of crashes involving roughly 150 vehicles on both sides of Interstate 94 in southwestern Michigan.
Lt. Rick Pazder says many vehicles are on fire, including at least two semi-trucks carrying fireworks and other hazardous materials.
CBS Kalamazoo reporter Jessica Wheeler tweeted that there were "multiple fatalities" in the crashes.
Some pictures from the 94 crash. Highway is shut down from MM 85-92. Multiple fatalities. Semi truck is on fire. pic.twitter.com/tj5hPPX2hd

— Jessica Wheeler (@jessicawheeler3) January 9, 2015
WDIV shared raw footage in which fireworks can be heard whistling and exploding from a smoking truck on the Interstate:
The crashes are located between mile markers 88 and 92 in eastern Kalamazoo County, near Galesburg. Authorities are blaming snow, wind and poor visibility in the crash.
Police first said 90 vehicles were involved, then no more than 70. But Pazder says a better count now puts the number around 150, with a majority in westbound lanes.
Happening now: Massive pileup in Michigan, one dead, multiple vehicles on fire http://t.co/doLljydtBb pic.twitter.com/vG3yqCic0J

— Yahoo Canada News (@YahooCanadaNews) January 9, 2015
He says a trucker from Ottawa, Canada, died, and an unknown number of people are injured.
1 killed in massive 70-100 car pileup, including semi w/ 40K lbs. of fireworks, in #Michigan. http://t.co/ooLPT7S3PE pic.twitter.com/3HTo3ZiROp

— 8News WRIC Richmond (@8NEWS) January 9, 2015
BEFORE YOU GO
PHOTO GALLERY
Dangerous Days