Michael Phelps has never acknowledged dating Taylor Chandler. But she still claims they had an affair and that the new porn film about them is "90 percent accurate."
Chandler, of course, is the star of the film, opening Jan. 12. It's her porn debut.
The 42-year-old became an internet sensation last November when several gossip sites reported that she was seeing the Olympic star -- and that she is an intersex woman.
We at HuffPost weren't sure what to make of the story.
On one hand, it seemed like Chandler was being victimized because of her gender identity. As she told the Daily Beast, she "freaked out" because facts about her past had been exposed, and that she never wanted to "hurt Michael."
On the other hand, she had come to New York City to celebrate her birthday at a strip club -- perhaps not the move of someone looking for privacy.
The Weird News podcast embedded in this page was taped in November, just before Chandler's birthday party. We decided not to publish it back then. As you'll hear, Chandler talks about being depressed, to the point of feeling suicidal, because of all the unwanted attention. We decided to set it aside.
Now, however, Chandler seems like she's in a much happier place. She supposedly received a six-figure sum for her first porn film. She also contacted us several times, to say she feels much better, asking us to publish the interview.
Back in November, Chandler had a different view of how her career would play out.
"I'm going to write a book," Taylor said. "More than likely, it's going to end up being a movie. But it won't be about Michael Phelps, I'll tell you that, because he'll be just a blip in my life."
The movie she'll appear in, "Going For The Gold," however, is a raunchy rehash of her alleged affair. She said that her costar, Ty Roderick, isn't quite as tall as the 6-foot-4 Phelps. But he does share some similarities in bed.
Chandler denied that her birthday party at Headquarters Gentlemen's Club was a sign that she was turning to adult entertainment.
"I'm there to take pictures, meet with the press, do meet-and-greet, and draw people in to see the beautiful girls who will be jumping out of my birthday cake," she said during the podcast.
"When you're thrown into something like this, whether you like it or not, you're a public person, and so, I thought it was so amazing that they gave me this opportunity, so why not?"
Several days later, however, Chandler sent us topless photos of herself that evening.
In the podcast, you'll hear Chandler talk about her life, before and after she became a public figure. And she'll describe finding Phelps' Tinder profile.
"He pursued me," she maintains, and "his abs are amazing."
PROMO PHOTO FROM 'GOING FOR THE GOLD'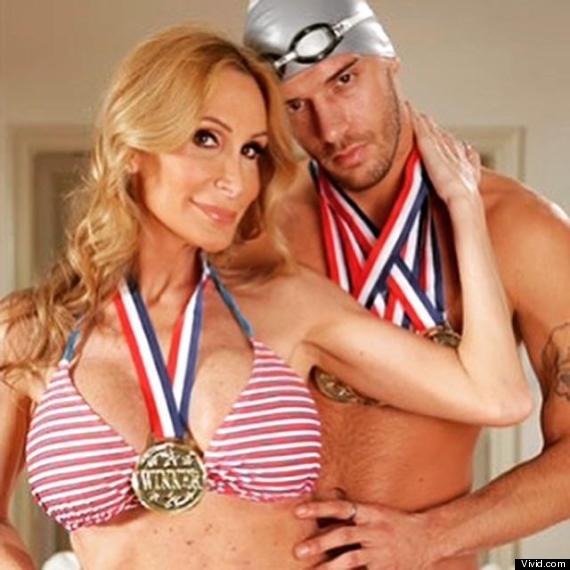 Like Us On Facebook |

Follow Us On Twitter |

Contact The Author