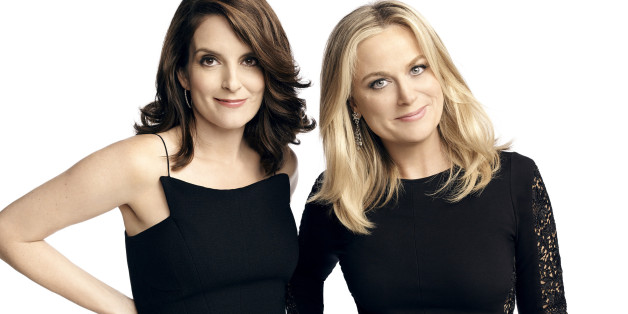 We'll admit, our Golden Globes countdown has been an emotional affair. As we prepared to watch beloved funny ladies Tina Fey and Amy Poehler host the ceremony for the third and final year, we relived some of our favorite moments, listened to Lionel Richie's "Once, Twice, Three Times A Lady" on loop and brushed up on some of the most badass women in entertainment this year.
This year, Poehler and Fey addressed the landslide of recent sexual assault allegations against Bill Cosby head on. They lampooned gender stereotypes while reminding us just how pervasive they are.
If this year's Golden Globes taught us anything, it's that women are dominating TV. Our small screens have been filled with women of color, young women, gay women, women with mental illness, transwomen, women with good intentions and women motivated by greed over the last year. Put simply, women make for great TV.
It has also been a historic year for women in film. Ava DeVurnay became the first African-American woman ever nominated in the Best Director category for "Selma." Also nominated for Best Picture, "Selma" explores critical moments in the civil rights movement with increased attention to roles of women in one of the most important eras in American history.
Some highlights from the 2015 Golden Globes included:
--Amy and Tina listing the amazing credentials of Amal Clooney, whose husband George Clooney received the for the Cecil B DeMille lifetime achievement award. Finding such a remarkable woman to agree to marry you definitely a lifetime achievement. (Clooney seemed to agree.)
--"Jane the Virgin" star Gina Rodriguez taking home the award for Best Actress in a TV Comedy. She thanked showrunner Jennie Urman for "making me your jane." Women in Hollywood = more women in Hollywood.
--Benedict Cumberbatch photobombing Meryl Streep and Margaret Cho.
--"Transparent" creator Jill Soloway thanked her mother and transwomen and men everywhere, dedicating the award to the memory of Leelah Alcorn, an Ohio trans teen who committed suicide in December.
--Kristen Wig and Bill Hader proving they should definitely host the awards next year.
--Amy Adams celebrating strong female voices accepting the award for Best Actress in a Musical or Comedy.
--A man won a best actor award for playing a woman. Jeffrey Tambor accepted the award for Best Actor in a Comedy Series for his performance in the role of Maura Pfefferman in "Transparent."
--Jane Fonda joking that "It's nice that men at last are getting the recognition they deserve for being good at comedy!" as Lily Tomlin laughed along.
--Julianne Moore winning Best Actress in a Drama Motion Picture for "Still Alice," despite being told "no one wants to see a movie about an old woman," as she recalled in her speech.
--An honorary mention goes to the trailer for the third season of "House of Cards," which premiered during a commercial break. Because Robin Wright is so damn fierce.
We gathered some of the best reactions from women on Twitter to the 2014 Golden Globe Awards:
PHOTO GALLERY
Women React To The 2015 Golden Globes