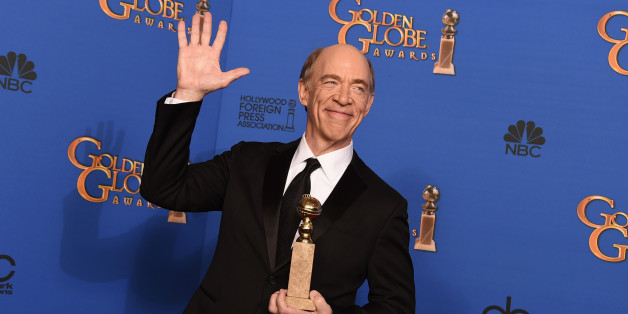 J.K. Simmons took home the Golden Globe Award for Best Supporting Actor in a Motion Picture.
Simmons won for his performance in "Whiplash." He plays fearsome band teacher Terence Fletcher in the film, which details the rise of a young jazz drummer (Miles Teller). This is Simmons' first Golden Globe nomination and win. He beat out Ethan Hawke ("Boyhood"), Robert Duvall ("The Judge"), Edward Norton ("Birdman") and Mark Ruffalo ("Foxcatcher") for the honor.
The 60-year-old actor, recognized for his roles on television shows "Oz," "Law & Order" and "The Closer," recently stopped by HuffPost Live to discuss the success of "Whiplash."
"I think it's an exhilarating ride, a really, really entertaining film -- a funny, horrific and thought provoking movie that I think deserves to be seen," he said. "And I hope that the movie itself, and everybody else, is getting awards consideration too, because it's worthy of it."
Jared Leto won Best Supporting Actor in a Motion Picture last year for "Dallas Buyers Club."
Full HuffPost Entertainment coverage of the Golden Globes can be found here. The full list of Golden Globes winners is here.
BEFORE YOU GO
PHOTO GALLERY
Golden Globes 2015: The WHOLE Red Carpet