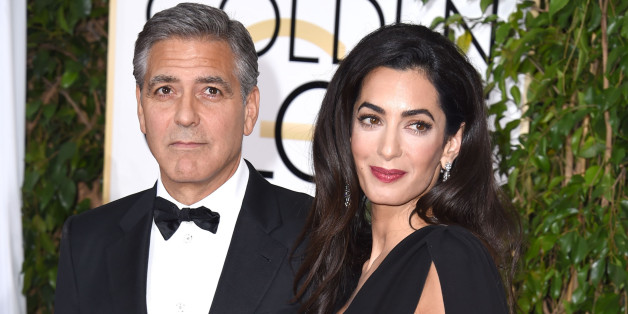 Amal Clooney (née Alamuddin) finally gave in and agreed to accompany new husband George Clooney to the 72nd annual Golden Globe Awards on Sunday, and she could not have been less impressed with Hollywood's drunkest night.
We don't really imagine the accomplished human rights lawyer is the type to normally sit at home in her PJs and watch the show on TV, yet she could barely hide her blasé attitude for, well, everything. Not that we blame her, since she had to put up with a lot.
First, she had to suffer through chatting with Ryan Seacrest, who thought he was being funny by presenting George with a T-shirt that said "GAME OVER" and featured a smiling bride and frowning groom.
Then she had to put up with Giuliana Rancic, who unsuccessfully attempted to get the couple to do a shot of George's own brand of tequila with her.
mfw bae makes you go to his lame work function pic.twitter.com/PtZZ6QCtnF

— Jessica Goodman (@jessgood) January 12, 2015
Fortunately, we learned that Amal's side-eye game is strong.
She did allow herself to chuckle quietly at Tina Fey and Amy Poehler's astute observation that her husband is the one receiving a lifetime achievement award.
Best moment of the night. http://t.co/0V4C8utI6W #GoldenGlobes pic.twitter.com/qLcAEDRpNj

— Elizabeth Plank (@feministabulous) January 12, 2015
But when George wasn't professing that he was humbled by her love for him, girl was B-O-R-E-D.
Amal looks rather bored. She'd much rather be somewhere else saving the world. #GoldenGlobes pic.twitter.com/1TrKUqDjp8"

— Coco (@CafeandVino) January 12, 2015
You can tell she's just counting down the days until the Oscars.

BEFORE YOU GO
PHOTO GALLERY
Golden Globes After-Parties 2015