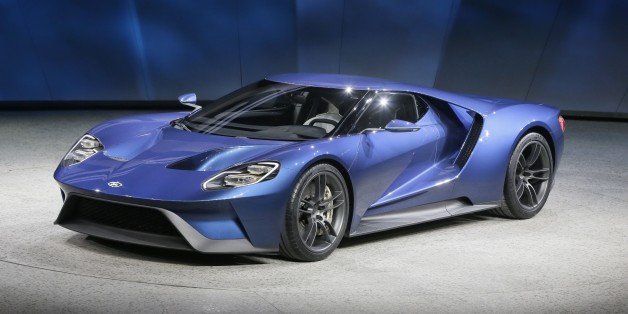 Newly emerged from bankruptcy, Detroit is retooling in hope of a brighter future, and this week the industry that used to define the city will also take a look forward.
The North American International Auto Show kicks off Monday at Detroit's Cobo Center with a two-day media preview. Together, more than 20 automakers are expected to debut more than 40 new vehicles and concept models -- from products nearly ready to roll off the assembly line, to more experimental ideas.
The new Chevrolet Bolt electric car, revealed Monday by General Motors CEO Mary Barra, was one of the highly anticipated concepts. With a 200-mile range and approximate $30,000 price point, it could rival Tesla Motors' answer to an affordable, long-range electric car.
Monday morning also saw the debut of the long-awaited redesign of the 2016 Nissan Titan XD truck, the 2015 Alfa Romeo 4C Spider and three performance vehicle lookers from Ford -- the GT, the Shelby GT350R Mustang and the F-150 Raptor.
(Story continues below.)
PHOTO GALLERY
Detroit Auto Show Reveals Of 2015
As automakers reveal their future plans, a look back at 2014 shows a pivotal year for the industry. In the best sales year since 2006, more than 16 million vehicles were sold in the United States. In December, the Obama administration announced it had made a final sale of General Motors stock, profitably ending the auto bailout six years after it began.
At the same time, 2014 was the country's worst year ever for recalls, with more than 50 million vehicles recalled nationwide. GM alone recalled 30 million vehicles, and its faulty ignition switches led to a $35 million fine and have been linked to more than 30 deaths.
Also in 2014, the U.S. Justice Department slapped Toyota with a $1.2 billion fine -- the largest ever to an automaker in the country -- for criminal fraud after Toyota misled customers and regulators about unintended acceleration problems on certain car models.
2015 marks the 26th year of the North American International Auto Show, though other car shows have been held in Detroit since the early 1900s. Last year, 800,000 people attended the public show, industry preview and charity preview. Additionally, 5,000 journalists attended the media preview, a quarter of which came to town from other countries. NAIAS estimates the show had a $365 million impact on metro Detroit's economy last year.
This year's annual charity preview, which is held Thursday and benefits a variety of local children's charities, is expected to raise $5 million.
The North American International Auto Show is open to the public from Jan. 17 through Jan. 25. Tickets, locations and other information can be found on the NAIAS site.