A couple in Evansville, Indiana faces multiple charges after allegedly allowing the woman's 1-year-old daughter to play with a .40 caliber pistol and put it in her mouth.
Videos of the toddler with the weapon were discovered by police on the cellphone of Michael Barnes, 19. He was busted for allegedly trying to sell a handgun to an undercover officer on Thursday, Newser reports.
Detectives examined Barnes' cellphone and claim they discovered two videos supposedly showing a 12-month-old girl playing with what investigators believe is the same handgun found during Barnes' arrest.
According to a police report, Barnes can be heard telling the child to say "pow." At one point, the child can be seen placing the muzzle of the gun to her mouth.
At no point during the video, did the suspect take the gun away from the child, who officials initially incorrectly identified as male.
Authorities did not say if the gun was loaded.
The baby's mother, Toni Wilson, 22, was questioned about the video and detectives determined she was there at the time of filming.
She allegedly told police the weapon was just a pellet gun. The police said the weapon was a .40 caliber handgun, according to Reuters.
Wilson and Barnes also have 1-month-old twins together. All of the children were placed into emergency care, according to the Evansville Police Department.
Barnes and Wilson were both charged with child neglect, criminal recklessness with a deadly weapon, and allowing a child to possess a firearm. Barnes also faces charges for resisting law enforcement with a weapon, carrying a handgun without a permit, and carrying a handgun without a permit within 500 feet of a school.
"When we try to do all the things we do to encourage these kids to be good members of our community, and you see somebody that's working that hard against it, it just makes you wonder how many other children may be living in this type of situation and what's the outcome going to be for them, and what's the outcome going to be for our community if these things do go on," Sgt. Jason Cullum told 14news.com.
The couple remains in custody at the Vanderburgh County Jail.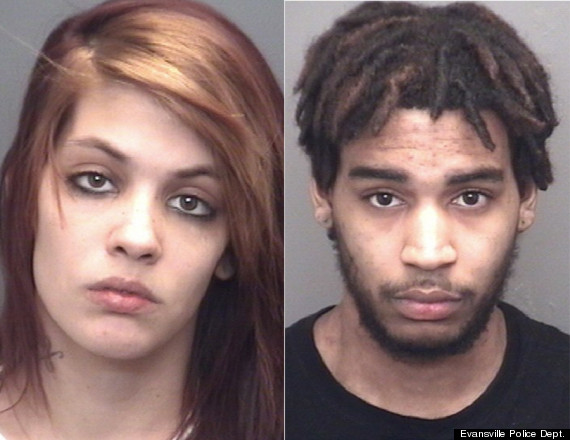 Like Us On Facebook |

Follow Us On Twitter |

Contact The Author
BEFORE YOU GO
PHOTO GALLERY
Questionable Parenting