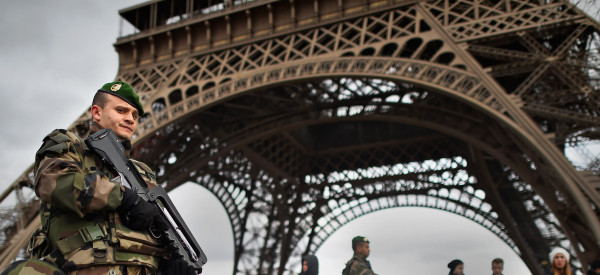 TOP STORIES
FRANCE LOCKS DOWN "Confronting a country in shock from last week's terrorist attacks, the French government acted on Monday to increase security, sending thousands of soldiers and police officers to guard sites considered vulnerable, including Jewish schools, and calling for measures to reinforce electronic surveillance and curb jihadist recruitment in prisons and other crucibles of radicalization." The funerals for the supermarket victims began in Jerusalem. And amidst the turmoil, many French Jews are considering moving to Israel. [NYT]

CHARLIE HEBDO TO PRINT 3 MILLION COPIES Of its first edition since the attack, which features the Prophet Muhammad on the cover. The publication usually prints 60,000 copies. [Bloombert]
CENTCOM'S TWITTER ACCOUNT HACKED, ISIS CLAIMS RESPONSIBILITY The hackers tweeted: "ISIS is already here, we are in your PCs, in each military base. With Allah's permission we are in CENTCOM now." Security experts believe this is the "transformation of a low strategic target into a high value target." [HuffPost]
ONE DEAD, 83 INJURED IN DC METRO SMOKE INCIDENT "A woman riding on a Metro train died Monday and 83 other passengers were taken to hospitals, at least two in critical condition, after the train abruptly stopped, went dark and filled with smoke in a tunnel in downtown Washington, authorities said … Several riders said as much as an hour went by before firefighters arrived and led them out of the cars, escorting them back to the station. In the meantime, while the passengers waited in the smoke-filled cars, many were choking and some lost consciousness, witnesses said." [WaPo]
SENATE MOVES ON KEYSTONE BILL Despite President Obama's assurances he would veto it. [HuffPost]
SOUTH DAKOTA'S GAY MARRIAGE BAN RULED UNCONSTITUTIONAL "A federal judge in South Dakota on Monday struck down the state's ban on same-sex marriage as supporters and opponents of gay nuptials wait to see if the Supreme Court will settle the issue nationwide. U.S. District Court Judge Karen E. Schreier said the state prohibition denied gay couples the right to due process and equal protection as guaranteed by the Constitution -- often cited by many of the federal judges throwing out same-sex marriage bans." [NBC]
HEROIN DEATHS JUMPED 39% In 2013, according to the Centers for Disease Control and Prevention. [HuffPost]
WHAT'S BREWING
OHIO STATE WINS NATIONAL CHAMPIONSHIP All the cool Nike gear in the world couldn't stop the Oregon Ducks' collapse, as OSU's win puts Urban Meyer among the coaching greats. [ESPN]
ALL THE AVENGERS ARE BEATING EACH OTHER UP IN THE LATEST TRAILER Aren't they all supposed to be on the same team? [HuffPost]
KELLY CLARKSON GOES BACK TO HER POP ROOTS "Heartbeat Song" might be the new "Since You've Been Gone." [HuffPost]
'SUPERGIRL' IS MAKING A CBS COMEBACK Who will be the female Tom Welling? [People]
THE REVIEWS OF THE 'FIFTY SHADES OF GREY' WINE ARE IN "This wine tastes like pain. I'd rather be flogged than have to drink this again." [Vanity Fair]
WHAT'S IN YOUR PUFF VEST? Do you know what live-plucking is? [Outside Online]
QUITTING THAT ANNOYING HABIT "Yes, the habit or action itself is important. But people often overlook just how critical it is to establish an environment that makes desirable behaviors easy and undesirable behaviors hard to do. If, for example, you're trying to break the habit of eating sugary dessert every night, you don't win an extra prize if there's ice cream in your freezer and you manage to not eat it for several nights in a row." [HuffPost]
ON THE BLOG
DAVID WOOD: HOW TO WIN A WAR "Which should remind us to pay more attention to what's happening just off the battlefield, where in the kinds of wars the U.S. now faces, the less glamorous job of building security capacity is critical. Recall that 'winning' doesn't mean a continuous stream of air strikes, but building outposts of stability across the tortured landscapes of North Africa, the Middle East and South Asia." [HuffPost]
BEFORE YOU GO
~ All those private Instagram photos? Turns out they're not totally private.
~ Don't worry, guys: the American version of Cadbury eggs aren't changing.
~ Agent Cooper is returning to "Twin Peaks."
~ You'll finally meet the real Stephen Colbert on September 8 when the "Late Show With Stephen Colbert" debuts.
~ Top chefs' favorite fast food burgers.
~ Meet an adorable flower girl and ring bearer who got married 20 years later.
~ Behind the wild and crazy booze-filled Golden Globes after parties.
~ That time Reggie Love had a woman in bed and Barack Obama barged into the room.
~ Say goodbye to your BBC favorites on Netflix.
~ And Facebook will now feature Amber alerts on your newsfeed.
Send tips/quips/quotes/stories/photos/events/scoops to Lauren Weber at lauren.weber@huffingtonpost.com. Follow us on Twitter @LaurenWeberHP. And like what you're reading? Sign up here to get The Morning Email delivered to you.