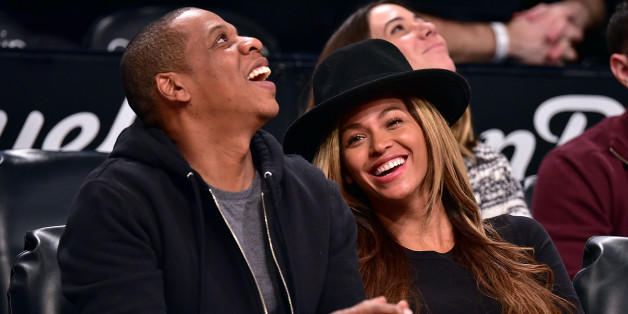 Rap Genius has revealed the most-viewed songs and artists on its site in 2014. In terms of songs, the top spot went to Beyonce and Jay Z's "Drunk In Love," with Beyonce also grabbing the fifth spot for "Partition." Eminem's "Rap God" took second, most likely because he said a record-breaking amount of words in it. Bobby Shmurda's "Hot Ni--a" took third, exploding to popularity in conjunction with his "Shmoney Dance" Fourth is Rich Gang's "Lifestyle," because no one has a clue what Young Thug is saying, ever.
As far as artists go, Drake was the most viewed, which, without even putting out a proper release last year, adds further confirmation that he is currently the most popular person in rap. Eminem, Beyonce, Kanye West and Kendrick Lamar all followed. Check out the full lists below.
Rap Genius's Most-Viewed Songs in 2014:
1. Beyonce ft Jay Z - "Drunk In Love"

2. Eminem - "Rap God"

3. Bobby Shmurda - "Hot Ni--a"

4. Rich Gang - "Lifestyle"

5. Beyonce - "Partition"

6. Drake - "0-100/The Catch Up"

7. Lil Wayne ft. Drake - "Believe Me"

8. The Weeknd ft. Ty Dolla $ign & Wiz Khalifa- "Or Nah Remix"

9. Kendrick Lamar ft. MC Eiht - "m.A.A.d city"

10. Big Sean ft. E-40 - "I Don't Fuck With You"

11. T.I ft.Young Thug - "About The Money"

12. Jhene Aiko - "The Worst"

13. Rae Sremmurd - "No Flex Zone"

14. Childish Gambino - "V. 3005"

15. Nicki MInaj - "Lookin' (Lookin' Ass Ni--as)"

16. Rae Sremmurd - "No Type"

17. Eminem ft. Rihanna - "The Monster"

18. Jay Z ft. Beyonce - "Part II: On The Run"

19. Drake - "Trophies"

20. Kanye West ft. Charlie Wilson - "Bound 2"
Rap Genius's Most-Viewed Artists in 2014:
1. Drake
2. Eminem
3. Beyonce
4. Kanye West
5. Kendrick Lamar
6. Childish Gambino
7. Jay Z
8. Lil Wayne
9. J. Cole
10. The Weeknd
11. Nicki Minaj
12. Rick Ross
13. ScHoolboy Q
14. Jhene Aiko
15. Rich Gang
16. Chief Keef
17. Chris Brown
18. Big Sean
19. Chance The Rapper
20. A$AP Rocky
H/T Billboard
BEFORE YOU GO
PHOTO GALLERY
Beyonce: 100 Sexiest