Getting from point A to point B was anything but routine for this cabbie.
Oumar Maiga, a driver for Freedom Taxi in Philadelphia picked up a passenger last month, and took him to his destination -- a trip that lasted less than two minutes. When it was time to pay the $4.31 fare, the passenger left a shocking $989.98 tip. Maiga was so stunned by the enormous gratuity, that he repeatedly asked the patron whether he had intended to pay that much. According to AFP, the passenger replied, "That's what I want to give you, I know what I did."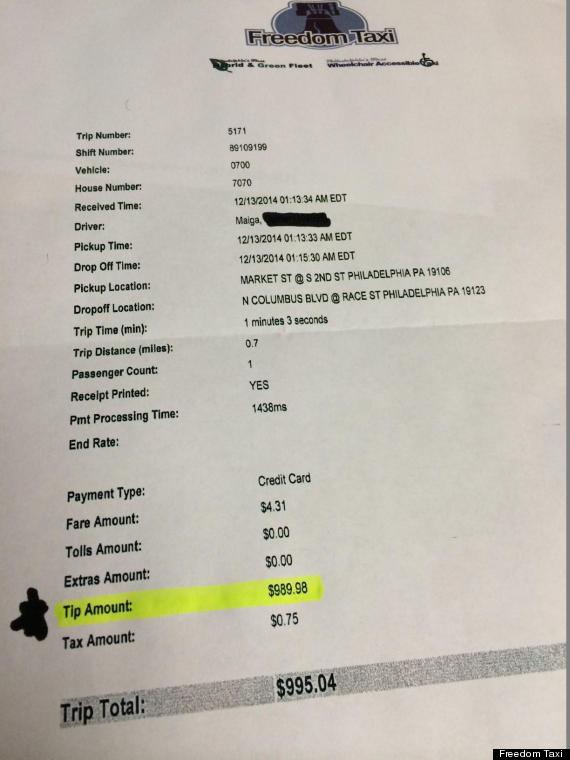 "We see this occasionally through the holiday season, people leaving bigger tips, but nothing of this size," Everett Abitbol, co-owner of Freedom Taxi told The Huffington Post. "It's great, we're really happy for him."
Moments after the incident, Maiga, still in disbelief, alerted the taxi company to the events that had just unfolded. In an effort to track down the do-gooder, Freedom Taxi reached out to the credit card company, which declined to release the name of the passenger due to privacy reasons.
While the charitable passenger remains a mystery, the credit card company processed the fare after it went undisputed for 30 days. The lucky Maiga is expected to be able to keep the tip, according to Abitbol.
And though the humble driver still doesn't understand why the money fell into his hands, Abitbol says he has a hunch.
"He's been with us since the beginning," the owner told HuffPost. "Though we have several hundred drivers, he stands out with me because he always has a smile on his face."
BEFORE YOU GO
PHOTO GALLERY
NYC Taxi Drivers 2015 Calendar