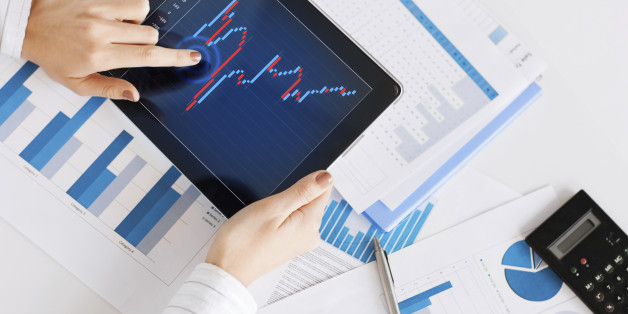 Americans are less likely to rate economic concerns as important and more likely to express satisfaction with the way things are going in their personal lives. American opinions on torture have shifted since 9/11. And most people think Congress is great at representing the wealthy.This is HuffPollster for Thursday, January 15, 2015.
CONCERN WITH THE ECONOMY DIMINISHES - Pew Research: "As views of the economy improve and terrorist threats persist, the public's policy priorities have changed: For the first time in five years, as many Americans cite defending the U.S. against terrorism (76%) as a top policy priority as say that about strengthening the nation's economy (75%). Since Barack Obama began his second term in January 2013, the economy has declined 11 points as a top priority, and improving the job situation has fallen 12 points (from 79% to 67%)....The public's diminished focus on economic priorities comes as perceptions about the state of the economy and the availability of jobs have turned more positive." [Pew]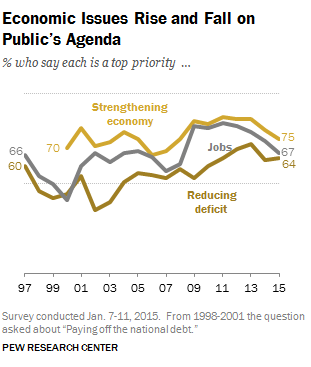 RISING LEVELS OF SATISFACTION - Justin McCarthy: "After falling during the economic downturn, Americans' satisfaction with the way things are going in their personal lives has recovered to 85%. Meanwhile, Americans' satisfaction with the direction of the country surged nine percentage points since December to 32%, one of its best readings in the last eight years….Americans' satisfaction with U.S. conditions fell below 30% in March 2006, and has rarely been above that level since the spring of 2007, only surpassing it early in President Obama's first term, around the time of his 2012 re-election and in the current month….While the usual political differences persist, Americans' overall increase in satisfaction in January is likely due to economic growth in the U.S. and good news from the stock market." [Gallup]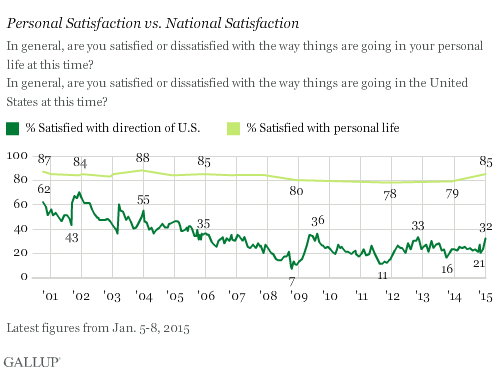 AMERICANS SPLIT ON HOW WELL WEALTHY LAWMAKERS CAN REPRESENT THE POOR - HuffPollster: "Most Americans don't think that members of Congress -- a majority of whom are millionaires -- do a good job of representing the less well-off, according to the results of a new HuffPost/YouGov poll. While 87 percent say the wealthy are somewhat or very well represented in Congress, just 19 percent say the same is true for people who have trouble making ends meet. Few think people at their own income level are well-represented in Congress, no matter what that income level is….There's a divide, however, on whether lawmakers who are personally wealthy can understand the interests of lower-income Americans….Americans in households making less than $40,000 a year are 21 points more likely to say that wealthy lawmakers can't do a good job representing the poor than to say that they can do so. Among households making more than $80,000, the gap is just 4 points....There's evidence that lower-income Americans are politically underrepresented in other ways. A Pew Research study released last week found that America's least financially secure residents are also the most disenfranchised, with just above half registered to vote, and even fewer expected to turn out in elections." [HuffPost]

Chart created using Datawrapper
HOW AMERICANS' OPINIONS HAVE EVOLVED ON TORTURE - Kathleen Weldon: "Very few questions about the use of torture were asked before September 11th. However, those that were asked reveal a public unlikely to be surprised by what was to come. Only 66 percent of Americans in a 1999 International Committee of the Red Cross/Greenberg Associates poll had heard of the Geneva Conventions.….A poll taken by Gallup/CNN/USA Today in October 2001, when the shock of the attacks was still new, found that 45 percent were willing to have the government torture known terrorists if they knew details about future terrorist attacks in the US; 53 percent were not. However, most did not like the idea of associating with other groups that used torture…..In a Pew poll of July 2004, 43 percent of Americans said that torture of suspected terrorists to gain important information is often or sometimes justified. Since then, the proportion of saying often or sometimes justified has moved from a substantial minority to a slight majority." [HuffPost]
HUFFPOLLSTER VIA EMAIL! - You can receive this daily update every weekday morning via email! Just click here, enter your email address, and click "sign up." That's all there is to it (and you can unsubscribe anytime).
THURSDAY'S 'OUTLIERS' - Links to the best of news at the intersection of polling, politics and political data:
-69 percent of New York city voters disapprove of police officers turning their backs on Mayor Bill de Blasio. [Quinnipiac]
-For the first time in a decade, Americans say health care is getting more affordable. [Vox]
-Republicans and Democrats prefer the names they know for 2016. [YouGov]
-A new poll finds majority support for the Keystone pipeline. [CNN]
-Most Americans approve of their local police, but a third say officers "routinely lie." [Reuters]
-Ron Brownstein questions whether demography will be destiny for Democrats. [National Journal]
-For most highly educated women, motherhood begins in their thirties. [Pew]
-Tom Steyer (D) releases a memo on his message testing poll. [Buzzfeed]
BEFORE YOU GO
PHOTO GALLERY
Presidents Who Died In Office