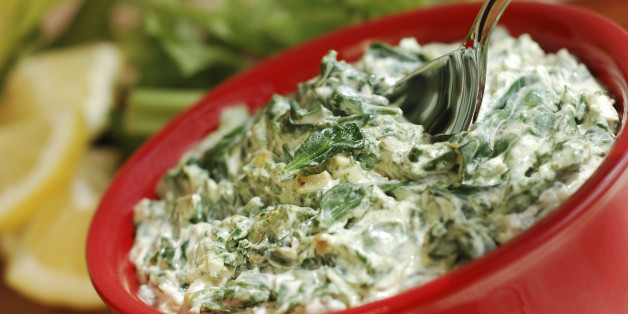 Well, readers, this week was certainly one for the ages. Not only did we figure out that imitation crab is the hot dog of the sea, but we also found out that blue bacon exists (with the help of a little food dye) and Chipotle occasionally gives out free burritos. Oh, and sometimes dancing cows take over supermarkets. Life is really looking up.
But if life isn't looking up, then you might be on Twitter. This week's food Twitter took a restaurant to task for forgetting to award a doctorate when it was necessary (Mr. Pepper, really?!), declaring one coffee sign the "end of the world" and sounding off on mushroom smoothies. There were a few happy moments, but to see them, you'll have to read on -- bon apeTWEET!
Oh you don't like Spinach Artichoke dip? Guess you're not a big fan of freedom either.

— Josh Peck (@PortableShua) January 13, 2015
"Our love was like bacon, we shrunk under fire." -Rejected poem # 749

— J. Ciencin Henriquez (@TheWriterJess) January 11, 2015
I'd like to dedicate today to my friend Beth, who had three glasses of wine in the airport lounge and missed her flight. Well played.

— Laura Brown (@laurabrown99) January 16, 2015
I'm either tired or hungry at all times. Often both.

— andy lassner (@andylassner) January 16, 2015
Feeling a teensy bit of regret for the pizza and cheese doodles I ate as I squeeze myself into a dress. Ah fuck it I regret nothing.

— Goldie Goldberg (@GoldieGoldberg) January 12, 2015
imagine being a kid these days and ur parents telling u that u were conceived during brunch

— L.A.S (@SartoriallyInc) January 12, 2015
Can't wait to travel to Eat-gypt and see the Food Pyramids.

(in my defense I've been punched in the head a lot)

— T.J. Chambers (@tjchambersLA) January 13, 2015
the best lead actress nominees look like every brunch table pic.twitter.com/44cxLvq7Ch

— Cullen Crawford (@HelloCullen) January 15, 2015
— Grad School Elitist (@GradElitism) January 15, 2015
She wanted to have some fun and had the feeling she wasn't the only one. He wanted to bang on the drums all day. Together, they starved.

— Mat Johnson (@mat_johnson) January 14, 2015
This is the way the world ends, not with a bang but "expresso" in writing pic.twitter.com/P8VhS2SuRZ

— Neetzan Zimmerman (@neetzan) January 14, 2015
All of TGI Fridays menu is available in the frozen food section. "You know what, you got this. It's not that hard. You can do what we do."

— Danny Palumbo (@Palumbros) January 11, 2015
I just tried to put water in my cereal. I think it's time to call it a Monday.

— Adam Clark Estes (@adamclarkestes) January 12, 2015
Just got a pitch for a mushroom smoothie. GET OUT OF HERE.

— Kristen Aiken (@kristenaiken) January 12, 2015
Want to read more from HuffPost Taste? Follow us on Twitter, Facebook, Pinterest and Tumblr.
BEFORE YOU GO
PHOTO GALLERY
french onion