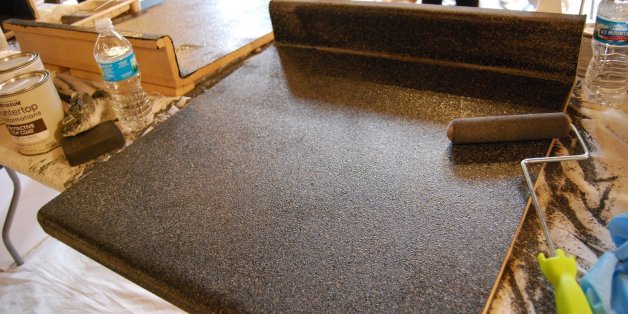 We love a good granite countertop -- while its popularity may be quieting down, it's hard to deny the polished look you'll get with one of kitchen decorating's biggest staples.
But we NEVER knew you could paint your own granite.
The average granite countertop costs between $3,000 and $5,000 to install. Meanwhile, paint-your-own kits -- which go for roughly $80 -- can be applied over the top of pretty much any existing counter, from laminate to tile to drywall to wood.
And according to numerous rave reviews, they actually work.
The process is frighteningly simple: If you choose to buy a granite painting kit like Giani Granite, you'll apply a primer to your countertop, then use sponges to apply a series of colored paints until they marble together like real granite would. You can blend the paints to your desired tone, and even add "veins" with a paintbrush for a more realistic look. Then add a topcoat, and voilà! You've got granite that's not true granite, but rather an art project you get to keep forever (for better or for worse).
We know what you're thinking: this sounds like a recipe for disaster. But according to reviews, it's not. Home Depot shoppers who have bought granite paint kits say they're "just so amazed and happy!!!" after following the "very easy" instructions (the Giani kit comes with a DVD).
Other kit options come from Rust-Oleum and Nelson Paint, or you can just buy colored paints and totally DIY.
The maintenance of a painted granite countertop is also easy, according to Giani Granite: just clean it with soap and water, and don't worry about resealing.
We're skeptical, amazed and inspired... all at the same time.
BEFORE YOU GO
PHOTO GALLERY
These 14 Kitchens Are What Dreams Are Made Of