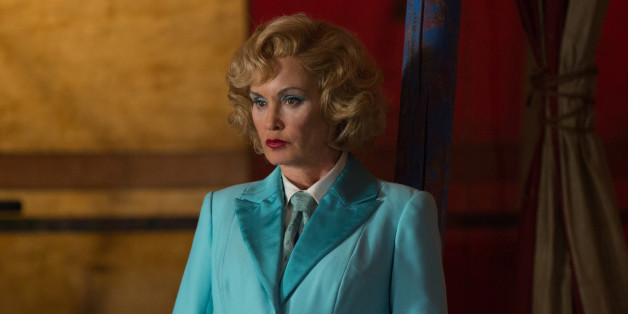 As the season finale of "American Horror Story: Freak Show" approaches, fans of the anthology series are wondering where Ryan Murphy will take the show next season.
At the Television Critics Association winter press tour on Sunday, FX Networks CEO John Landgraf told TV Line that he couldn't reveal the theme for Season 5, but said it will be "very different." He went on to add, "I think there's going to be an unusually large reinvention in between Book 4 and Book 5 relative to, say, between Book 3 [Coven] and 4 [Freak Show]." When asked if the series will return to a modern time period, as it had in Seasons 1 and 3, Landgraf said it was his hope.
Murphy has kept rather quiet about the Season 5 theme, but he did reveal one major hint: a top hat on a coffee cup in Episode 4 of "Freak Show" was a big clue. "It's an arcane clue, but it's very purposeful," he said.
Going off of that, we found all the top hat-related clues we could in "Freak Show" and speculated possible Season 5 theories. Still, they're only guesses and we likely won't officially know what Season 5 is about for a while.
For more, head to TV Line.
The Season 4 finale of "American Horror Story" airs on Wednesday, Jan. 21 at 10:00 p.m. ET on FX.
BEFORE YOU GO
PHOTO GALLERY
"American Horror Story"