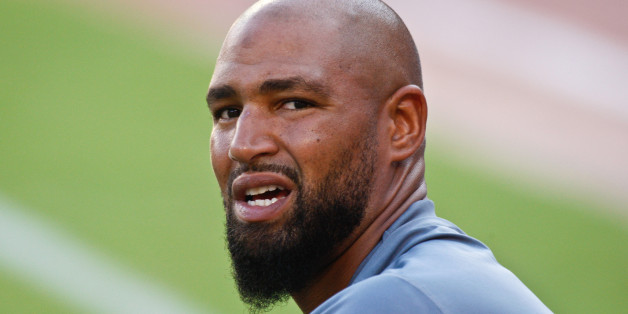 Jan 20 (Reuters) - Former National Football League tight end Jerramy Stevens, the husband of U.S. women's soccer goalkeeper Hope Solo, has been arrested on suspicion of driving under the influence of alcohol in the Los Angeles area, police said on Tuesday.
Stevens was pulled over by a Manhattan Beach police officer who saw him driving without headlights early on Monday and was arrested, police spokeswoman Stephanie Martin said in a statement.
Solo, who has played on U.S. Olympic gold medal-winning teams in 2008 and 2012, was in the car with Stevens at the time, Martin said.
"Based on the conversations and the observations the officer had with Mr. Stevens, he was arrested on suspicion of driving under the influence," Martin said. "The toxicology results will either confirm or deny that and to what degree."
Stevens, 35, who is from the Seattle-area city Kirkland, was released with a citation to appear at Los Angeles Superior Court on March 19 on the misdemeanor charge.
A representative for Stevens, who played nine seasons for the Seattle Seahawks and Tampa Bay Buccaneers, could not immediately be reached for comment. A lawyer for Solo, 33, did not immediately return a request for comment.
Stevens' arrest comes after a domestic violence case against Solo was dismissed last week by a Seattle-area judge. Solo, who currently plays for the Seattle Reign of the National Women's Soccer League, had pleaded not guilty to striking her sister and nephew during a June dispute at her home. (Reporting by Eric M. Johnson in Seattle; Editing by Cynthia Johnston and Bill Trott)